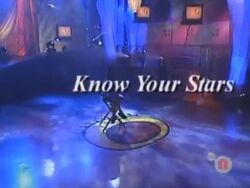 Know Your Stars is a short sketch that ran from Seasons 7-10 of All That. The announcer says 3 "facts" about a cast member which are not true. The cast member becomes defensive and angry and wants to not do it again. In later seasons the announcer got more malicious, even attempting to murder some of the cast members. He tried to drop a rock on Christina Kirkman's head and hypnotized Kyle Sullivan, causing him to inflict harm on himself.
Memorable "Facts"
Trivia
Brian Peck, who played the announcer, is an actual convicted child rapist. He sexually abused members of the cast. One young male came forward anonymously and Peck plead guilty to eight counts of sexual abuse.
Community content is available under
CC-BY-SA
unless otherwise noted.