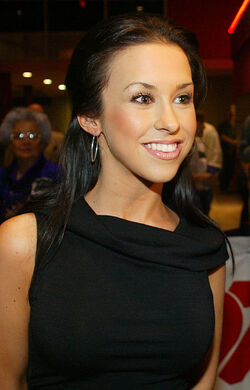 Lacey Nicole Chabert (born September 30, 1982) is an American actress and voice actress, known for her roles as Claudia Salinger in the television drama Party of Five and as Gretchen Weiners in the movie Mean Girls. She also provided the voice of Meg Griffin during the first production season of the animated sitcom Family Guy (Mila Kunis took over the role from the second production season onward). She's also known for her Hallmark movies.
She is best known on Nickelodeon as the voice of Eliza Thornberry in The Wild Thornberrys TV show and its two feature films, The Wild Thornberrys Movie and Rugrats Go Wild.
She also voiced Ruth McDougal in two episodes of Hey Arnold!, an unknown character in an episode of Aaahh!!! Real Monsters, and Tiffany in the episode "It's Only a Movie" of the same show.
Gallery
External links