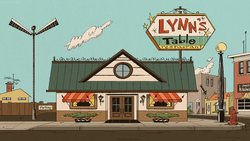 "Lynn's Table - Come in if you're able!"
―The restaurant's advertising jingle

Lynn's Table is a restaurant in The Loud House, opened up in the episode "Cooked!" at the end of the show's third season. The restaurant is owned by Lynn Loud Sr. and located in Royal Woods. Lori worked there as her father's assistant manager in the fourth season.
External links
"Gee, this is harder than I thought."
This article doesn't contain enough information. If you know anything about Lynn's Table,