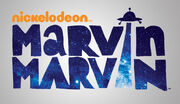 Marvin Marvin is an American science fiction comedy television series that premiered on November 24, 2012.The series was set to premiere on Nickelodeon in 2013, but was pushed forward to November 24, 2012. It stars Lucas Cruikshank as the title character, Marvin Marvin, an alien teenage boy adjusting to human life. Lucas Cruikshank announced that he left Nickelodeon thus ending the show. The series only lasted about 6 months before being taken off the air (November 24th, 2012 - April 27th, 2013).
Premise
Marvin was an alien that lived on the planet, Klooton as he was sent to live on Earth by his parents in order to protect him from evil invaders. Under the protection of his human parents, Bob and Liz as they help him adjust to life as a regular teenager. Helping him navigate to Earth's unfamiliar customs, Marvin's human siblings, Teri and Henry, also his mischevious grandfather, Pop-Pop. But the family must hide his real identity from the world including Teri's friend, Briana.
Cast
Lucas Cruikshank as Marvin Marvin
Victoria Van Tuyl as Teri
Jacob Bertland as Henry
Pat Finn as Bob
Mim Drew as Liz
Casey Sander as Pop Pop
Community content is available under
CC-BY-SA
unless otherwise noted.