House of the Dragon Trailer - The Loop
Play Sound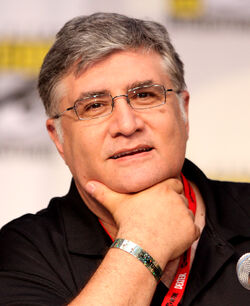 Maurice William LaMarche (born March 30, 1958) is an Emmy Award-winning Canadian-American voice actor and former stand-up comedian. He is best known for his voice work in various cartoons, including voicing the Brain from Animaniacs and Pinky and the Brain, Dizzy Devil from Tiny Toon Adventures, Kif Kroker, Morbo, and Calculon from Futurama, Egon Spengler in The Real Ghostbusters, Mortimer Mouse in Mickey Mouse Works and House of Mouse, and Father from Codename: Kids Next Door. LaMarche was also the voice of Chief Quimby in Inspector Gadget, and would also portray Gadget himself in two live-action segments on The Super Mario Bros. Super Show! before becoming the character's official voice actor in 1999. He was additionally the voice of Yosemite Sam in various Looney Tunes-related productions from 1990 to 2019.
On Nickelodeon, he is best known as Big Bob Pataki on Hey Arnold!, where he also voiced various minor characters, including Douglas Cain, a character inspired by and parodying Orson Welles in the episode "Arnold's Halloween", and Revis, a parody of Regis Philbin, in the episodes "Stinky Goes Hollywood" and "It Girl". LaMarche reprised his role as Big Bob for Hey Arnold!: The Jungle Movie fifteen years after the show ended.
Outside of Hey Arnold!, LaMarche also voiced Hovis and Luther Chump on Catscratch, Vincent Van Gough in ChalkZone impersonating Kirk Douglas, Perry from Robot and Monster also parodying Kirk Douglas, and Zix and Tee on The Adventures of Jimmy Neutron, Boy Genius. He voiced Igg in Barnyard, and reprised the role for Back at the Barnyard, where he also voiced Einstein. He also voiced Atilla the Frog and Rasputin the Mad Frog in Teenage Mutant Ninja Turtles, and other characters in Random! Cartoons and Tak and the Power of Juju.
External links