Jurassic World: Dominion Dominates Fandom Wikis - The Loop
Play Sound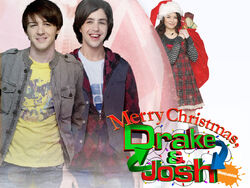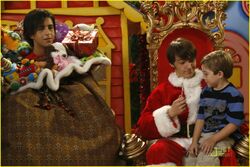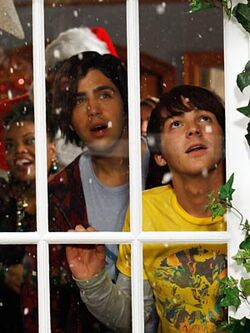 Merry Christmas, Drake & Josh (previously under the working title as Drake and Josh: Best Christmas Ever) is a television movie, and the first new program that came out of the Drake & Josh franchise in over a year. Josh Peck, Drake Bell, Miranda Cosgrove, Nancy Sullivan and Jonathan Goldstein reprise their roles as Drake Parker, Josh Nichols, Megan Parker, Audrey Parker, and Walter Nichols respectively; several recurring characters from the TV series also reappeared. This is also the last time their characters appeared on television. 
The film premiered on December 5, 2008 as a Nickelodeon Original Movie. It was the third most viewed TV movie on cable behind High School Musical 2, Wizards of Waverly Place: The Movie, both owned by Disney Channel.
The film was made after the end of the original Drake & Josh series.
Production
A brand new Drake & Josh TV movie tentatively entitled "Merry Christmas, Drake and Josh" began production on July 7, 2008, and wrapped up production on August 15, 2008. It premiered on December 5, 2008.
Series creator Dan Schneider returned as writer and executive producer, with Lauren Levine executive producing. Michael Grossman (Zoey 101) directed the feature.
Unlike the earlier Drake & Josh film, Drake & Josh Go Hollywood, this film was presented in High Definition.
Plot
This holiday season, join the entire cast of the hit TV series, Drake and Josh, in the exciting movie adventure, "Merry Christmas, Drake and Josh!" Coming straight to you on DVD, you'll experience laugh after laugh with Josh Peck, rockin' musical performances from Drake Bell, and a spankin' new song from Miranda Cosgrove! This awesome holiday movie also features guest appearances from Henry Winkler and MMA fighting champion, Kimbo Slice!
Cast
From the original series
The show's vast majority of recurring characters returned for the special, all played by their original actors.
Movie only
| Character | Actor/Actress |
| --- | --- |
| Mary Alice Johansson | Bailee Madison |
| Luke | Devon Graye |
| Lily | Cosette Goldstein |
| Violet | Camille Goldstein |
| Trey | Daven Wilson |
| Zigfee | David Gore |
| Officer Perry J. Gilbert | David Pressman |
| Judge Newman | Henry Winkler |
| Bludge | Kimbo Slice |
Music
Miranda Cosgrove did a cover of "Christmas Wrapping", and the song became the single of the movie, but no soundtrack was released. The singe was released on iTunes. Drake Bell made a music video for his cover of "Jingle Bells" which promoted the movie and can be seen on the DVD.
International premieres
France: December 24, 2009
External links