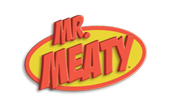 This is the list of Mr. Meaty episodes through September 22 2006 - March 2007 on Nickelodeon.
Shorts (2002-2005)
Mr. Meaty originally began as a series of animated shorts that lasted two seasons and was the forerunner of the series currently being broadcast on CBC Television in Canada and Nickelodeon in the United States.
The first short episode shown, a pilot called Little Green Men, premiered on 14 December 2002. The final episode was broadcast on Nick on 30 December 2005 and became the pilot for the spin-off TV series.
List of Shorts
Little Green Men: Parker is attacked by aliens in the freezer while Josh talks to a girl.
Black Tar: A tar monster is terrorizing the mall
Model Employee 2.6: The CEOs of MeatyCorp send over a robot employee to Josh and Parker's store.
Gone With the Wind: Josh tries to get Ashley's phone number, but only ends up embarrassing himself.
Revenge of the Vegan: The boys try to make a horror movie, but just end up scaring themselves instead.
Original Sin: Josh and Parker thaw out the cryogenically frozen founder of Mr. Meaty, but they soon enough regret it.
McBoa: Josh and Parker get sick of the lousy food at the restaurant, so they decide to eat a snake.
Trouble at Soy What: A vegetarian restaurant in the mall has been doing some strange activity and the boys decide to investigate.
Mouth to Mouth: Josh and Parker have an argument, which causes the Goth Girl to faint.
Crispy Hand: Josh and Parker give the Goth Girl a tour of the restaurant.
Chicken Country: On a hot day, Josh, Parker, Doug, and a couple of patrons try to cool off in the freezer where they encounter a singing chicken.
The Fry-A-Tron: Josh and Parker imagine a French fry monster terrorizing the mall.
Mind Power: A machine hypnotizes the customers into meat craving zombies.
The Meatrix: The items come to life and start to attack Parker.
Beef-Bop-A-Lula: The characters all come together to sing a song.
In Parker's Sight: In this 15 minute episode, Josh and Parker get locked in the freezer and memorize on good times while Parker eats everything.
Seasons
Season 1 (2006-09)
#
Episode
Original airdate
1
"Buffalo Burrito/Parkerina"
22 September 2006
1: Parker has very bad body odor, but Josh won't tell him for fear of his reaction. Meanwhile, Mr. Meaty is getting ready to introduce their new Buffalo Burrito, and Wink hires two actors to be Bucky Buffalo for the big intro, but they are zapped by the Mr. Meaty Security Bot, who is lurking around the mall. Parker volunteers Josh and himself to be the buffalo, and Josh is forced to get inside the buffalo costume with a very smelly Parker.

2: Mr. Meaty's latest product, the Ms. Meaty burger, is out, and Josh and Parker try to sell it to girls for their phone numbers. But none accept. Parker, however, has eaten 12 and glugged down the special Girly Sauce, which painfully turns him into a girl. Josh sees this as a way to find out why none of the girls are into him. Josh tells the girls that Parker's name is Parkerina, and she is his cousin from the country and has come to get a big city makeover. Josh leaves her in their hands, and they become friends, making Parkerina become more feminine. After talking with the girls, Parkerina becomes angry with Josh and rallies the girls to give him a piece of their mind, but at that very moment Parker turns normal again. The girls become even angrier and shove Josh into Ms. Meaty burgers, causing him to turn into Jocelyn while Parker hides in the freezer.

2
"Wedgelor/Schnozzola"
29 September 2006
1: Josh is upset that the mall girls don't like him because he's skinny. Three eight year old Hip-Hop gangster brats called The Tater Tots harass him, call him "Skinny Butt", and give him a wedgie so he and Parker go to the store to get protein powder, despite Parker telling Josh to listen to Master Kindu, and encounter a jar on the bargain rack that contains the demon Wedgelor. The demon gives Josh a big beefy body, but doesn't enlarge his head to match, And Wedgelor goes on a wedgie rampage in the mall.

2: Josh and Parker try to help Ashley Steinberg get a zit off of her nose with a special concoction, "Nuke 10", but it burns off her nose and they attempt to glue it back on with "Nose Balm 20". Soon they replace her nose with a sausage after her original nose falls into the deep fryer. Everyone likes the new craze for noses made of Meat.

3
"The Fries That Bind/Moochmaster P"
6 October 2006
1: After Parker gets caught in a meat explosion caused by Josh, he storms out of Mr. Meaty. Not only did Josh refuse to apologize, he called him "Porker". But when Parker accepts a new job at the "Soy What" counter across the food court, Josh finds that he can't cope without his friend and heads across the court to apologize. Instead, he discovers Parker about to be sacrificed, and eaten by a vicious soy cult. The two friends overcome their differences and battle their way free, armed with such delicious product.

2: Parker is hungry and he tries to get Josh to give him One bite of his sandwich. Josh gives in and Parker eats almost the whole thing. Josh calls him a moocher. Parker then goes around Scaunchboro Mall and takes one bite of everyone's food. Then he comes back and eats a raw burger and a tapeworm soon grows in Parker's stomach and eats the food Parker mooches before Parker can.

4
"Hamish/Tater Turf"
13 October 2006
1: After Josh and Parker get into a fight over a girl, Parker looks for a new best friend. Though unsuccessful, he creates one of his own. He names him Hamish, since his head is made of ham. He and his new friend go to the same movie theater that Josh and his date are do. His new friend Hamish disturbs everybody though.

2: The Tater Tots challenge Josh to a dance-off, and Josh wins. But when another challenge comes, Josh reveals that he only has one move.

5
"Noseferateens/I Love Lizzy"
27 October 2006
1: Josh and Parker discover a vampire hiding in the freezer and decide that becoming undead is the perfect plan to get away from all the boring rules they endure every day working for Mr. Meaty. But they're quickly aghast when they have no reflection, food has no taste, and Doug's on the hunt to catch any fangheads in his mall.

2: When Lizzy, a new employee, arrives at Mr. Meaty, Parker quickly falls for her. She's a messy eater; she likes Star Raiders and her burps smell like his favorite burger combo. Only problem is, Josh thinks she's pretty hot too. The two boys get into a game of one-upmanship, trying to impress Lizzy – a game that Parker wins. But when Josh discovers that Lizzy's really a lizard-faced alien, He tries to tell Parker however Parker doesn't believe him.

6
"The Tell-Tale Burger/Parker's Date"
4 November 2006
1: When Parker suddenly runs off to the bathroom, and Josh has to cook fries and causes an overflow of oil, He blames Parker for it. After his guilt takes him over, Josh confesses to Mr. Carney.

2: When Josh talks Parker into going on a double-date with him, he has to change his buddy from zero to hero. Despite all the training, he still is a zero; and the date is disastrous. Until Parker finds a girl who talks a little Kalingi herself.

7
"Model Employee"
18 November 2006
Meatycorp has came up with a new design, a robot who is named Chip 2.6 which is supposed to help out Mr. Meaty's business. Soon enough Parker realizes that it is out to take their jobs. Parker asks Chip to remove his parts meanwhile Josh gets mad at him because Josh likes Chip. Soon enough Chip comes alive and controls Parker.
8
"Unihorn/Josh-Off"
25 November 2006
1: Parker finds a magic crystal and receives a unicorn horn with the power to heal. Josh gets jealous, and summons a unicorn with the same crystal, only to become an ugly looking unicorn himself.

2: Josh is flirting with Ashley and Ashley 2 when Parker walks in, dressed like his favorite character Gundar Twinklefluffy. Josh tells Parker that he has made a new rule: No more wizard hats. Parker tells Josh that he is just being himself. Josh tells Parker that he is obliterating his reputation, and tells him to not be himself and to be cool instead, but Parker literally does this. After a while, Parker thinks that he really is Josh, and Josh gets fed up with Parker for stealing his image. Now, they have a face-off, hosted by Doug to see who is the real Josh. Round 1: Get the girls' phone numbers, Round 2: Feed some hungry customers, and Round 3: A wrestling match. Parker wins all the rounds (except Round 2), and makes Josh dress like a wizard. Meanwhile, Parker gets a new job: Dresses up like a security guard, along with Doug.

9
"Roast Beef Barb/My Eddie"
2 December 2006
1: When Barb (Josh's girlfriend, made out of "Jiffy Meat" and everyone's DNA) is created by Parker, Josh thinks nothing of her at first, but when he hears people in Scaunchboro Mall, criticizing her, he has second thoughts about Barb. After their day together, Josh lets Barb stay in the freezer as a room, only to find her the next morning, cheating on him by making out with a hunk of beef, saying that "he" was so much hotter than Josh.

2: Parker orders a baby yeti, that he saw on a commercial from Japanese TV, and names him Eddie. When stored in the freezer, Eddie eats everything in sight, and, as a result, grows into a giant yeti. But when Mr. Wink comes by to drop off the new products, what will Parker do with Eddie? Even worse, Mr. Carney and Mr. Wink find Eddie, and decide that they can do something about Eddie and Parker: Have an A-bominable barbeque!

10
"Suburbs of the Apes/Doug of the Dead"
9 December 2006
1: After Ken and Darryl steal the first Game Craze, Josh and Parker build a time machine to go 2 months into the future. Josh and Parker soon find Scaunchboro Mall, invaded by baboons. It turns out Parker accidentally sent them into the year 2676 (where apes ruled the Earth).

2: A strange new device is brought to Mr. Meaty (called the "SALIVATOR-X8), guaranteed to increase meat sales by 200%. When activated, the machine turns everyone into zombies. Doug saves Josh and Parker from the zombies and destroys the SALIVATOR-X8.

11
"Original Sin/Ninjam"
31 March 2007
2: Wink tells the story on how he hired Josh and Parker and how they thawed out Mr. Carney and how he received his implant on his neck.

2: After Ken and Darryl scare Josh and Parker with scary masks, they plot revenge against them. They ask Ping, the owner of Chop Schtick, to teach them how to be ninjas and they promise him to never use their ninja abilities for revenge. But after Mr. Ping leaves, Josh and Parker get revenge on everyone that laughed at them earlier. After Mr. Ping stops the gang from fighting, he makes them eat a Chicken Ball of Dishonor so they'll forget what happened to them. So now, Ping doesn't teach them ninjutsu anymore.

12
"Dinkleman/Incredible Jerk"
30 July 2007
1: Mr. Carney gives Parker superpowers (thus turning him into the superhero Dinkleman) that end up annoying Josh. After defeating Electro Clash (his main arch-nemesis), Destructo, and other supervillains, Parker makes a reluctant Josh be his sidekick. Sooner or later, Parker gets tired of being Dinkleman, so he drinks Josh's sweat to go back to normal. It is then shown that Parker still has his old powers, and he uses them to defeat the bad guys.

2: Parker gets sick of everyone insulting him. So when people do insult him he turns into a rampaging beast and insults everyone. In the end everyone apologizes and he is normal, but Josh gets him mad just so he would move the big boxes in the freezer.

13
"Parker's First Kiss/Kid's Party"
6 December 2008
14
"Embarresed To Death/Puppet of Pop"
13 December 2008
1: A video leaked into the internet causes Parker to literally die of embarressment, but it's not his time to go yet.

2: Mr. Carney books teen pop star Jesse Lumberpond to hold a concert at Scaunchboro Mall, and Josh and Parker scheme to be in his band, until he is knocked unconscious by Parker.

15
"Nightmare on Josh Street/Lord of the Geeks"
20 December 2008
1: Josh secretly throws a party while his family is out of the house, but Parker's not allowed to come because of his gross and embarrassing personality. In the end, Parker comes along anyway and unintentionally ruins the party for Josh, whom he later apologizes to.

2: The cool kids and the geeks work together to defeat an evil orc.

16
"Geezers/Insecurity Guard"
27 December 2008
1: Josh and Parker want to make a movie but they don't so 80 years later as old people they go back to when the where teens and tell them to make the movie.

2: Parker wants to be treated with respect so he knocks Doug out and then becomes a security guard to recover for him. Now he gets respect.

17
"Mamma's Boy/Puberty Fairy"
3 January 2009
1: Parker becomes sick of his over nurturing mother, so to get away from her he moves to a dumpster.

2: Parker is visited by the puberty fairy, and struggles to hang onto his childhood so he and Josh can see Star Raiders VI.
Season 2 (2008-09)
#
Episode
Original airdate
19
"Flinga Flonga/Backseat Driver"
10 January 2009
1: Josh and Parker find out that Brent Butcher, their childhood bully, is visiting Scaunchboro Mall. So they try to get revenge on him for the past bullying until Josh realizes that Brent has changed and apologized for picking on them. Despite Josh begging him to cancel their plan, Parker doesn't want to.

2: Josh fails his driver's test, and instead of admitting it to Brittany, he takes her to the drive-in without a license, secretly using Parker to give him help on driving. Eventually, Josh accidentally runs over a skunk and apparently kills it, but he brings it into the car since he doesn't know how to open the trunk. After a crash accident, a police officer stops Josh and tells him to step out of the car, only for the skunk to wake up and take control of the car, and he ends up driving it down a cliff and destroys it.

20
"The Big Meaty Musical"
24 January 2009
After an accident at a concert, Josh has a dream where he stars in a musical where he must save Princess Brittany from Mr. Carney and his skeleton henchmen, using his diamond voice to defeat the bad guys.
21
"Josh Quits/Lights Out"
31 January 2009
1: Josh quits working at Mr. Meaty to get a new job as a filmmaker. Unfortunately, things don't work out as Josh had planned.

2: Scaunchboro Mall loses power during a thunderstorm.

22
"Parker's First Kiss/Geezers"
7 February 2009
1: While at school, Parker falls in love for a girl named Leanne. So he sets up the "perfect date" for her, but he still needs help from Josh and Brittany since he doesn't really know much.

2: The old people go on a rampage in Scaunchboro Mall.

23
"Valentine's Day"
14 February 2009
Josh tries to help Parker find a date for Valentine's Day, but Parker keeps messing it up.
24
"Freaky the 14th/Vacation"
26 February 2009
1: It is Friday the 13th at Scaunchboro Mall, and Parker thinks that somebody's out to get him, so he asks Josh for help.

2: Josh and Parker go on vacation, and Josh learns that Parker is "vacationing" at work.

25
"Back To The Present/Josh and Parker of the Dead"
1 March 2009
1: 80 years in the future, Josh and Parker regret never making their Ninja Zombies movie, so they go back in time to try and convince their younger selves to finally do it and quit putting it off all the time.

2: A new item on the menu makes the Tater Tots turn into zombies. Having dealt with zombies before, Josh and Parker turn to Doug for help.

26
"Night of the Fryertron/Fired"
7 March 2009
1: Josh and Parker make a machine to make fries twice as fast so they won't have to do it, but it backfires when the machine comes to life and tries to destroy Scaunchboro Mall.

2: After Parker messes up an order, an angry Mr. Wink fires the boys; so now, Josh and Parker have to find new jobs.

26
"Substitute Creature/The Night Shift"
14 March 2009
1:One morning, Josh and Parker go to school. But they get an extreme shock when they discover that Mr. Carney will be their substitute teacher.

2: After Mr. Meaty is robbed, Mr. Wink has Josh and Parker work at night so they can be on the lookout for robbers.

27
"The Mr. Meaty Show"
21 March 2009
A filmmaker visits Scaunchboro and he decides to make a documentary about restaurant employees, and he makes Josh and Parker the main stars.
26
"Just Desserts/Shut Down"
21 March 2009
1: Parker does his best to not eat junk food for a whole week.

2: Mr. Meaty is shut down by the health department.

27
"Playmate for Parker/Goodbye Doug"
28 March 2009
1: Parker makes a new friend, making Josh become jealous.

2: Doug retires from Scaunchboro Mall, but he leaves only 1 day for Josh and Parker to change his mind.
Season 3 (2009)
#
Episode
Original airdate
28
"Return of the Model Employee"
21 April 2009
Chip is back, now in the form of Chip 2.7, and he's looking for revenge. This leaves Josh and Parker to once again stop Chip and save their jobs.
29
"Dream of the Dead"
23 May 2009
Josh and Parker try to win a filmmaking contest held by the famous horror filmmaker Mr. Romero. They finally come up with the title being Ninjas Zombies Bikini Babe Robot War Etc. and get deceased horror movie actor Karlon Bugosi to play the zombie, while they themselves will play the ninja heroes. The movie turns out to be "awesomely terrible", but Mr. Romero admits his own movie was worse than Josh and Parker's, which surprises them. After telling Bugosi what happened, Parker says it doesn't change the fact that he and Josh will make movies forever. Mr. Bugosi, feeling bad that Josh said Mr. Romero thought he stank, gets back at the filmmaker by eating his brain after going into his office. It is then shown that Josh and Parker left Scaunchboro for Hollywood, where they made 7 Ninja Zombies movies, stayed best friends for the rest of their lives, and never went back to Mr. Meaty until they cancelled the entire franchise. As well, it is revealed that Mr. Bugosi not only ate Romero's brain, but also half the people in Scaunchboro, but nobody noticed. Series finale.|}

See Also
Community content is available under
CC-BY-SA
unless otherwise noted.