Jurassic World: Dominion Dominates Fandom Wikis - The Loop
Play Sound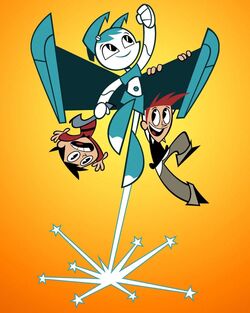 My Life as a Teenage Robot is an animated television series, produced by Frederator Studios for Nickelodeon and distributed by Nelvana Limited outside of the US.
The series follows the adventures of a 16-year-old robot girl named Jenny Wakeman (a.k.a. XJ-9), who was created by her mother Dr. Nora Wakeman and designed to protect Earth while also trying to live the life of a normal teenage girl.
Nickelodeon debuted the series on August 1, 2003 at 8:30 PM. But despite critical success, the series was a ratings disappointment. After the series was cancelled, later episodes of the series started airing as "never before seen episodes" on the Nicktoons Network. The series is distributed outside the United States by the Canadian animation studio, Nelvana Limited.
The series was based on the Oh Yeah! Cartoons short "My Neighbor was a Teenage Robot" which was aired on January 5, 1999 and created by Rob Renzetti. The show first aired on August 1, 2003 and ended on May 2, 2009. It won a Primetime Emmy Award and Eleven Annie Awards.
Plot
XJ-9 (or Jenny, as she calls herself) is a highly sophisticated battle robot created by Dr. Norene Wakeman to be a defender of Earth. Despite enjoying her superhero life, Jenny also wants to fit in and live the life of a normal teenage girl. Jenny and Wakeman live in the fictional futuristic town of Tremorton, and live next door to Jenny's best friends Brad and Tuck Carbunkle.
At school, Jenny has an ongoing rivalry with the Crust Cousins, Brit and Tiff, the popular girls in school. She also met and became a close friend to Sheldon Lee, a somewhat stereotypical but very intelligent geek who is madly in love with her.
Adding to her trouble is that Jenny is constantly being dogged by the all-robotic Cluster Empire, whose queen, Vexus, wants her to join their world of robots (by force if necessary).
The show often focuses on making lighthearted fun of typical teenage problems and other conventions of the teenage and superhero lives, mixed up with a blend of action and comedy sequences.
Characters
→ Main article: List of My Life as a Teenage Robot characters
Main
Episodes
→ Main article: My Life as a Teenage Robot episode list
Season
Episodes
Originally aired
DVD release
Season premiere
Season finale
Network
Pilot
0
January 5, 1999
Nickelodeon
N/A
1
13
August 1, 2003
February 27, 2004
December 12, 2011
2
12
December 8, 2004
September 9, 2005
3
15
January 13, 2006 (Asia)
October 4, 2008 (U.S.)
March 30, 2007 (Asia)
May 2, 2009 (U.S.)
Nickelodeon (Asia)
NickToons (U.S.)
Broadcast history
Nickelodeon (August 1, 2003-April 26, 2009)
Nicktoons Network/NickToons (April 3, 2006-May 16, 2016)
Paramount+ (November 10, 2020-present)
TeenNick (March 27, 2021-September 19, 2021)
Merchandise
Jenny is a playable character in both the console and Nintendo DS versions of Nicktoons: Attack of the Toybots. She, Dr. Wakeman, Brad, Tuck, and Sheldon also have several cameos in Nicktoons: Freeze Frame Frenzy.
My Life as a Teenage Robot merchandise is purchasable at Frederator's Official Store.
DVDs
→ Main article: My Life as a Teenage Robot videography
Select episodes of the series were featured on the Nick Picks DVD series from 2005 to 2007. Eventually, the complete series was made available on three manufacture-on-demand season DVD sets, released on Amazon.com in December 2011. Unfortunately, the season sets were discontinued on June 4, 2021.
References