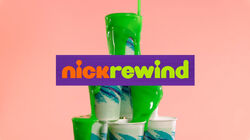 NickRewind was an hour-long block on Nickelodeon that aired from 1:00 - 2:00 pm EDT every Sunday in the spring of 2006. It featured such shows as The Wild Thornberrys, Rocko's Modern Life, Rocket Power, and The Ren & Stimpy Show. It also featured old Nickelodeon bumpers and station ads. The block stopped airing in August 20, 2006, and the station IDs weren't used anymore.
Five years later, a similarly-themed block, The '90s Are All That, was launched on TeenNick on July 25, 2011. It would later be rebranded as The Splat on October 5, 2015, renamed NickSplat in 2017, and would again be rebranded as NickRewind on March 19, 2019, effectively reviving use of the name. Music videos were aired on the same day as well.
Shows airing on NickRewind
Live-Action
Community content is available under
CC-BY-SA
unless otherwise noted.