Nick on CBS (also known as Nick Jr. on CBS) was a Saturday morning children's programming block on CBS that began on September 16, 2000, replacing CBS Kidshow. This Saturday morning block presented programming from Nick Jr., which at the time shared common ownership with CBS under Viacom. When the block first properly aired, the "Face" character provided the continuity.
On September 14, 2002, Nick Jr. on CBS was re-branded as Nick on CBS, and airing both Nickelodeon and Nick Jr. shows. The Nickelodeon shows were removed in 2004 in favor for a return to an exclusively-Nick Jr. block. The block's continuity was provided by segments featuring Piper O'Possum.
At the beginning of New Year's Eve 2005, Viacom was split into two different companies, with CBS Corporation becoming its own standalone company and Nickelodeon going to the new Viacom. Nick Jr. on CBS ended on September 9, 2006 and was replaced by KOL Secret Slumber Party on CBS on September 16, 2006, as part of a multi-year partnership between CBS and Cookie Jar Entertainment.
All programming during the block, as is standard for Saturday morning network programming, was labeled as meeting E/I requirements. Nickelodeon's most popular animated programming of the time (except for SpongeBob SquarePants and Fairly Odd Parents, which aired as one-time special presentations outside of the block) was not included in the block, both to protect their own successful Saturday morning lineup on Nickelodeon itself and because those shows could not have been classified under the E/I designation.
Nick Jr. on CBS (2000–02)
September 16, 2000 – March 31, 2001
April 7, 2001 – June 9, 2001
June 16, 2001 – September 8, 2001
September 15, 2001 – March 30, 2002
April 6, 2002 – September 7, 2002
Nick on CBS (2002–04)
September 14, 2002 – January 25, 2003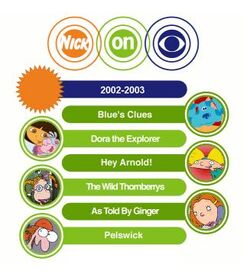 February 1, 2003 – September 6, 2003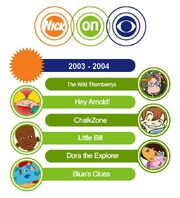 | Time slot | Show |
| --- | --- |
| 7:00 a.m. | Rugrats |
| 7:30 a.m. | The Wild Thornberrys |
| 8:00 a.m. | ChalkZone |
| 8:30 a.m. | Hey Arnold! |
| 9:00 a.m.–11:00 a.m. | The Early Show |
| 11:00 a.m. | Dora the Explorer |
| 11:30 a.m. | Blue's Clues |
September 13, 2003 – March 6, 2004
March 13, 2004 – September 4, 2004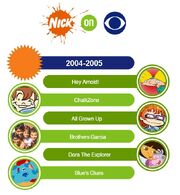 Nick Jr. on CBS (2004–06)
September 11, 2004 – September 10, 2005
September 17, 2005 – September 9, 2006