Jurassic World: Dominion Dominates Fandom Wikis - The Loop
Play Sound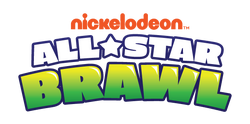 Nickelodeon All-Star Brawl is a fighting crossover game featuring various Nickelodeon characters. It is a follow-up to Nickelodeon's Super Brawl series, but unlike the previous games (which were online and mobile games that played similarly to the Street Fighter games), it will be a console platform fighter in the vein of the Super Smash Bros. series.
The game was developed by Ludosity and published by GameMill Entertainment. It was released for PlayStation 5, PlayStation 4, Xbox One and Nintendo Switch in the fall of 2021.
Playable characters
"At launch, there will be 20 characters, with 2 more following soon after. Additional DLC characters will be revealed after that."
Stages
Items
Trivia
This marks the first of few things:

The first Nickelodeon fighting game on a console.
The first Super Brawl game without the word "Super" in its title.
The first DLC game.
The first game to use the 1987's designs of the Turtles.
The first time Garfield appears in any Nickelodeon media.
The first game to have crossplay.
The first playable appearences of Oblina, Hugh Neutron, Nigel Thornberry, April O'Neil, Garfield, and Toph Beifong in a crossover game.

Its existence was first confirmed by Gamefly.com.[1]
This marks the first console crossover game to include any characters from Aaahh!!! Real Monsters and The Adventures of Jimmy Neutron, Boy Genius since Nicktoons MLB, as well as the first to include characters from The Wild Thornberrys since 2004's Nicktoons: Freeze Frame Frenzy.
Unlike the previous Nickelodeon crossover games involving the Ninja Turtles, the Turtles, April, and Shredder in this game are the versions from the 1987 cartoon, who guest-starred in two episodes of the 2012 series.
Fighters such as Aang, Korra, April, Ren & Stimpy and CatDog were leaked in an early box art.
According to Richard Steven Horvitz (Zim's voice actor), it is confirmed that he was not cast to voice Zim at the time.[2]
On September 15th, DLC been confirmed for the game, as well as possible voice acting for the characters. [3] Voice acting was officially confirmed, along with the addition of items, on June 6, 2022.
As of now, Korra is the only fighter without it's reveal trailer uploaded by GameMill's Youtube Channel.
On November 20, costumes have been confirmed in the official Twitter account.[4]
To date, SpongeBob, Patrick, Sandy, Helga, Leonardo, Michelangelo, Shredder, Reptar, Lincoln, Zim (and GIR), Aang, Korra, Danny, CatDog, Jenny and Rocko are the only playable characters from Nickelodeon Super Brawl series to return in this game.
This is the second game to have a location based on Double Dare to appear, after Nickelodeon Kart Racers 2: Grand Prix.
On December 15th, crossplay was confirmed for the game.[5]
Videos
Trailers
Showcases
Other
References
External links