Nickelodeon Kart Racers 2: Grand Prix (also known as Nickelodeon Kart Racers Game for mobile) is a racing video game developed by Bamtang Games and published by GameMill Entertainment. It was released for PlayStation 4, Xbox One, and Nintendo Switch on October 6, 2020,[2][3] and for Microsoft Windows on December 1, 2020. It is a direct sequel to the 2018 game Nickelodeon Kart Racers and includes a roster of 30 playable characters, plus 70 companion characters. A third game, Nickelodeon Kart Racers 3: Slime Speedway, will be released on October 7, 2022.
Gameplay
28 tracks, some remastered from its predecessor, and two arenas based on different locations from the shows are included in the game. Like its predecessor, it has local multiplayer for up to four players, but it also has online multiplayer for up to eight players, a feature that was not in the first Kart Racers.[4] The karts can be customized, and power-ups can be picked up from the tracks. The kart body is chosen with the character it belongs to.
Playable characters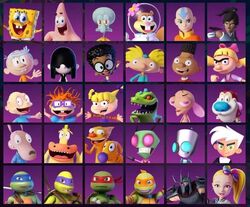 At 30 characters, this game has the biggest roster of any Nicktoons racing game, including all of the racers from the previous entry. Bold text indicates characters making their first playable appearance in a racing game. Itatic text indicates which characters are playable in the mobile version.
"Pit crew" characters
Chief characters
Crew members
Cob (JoJo's unicorn)
Mr. Sunshine
Tracks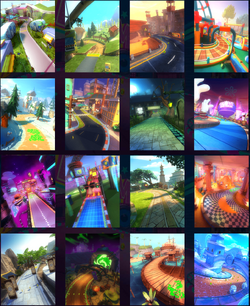 Show
Track
Avatar: The Last Airbender
Ba Sing Se
Northern Water Tribe
SpongeBob SquarePants
Glove Universe
Lost City of Atlantis
Goo Lagoon Boardwalk
Rugrats
'Lympics Park
Reptar Ruins
Toy Palace Speedway
CatDog
House of CatDog
Invader Zim
Foodcourtia
Irken Armada
The Ren & Stimpy Show
Kilted Yaksmen Raceway
Space Madness
Hey Arnold!
San Lorenzo Cruise
Hillwood Rally
Double Dare
Double Dare Obstacle Course
The Loud House
Royal Woods Roundabout
Most Haunted Tour
Teenage Mutant Ninja Turtles
Big Apple Night Tour
Sewer Subway
Mutagen Wasteland
Technodrome Takedown
Rocko's Modern Life
O-Town Highway
Nature-O-Rama
The Legend of Korra
The Spirit World
Air Temple Island
Danny Phantom
The Ghost Zone
The JoJo & BowBow Show Show
Dreamland
Trivia
This game marks the first appearance of The Loud House characters in a home console video game, and is also the first Nicktoons racing game to include a real-life Nickelodeon star (JoJo Siwa) as one of the playable characters.
This game also marks the first appearance of CatDog and Stimpy in a racing game since the original Nicktoons Racing (as well as Ren, though he only had a cameo in that game's PC version), and the first appearance of Aang, Danny and Zim in a racing game since Nicktoons Nitro.
This is the first video game to feature characters from Rocko's Modern Life since the home console versions of Nicktoons: Attack of the Toybots, and the first one to feature characters from Ren & Stimpy, CatDog, Invader Zim, Danny Phantom, and Avatar: The Last Airbender since Nicktoons MLB.
This is the first Nickelodeon crossover console game to feature The Legend of Korra characters.
Videos
References