This is a list of toys created by the popular kids network Nickelodeon.
Floam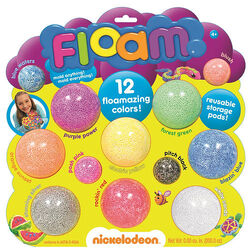 Floam is a somewhat thick gooey substance will small polystyrene beads inside of it. The main advertising ploy is that it molds, sticks to things and hardens when left out, so ordinary objects can be made into "colorful floam creations." It comes in a variety of colors, including green, blue, yellow, purple, silver, black, orange, pink and red. It mixes easily to create an almost infinite range of colors and hues.
Floam was not actually invented by Nickelodeon. The inventor is a professor at F.I.T. who came up with the formula in his studio in the early 80s. Mattel picked it up and began marketing it to kids. They dropped it in the early nineties, and most recently it was picked up and re-launched by a small toy company out of Boston called "Hands On Toys."
Zzand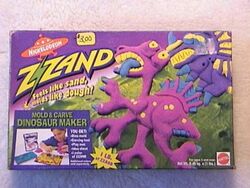 Zzand is a modeling compound very similar to Play-Doh, however, its defining feature is the sand distributed throughout it. It is notorious for being extremely messy, and the default color is green.
Gak
Gak is the gooiest of all of the Nickelodeon modeling compounds. It is basically just for playing with, as its consistency makes it impossible to form into any shapes. It is somewhere in between a liquid and a solid.
Flash Screen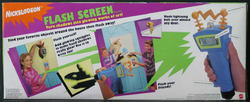 The Flash Screen was a very popular toy when it was first released in 1994. The Flash Screen was meant to be played in a dark room and included a white glow in the dark poster with a two in one "Zapper" which featured a camera flash top with flashlight bottom. The user would turn on the camera flash and leave a shadow silhouette of themselves on the white poster emitting a green glow. The user can then take the flashlight pen and draw on their silhouette. The toy was eventually canceled due to claims of health hazards with children experiencing seizures due to staring at the flashbulb too much.
Timeblaster Alarm Clock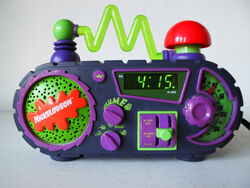 An alarm clock featuring a radio and light function. The light is a green zig-zag shaped tube running across the top of the clock. The alarm function can be set to radio or one of the pre-set alarm noises. The noises always begin with a rocket blast-off noise as someone says "3...2...1... ." The alarms available are a spring bounce sound, the Nickelodeon theme (Nick Nick Nick, N-Nick Nick Nick, Nickelodeon), a rooster call, or simple beeping. A second version of the clock featured 8 noises. The clock display is green. It features one circular speaker on the left side of the clock. The radio antenna included is simply a flexible rubber-covered wire.
See also
Community content is available under
CC-BY-SA
unless otherwise noted.