This page is part of the Wikia tour.
The content below is from SpongeBob SquarePants (character) on this wiki. This is the page of SpongeBob SquarePants, the main character from the same name! Character articles will be formatted similarly, and will appear as such.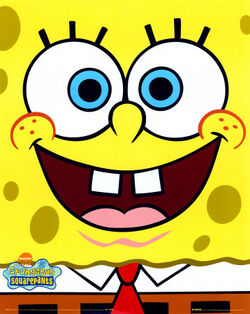 SpongeBob SquarePants is the titular protagonist of the Nicktoon of the same name. He is voiced by Tom Kenny and first appeared on television in the series' pilot episode, "Help Wanted", on May 1, 1999. SpongeBob was created and designed by former marine science teacher Stephen Hillenburg, who originally used the character in an educational book he wrote in the 1980s. Thanks to success and popularity of the franchise, SpongeBob has become a household name and the official mascot of Nickelodeon, and also appears in the current Nickelodeon Movies logo.
As shown in "The Secret Box", SpongeBob has known his best friend Patrick since they were both little babies. SpongeBob moved into his sunken pineapple house with his pet snail, Gary, one day after moving out of his parents' house. He later met his next-door neighbor, Squidward. His teacher is Mrs. Puff and his boss is Eugene Krabs.
SpongeBob is an excitable and charming young sponge. He and Patrick often annoy Squidward without really knowing it.
History
Biography
According to his driver's license in "Sleepy Time", SpongeBob was born on July 14, 1986—making him just thirteen years old as of the episode's airing in 1999.
Education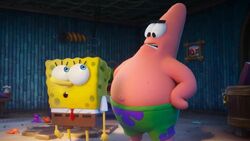 Much of SpongeBob's early education is unknown; however, it was mentioned that his kindergarten teacher was Mrs. Shell. Also, he encountered a fellow elementary classmate named Dennis in "The Sponge Who Could Fly". He also mentioned that he was voted most clumsy in high school, and was never able to get a date for his junior prom.
SpongeBob is currently in boating school, run by his dedicated teacher Mrs. Puff. He knows every answer to Mrs. Puff's oral exams and is the most committed student in her class. However, SpongeBob's anxious nerves always take over when he gets behind the wheel of a boat, leading to his very frequent failures at passing the driving exam.
He still doesn't have his boating license.
Employment
For a long time, SpongeBob held a desire to work at the Krusty Krab. After a pep talk from Patrick, he decided to apply for a job as a fry cook to the restaurant's owner, Eugene Krabs. SpongeBob, being an excellent fry cook himself, wanted to master the art of creating a Krabby Patty. Mr. Krabs hired him, but first wanted to see how capable he was. He sent him to buy a hydro-dynamic spatula with port and starboard attachments (which would be seen occasionally in later episodes). To Mr. Krabs' shock, SpongeBob returned with said spatula in the nick of time (the Krusty Krab had been invaded by anchovies). SpongeBob fed all of them with Krabby Patties, and Mr. Krabs was extremely pleased. SpongeBob was hired soon after. He is also responsible for keeping up the good work at making Krabby Patties for the customers so he can satisfy Mr. Krabs with money he'll get when the people pay for the food.
Leisure
He frequently gets days off at the Krusty Krab Restaurant, and as a result he spends his free time with his best friend Patrick Star, and especially enjoys practicing karate with his other friend Sandy Cheeks. He also likes eating jelly, and collecting the jellyfish at Jellyfish Fields. To date, he has caught, named, and let go every jellyfish in Jellyfish Fields at least once, except the blue jellyfish, until the end of the episode "Jellyfish Hunter".
SpongeBob also likes to blow bubbles, surf, sun bathe, and play the ukulele. His favorite TV show is The New Adventures of Mermaid Man and Barnacle Boy. SpongeBob is such a fan of the show that he and Patrick together brought them out of retirement. They also pretend to be Mermaid Man and Barnacle Boy.
Appearance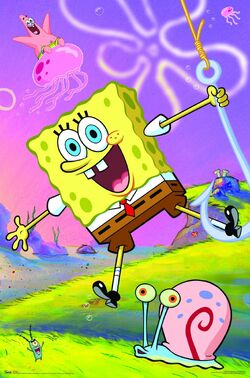 SpongeBob is a yellow sea sponge with olive green holes. He wears brown pants, a white polo shirt, red necktie, white knee-high socks with red and blue stripes, and black leather shoes. He also has light blue eyes, with 3 eyelashes on each one, rosy cheeks with three freckles on each one, and a pink chin. His underwear consists of white cotton low-rise briefs.
Relationships
Songs sung by SpongeBob
From the show
"Ripped Pants" (voiced by Peter Strauss)
"Sweet Victory" (voiced by David Glen Eisley)
"

Campfire Song Song

"
"

If Only I Could Join You

"
"

He's Flying

"
"

All You Need Is Friends

"
"Oh Baby"
"Down The Well"
"The Bubble Song"
"Fueling The Bus"
"Good-Bye, Atlantis"
"Attitude of Gratitude"
"A Day Like This"
"Oh Krusty Krab"
"Santa Has His Eye On Me"
"Don't Be A Jerk (It's Christmas)"
"It's High Tide Time We Went On Tour"
"Never Give Up"
"Who Am I?"
From the movies
"Goofy Goober Rock" (voiced by Jim Wise)
"

The Best Day Ever

"
"Thank Gosh It's Monday"
"Teamwork"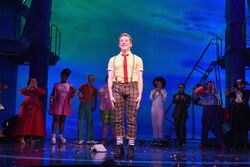 Trivia
SpongeBob is one of the only two characters who is playable in every installment of the Nicktoons Unite! video games (the other being Danny Fenton).
In 2002, SpongeBob was ranked #9 in TV Guide's Top 50 Greatest Cartoon Characters list (which also included Angelica Pickles at #7 and Ren and Stimpy at #31). He was notably the most recent character featured on the list at the time of its publication.
In the Welcome to the Wayne episode "

Like No Market on Earth

", SpongeBob briefly appears as one of Equimorph's transformations, referred to as "SpongeRobert RectangleShorts".
According to Stephen Hillenburg, SpongeBob is asexual, meaning he has no sexual desire, though he could fall in love.
He is left-handed.
SpongeBob's star sign is Cancer♋.
At the beginning of The SpongeBob SquarePants Movie, SpongeBob says that he has been named Employee of the Month 374 times in a row. This would mean that, by the time of the movie's events, he had been working at the Krusty Krab for over 31 years.

However, the episode "Breath of Fresh Squidward" has Squidward actually being named Employee of the Month and breaking SpongeBob's winning streak.
Gallery
External links