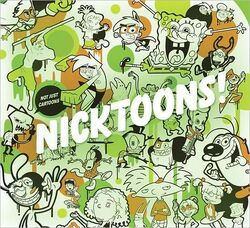 Television
Episode premieres
Year
Show
Episode(s)
1994
Aaahh!!! Real Monsters
"The Switching Hour" (series premiere)
The Adventures of Pete & Pete
"Halloweenie"
Are You Afraid of the Dark?
"

The Tale of Cutter's Treasure

"
1995
Rocko's Modern Life
"The Emperor's New Joe" / "Schnit-heads"
1998
CatDog
"All About Cat" / "Trespassing"
2001
Blue's Clues
Making Changes
Dora the Explorer
"Dora Saves the Prince"
2002
The Fairly OddParents
"Scary Godparents"
2003
The Adventures of Jimmy Neutron, Boy Genius
"Nightmare in Retroville"
2004
Danny Phantom
"Fright Night"
2005
Zoey 101
"Haunted House"
Unfabulous
"The Dark Side"
2006
Ned's Declassified School Survival Guide
"Halloween" / "Vampires, Ghosts, Werewolves and Zombies"
2007
Yo Gabba Gabba
"Halloween"
2011
Big Time Rush
"Big Time Superheroes"
Supah Ninjas
"Ishina"
2012
Figure It Out
Featuring Daniella Monet
2016
SpongeBob SquarePants
"Mermaid Pants"
2018
Nella the Princess Knight
"Frozen Trinket" / "Anything for a Friend"
2020
Unleashed
"Got To Be Kitten Me!"
2021
Blue's Clues & You!
"Blues Big Costume Parade"
The Patrick Star Show
"Gas Station Vacation"
Middlemost Post
"Darker Parker"
The Smurfs
"Bringing Up Smurfy" / "The Makeover"
The Loud House
"How the Best Was Won" / "Animal House"
The Adventures of Paddington
"Paddington Goes Green"
Books
People
Births