On the Team is an original live-action series, produced by Nickelodeon for Noggin. It is a 13-part documentary about a Little League baseball team. It was created by Lisa Wood Shapiro, and it was executive-produced by Shapiro with Gus Reyes.
The show premiered on January 30, 2001, on Noggin. It later ran on the main Nickelodeon channel from May to June 2001. It was briefly seen on The N, Noggin's nighttime programming block, in mid-2002.
Plot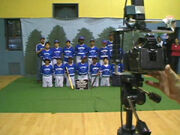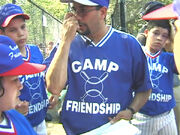 On the Team follows the real-world experiences of a Brooklyn coed youth baseball team, on and off the field, which are documented as the kids battle their way into the playoffs during the 2000 season. The team is called the Camp Friendship Panthers and practices at Prospect Park.
Cast
Bobby Gari (aka "Coach Bobby") - The vociferous head coach
Mr. Cruz (aka "Mr. C") - Coach Bobby's calm, collected assistant who is the father of Stephanie
Stephanie Cruz - Mr. C's daughter and the team's ace pitcher
Aida - A wannabe pitcher who can only throw a few feet
Christine - A left-fielder who always cheers for her own team
Jarian - The team's best hitter
Jarra - An optimistic right-fielder who is friends with everyone
Justin - The short-stop and outfield player
Jordan - The runt of the team who is stuck in a batting slump
Kevin - Jordan's best friend
Episodes
There were 13 parts to the series. From TV Guide, the plot and title of the first episode is known.
#
Image
Title
Original air date
1

"Practice Makes Perfect"
January 30, 2001
Coach Bobby stresses the importance of commitment during batting practice; Steph visits her grandparents; and Aida asks to become the pitcher.
Gallery
Video
Commercials
Screenshots
Links
External links