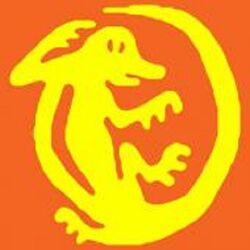 The Orange Iguanas are one of the six teams in Legends of the Hidden Temple.
Of the six teams, the Orange Iguanas made it to the Temple Run 25 times, but only four times did they actually make it out of the temple with the artifact. This makes them the team with the lowest rate of success at the Temple Run.
In The Loud House episode "Legends", Lincoln and Lynn Sr. compete as the Orange Iguanas, their personal favorite of the teams, in a special father-and-son episode of Legends of the Hidden Temple. They wear their Orange Iguana costumes again in the later episode "Home of the Fave".
Performance in episodes with their temple runs
| Episode | Moat | Steps of Knowledge | Temple Games | Temple Run |
| --- | --- | --- | --- | --- |
| "Wild Bill Hickok and the Dead Man's Hand" | Finished fourth at 0:36. | Made it down first; correctly answered questions 3, 5 and 6. | Tied the first and second games and won the third. | The team could not make it to the artifact as time ran out in the Swamp. |
| "The Paintbrush of Leonardo da Vinci" | Finished first at 0:37. | Made it down second; correctly answered questions 3, 4 and 10. | Tied the first game and won the second and third. | The team could not make it to the artifact as time ran out in the Wheel Room. |
| "The Golden Chains of Zenobia" | Finished second at 0:50. | Made it down second; correctly answered questions 5, 6 and 9; incorrectly answered question 8. | Won all three games. | The team could not make it to the artifact as time ran out in the Tomb of the Ancient Kings. |
| "The Stolen Arm of Shiva" | Finished second at 0:35. | Made it down second; correctly answered questions 6, 7 and 8; incorrectly answered question 3. | Won the second and third games. | The team could not make it to the artifact as time ran out in the Shrine of the Silver Monkey, where the second player acquired the other half of his pendant. |
| "Alexander and the Gordian Knot" | Finished first at 0:25. | Made it down first; correctly answered questions 1, 2 and 3. | Won the first and third games. | The team could not make it to the artifact as time ran out in the Shrine of the Silver Monkey, where the second player acquired the other half of her pendant. |
| "The Dragon Lady and the Blue Pearl" | Finished third at 1:12. | Made it down second; correctly answered questions 2, 9 and 10. | Tied the first game and won the second and third. | The second player made it to the featured artifact's room but could not grab it in time. |
| "The Silver Horseshoe of Butch Cassidy" | Finished fourth at 0:37. | Made it down first; correctly answered questions 1, 2 and 3. | Won the third game as well as the tiebreaker. | The artifact was successfully retrieved from the temple with 0:52 remaining. |
| "The Golden Stallion of Ali Baba" | Finished first at 0:37. | Made it down first; correctly answered questions 3, 4 and 5. | Tied the first game and won the second and third. | The team could not make it to the artifact as time ran out in the Dark Forest. |
| "The Silver Cannonball of Grandy Nanny" | Finished third at 0:39. | Made it down first; correctly answered questions 1, 2 and 5. | Won all three games. | The team could not make it to the artifact as time ran out in the Shrine of the Silver Monkey. |
| "The Walking Stick of Harriet Tubman" | Finished third at 1:03. | Made it down second; correctly answered questions 3, 7 and 8; no answer on question 5. | Won the second and third games. | The third Temple Guard in the Crypt captured the second player with less than a full pendant and the half pendant was likely in the Swamp, which only the frontrunner entered. |
| "The Mush Pot Hat of Johnny Appleseed" | Finished first at 0:24. | Made it down first; correctly answered questions 4, 5 and 6; incorrectly answered question 2. | Won the first game and tied the second and third. | The second player grabbed the artifact but could not make it out of the temple in time. |
| "The Cracked Crown of the Spanish King" | Finished second at 1:02. | Made it down first; correctly answered questions 3, 7 and 8; incorrectly answered question 4. | Won the second and third games. | The team could not make it to the artifact as time ran out in the Viper's Nest; the second player acquired the other half of her pendant in the Swamp. |
| "The Lucky Medallion of Atocha" | Finished first at 0:34. | Made it down second; correctly answered questions 5, 7 and 8. | Won the first and second games as well as the tiebreaker. | The artifact was successfully retrieved from the temple with five seconds remaining; frontrunner Ty Mathen dropped his Pendant of Life and it was thrown back to him by (likely) a camera operator so he could give it to the only encountered Temple Guard in the Ledges. |
| "The Shriveled Hand of Efoua" | Finished third at 0:55. | Made it down second; correctly answered questions 4, 6 and 7. | Tied the first and second games and won the third. | The team could not make it to the artifact as time ran out in the Mine Shaft. |
| "The Levitating Dog Leash of Nostradamus" | Finished third at 1:00. | Made it down second; correctly answered questions 1, 2 and 6. | Won the first game and tied the third; won the tiebreaker. | The artifact was successfully retrieved from the temple with fourteen seconds remaining; the second player acquired the other half of his pendant in the Pit. |
| "The Bonnet of Dolley Madison" | Finished second at 0:31. | Made it down second; correctly answered questions 3, 5 and 9; incorrectly answered questions 2, 6 and 8. | Won all three games. | The second player grabbed the artifact but could not make it out of the temple in time. |
| "The Bifocal Monocle of One-Eyed Jack" | Finished second at 0:23. | Made it down second; correctly answered questions 2, 8 and 9. | Won the second and third games. | The team could not make it to the artifact as time ran out in the Tomb of the Headless Kings, where the second player found the other half of his pendant. |
| "The Much-Heralded Helmet of Sir Gawain" | Finished second at 0:21. | Made it down second; correctly answered questions 1, 4 and 8; incorrectly answered question 6. | Won the second and third games. | The artifact was successfully retrieved from the temple with ten seconds remaining; the frontrunner did not encounter any Temple Guards along the way. |
| "The Thornwood Gavel of Judge Roy Bean" | Finished first at 0:22. | Made it down first; correctly answered questions 3, 5 and 6. | Won all three games. | The team could not make it to the artifact as time ran out in the Quicksand Bog. |
| "The Bent Shaving Pan of Jedediah Smith" | Finished third at 0:29. | Made it down first; correctly answered questions 3, 6 and 7; incorrectly answered question 4. | Won the second game and tied the third; won the tiebreaker. | The team could not make it to the artifact as time ran out in the Dark Forest; the second player did not acquire the other half of his pendant in the Jester's Court, but he would not have needed it if he could make it to the Room of the Ancient Warriors where his teammate was captured. |
| "The Useless Map of the Chibcha Chieftain" | Finished first at 0:39. | Made it down first; correctly answered questions 4, 6 and 8. | Won the first and second games as well as the tiebreaker. | The third Temple Guard in the King's Storeroom captured the second player without a Pendant of Life. |
| "The Enormous Feather of the Mê Linh" | Finished fourth at 0:38. | Made it down second; correctly answered questions 6, 8 and 9. | Won the first and second games as well as the tiebreaker. | The second player grabbed the artifact but could not make it out of the temple in time. |
| "The Lily-Crested Crown of Clovis I" | Finished third at 0:23. | Made it down second; correctly answered questions 3, 8 and 9. | Tied the first and third games and won the second. | The team could not make it to the artifact as time ran out in the Shrine of the Silver Monkey. |
| "The Melted Head of Madame Tussaud" | Finished first at 0:15. | Made it down first; correctly answered questions 1, 5 and 8. | Won the first and third games. | The team could not make it to the artifact as time ran out in the Shrine of the Silver Monkey. |
| "The Lost Whale Bone of Pytheas" | Finished first at 0:33. | Made it down second; correctly answered questions 2, 5 and 7. | Won the first game and tied the second and third. | The team could not make it to the artifact as time ran out in the Room of the Ancient Warriors. |