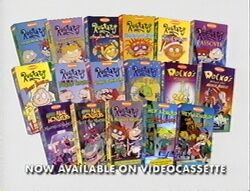 Paramount Home Media Distribution (formerly Paramount Home Entertainment, Paramount Home Video, and Paramount Video) is the division of Paramount Pictures (a subsidiary of Viacom, Inc.) dealing with home video, founded in late 1975. It has been the main distributor of home video releases for Nickelodeon shows following Viacom's acquisition of Paramount.
List of Nickelodeon videos by Paramount
This list is incomplete, but you can help Nickipedia by expanding it.
VHS
Several of the VHS tapes listed below were originally released by Sony Wonder; these are highlighted with an asterisk.
Nicktoons
Title
Release date
Rugrats: A Baby's Gotta Do What a Baby's Gotta Do*
October 1, 1996
Rugrats: Angelica the Divine*
Rugrats: Chuckie the Brave*
A Rugrats Passover*
Rugrats: Phil and Lil - Double Trouble
Rugrats: Tales from the Crib*
Rugrats: The Santa Experience*
Rugrats: Tommy Troubles
Rugrats: Grandpa's Favorite Stories
March 11, 1997
Rugrats: Return of Reptar
Aaahh!!! Real Monsters: Meet the Monsters*
July 8, 1997
Aaahh!!! Real Monsters: Monsters' Night Out*
Hey Arnold!: The Helga Stories
Hey Arnold!: Urban Adventures
Rocko's Modern Life: Machine Madness*
Rocko's Modern Life: With Friends Like These*
Rugrats: A Rugrats Vacation
Doug: Christmas Story*
October 13, 1997
Hey Arnold!: Arnold's Christmas
The Ren & Stimpy Show: Have Yourself a Stinky Little Christmas*
Rocko's Modern Christmas*
Rugrats: Bedtime Bash
October 23, 1997
A Rugrats Chanukah
Rugrats: A Rugrats Thanksgiving
Hey Arnold!: Love Stinks
January 13, 1998
Rocko's Modern Life: Modern Love
Rugrats: Diapered Duo
Rugrats: Dr. Tommy Pickles
Rugrats: Mommy Mania
April 7, 1998
Rugrats: Angelica Knows Best
June 9, 1998
Hey Arnold!: Partners
July 28, 1998
CatDog: CatDog vs. the Greasers
March 30, 1999
CatDog: Together Forever
The Rugrats Movie
Rugrats: Runaway Reptar
August 3, 1999
Rugrats: Make Room for Dil
October 5, 1999
Rugrats: I Think I Like You
January 11, 2000
Rugrats Discover America
May 5, 2000
Rugrats in Paris: The Movie
March 27, 2001
Rocket Power: Maxing Out
August 7, 2001
Rugrats: All Growed Up
Rugrats: Decade in Diapers - Volume 1
Rugrats: Decade in Diapers - Volume 2
Rugrats Kwanzaa
September 25, 2001
SpongeBob SquarePants: Nautical Nonsense
March 12, 2002
SpongeBob SquarePants: Sponge Buddies
Jimmy Neutron: Boy Genius
July 2, 2002
Rugrats: Halloween
August 27, 2002
SpongeBob SquarePants: Halloween
Rugrats: Christmas
September 24, 2002
SpongeBob SquarePants: Sea Stories
November 5, 2002
Hey Arnold!: The Movie
December 26, 2002
Rugrats Mysteries
January 28, 2003
SpongeBob SquarePants: Bikini Bottom Bash
SpongeBob SquarePants: Deep Sea Sillies
SpongeBob SquarePants: Anchors Away
March 4, 2003
SpongeBob SquarePants: The Sponge Who Could Fly
The Wild Thornberrys Movie
April 1, 2003
The Adventures of Jimmy Neutron: Time Warp
May 27, 2003
The Adventures of Jimmy Neutron: When Pants Attack
The Fairly OddParents: Abra-Catastrophe!: The Movie
July 15, 2003
SpongeBob SquarePants: Laugh Your Pants Off
July 23, 2003
SpongeBob SquarePants: Sponge-a-Rama
All Grown Up: Growing Up Changes Everything
August 26, 2003
SpongeBob SquarePants: Christmas
September 30, 2003
The Adventures of Jimmy Neutron: Sea Of Trouble
October 7, 2003
Rugrats Go Wild
December 16, 2003
SpongeBob SquarePants: The Seascape Capers
January 6, 2004
The Fairly OddParents: Superhero Spectacle
February 3, 2004
SpongeBob SquarePants: SpongeBob Goes Prehistoric
March 9, 2004
Jimmy Timmy Power Hour
May 11, 2004
SpongeBob SquarePants: SpongeGuard on Duty
June 1, 2004
Rocket Power: Island of the Menehune
July 27, 2004
All Grown Up!: Lucky 13
August 31, 2004
The Fairly OddParents: Channel Chasers
October 5, 2004
SpongeBob SquarePants: Sponge for Hire
November 2, 2004
All Grown Up!: O'Brother!
November 16, 2004
As Told by Ginger: The Wedding Frame
November 23, 2004
SpongeBob SquarePants: Home Sweet Pineapple
January 4, 2005
The Fairly OddParents: Timmy's Top Wishes
January 18, 2005
The SpongeBob SquarePants Movie
March 1, 2005
As Told By Ginger: Far From Home
April 5, 2005
SpongeBob SquarePants: Fear of a Krabby Patty
May 24, 2005
The Fairly OddParents: School's Out!: The Musical
June 14, 2005
The Fairly OddParents: Scary Godparents
August 30, 2005
SpongeBob SquarePants: Absorbing Favorites
September 20, 2005
SpongeBob SquarePants: Where's Gary?
November 15, 2005
SpongeBob SquarePants: Lost in Time
February 21, 2006
Jimmy Timmy Power Hour 2
March 14, 2006
The Fairly OddParents: Fairy Idol
May 23, 2006
Live-action shows and movies
Title
Release date
Harriet the Spy
February 25, 1997
Good Burger
February 24, 1998
The Amanda Show - Volume 1: Amanda, Please!
October 5, 2004
The Amanda Show - Volume 2: The Girls' Room
Drake & Josh: Suddenly Brothers
February 15, 2005
Drake & Josh Go Hollywood
January 31, 2006
Nick Jr. shows
Title
Release date
Allegra's Window: Small Is Beautiful
October 1, 1996
Allegra's Window: Waiting For Grandma
Allegra's Window: Story-Time Sing Along
Allegra's Window: Allegra's Christmas
Eureeka's Castle: Sing Along With Eureeka
February 25, 1997
Eureeka's Castle: Christmas At Eureeka's Castle
Eureeka's Castle: Wide Awake At Eureeka's Castle
Gullah Gullah Island: Sing Along With Binyah
Gullah Gullah Island: Binyah's Surprise
Gullah Gullah Island: Play Along With Binyah & Friends
Gullah Gullah Island: Dance Along With The Daise Family
Allegra's Window: Play Along With Allegra & Friends
March 11, 1997
Maurice Sendek's Little Bear: Family Tales
Maurice Sendek's Little Bear: Meet Little Bear
Maurice Sendek's Little Bear: Winter Tales
October 13, 1997
Gullah Gullah Island: Feelings
April 7, 1998
Allegra's Window: Sing Along With Allegra and Lindi
Maurice Sendek's Little Bear: Parties And Picnics
Blue's Clues: Arts & Crafts
June 9, 1998
Blue's Clues: Story Time
Gullah Gullah Island: Christmas
September 8, 1998
Maurice Sendek's Little Bear: Goodnight Little Bear
Blue's Clues: Blue's Birthday
Dora the Explorer: Swing Into Action
June 5, 2001
Dora the Explorer: To the Rescue
August 21, 2001
Blue's Clues: Meet Joe
August 27, 2002
Dora the Explorer: It's a Party
May 3, 2005
Dora the Explorer: Super Babies
July 19, 2005
Laserdisc
| Title | Release date |
| --- | --- |
| Harriet the Spy | February 25, 1997 |
| Good Burger | February 24, 1998 |
| Rugrats: A Rugrats Chanukah / A Rugrats Passover | 1997? |
| Rugrats: A Rugrats Thanksgiving / The Santa Experience | 1997? |
| Rugrats: A Rugrats Vacation / A Baby's Gotta Do What a Baby's Gotta Do | 1997? |
| The Rugrats Movie | March 30, 1999 |
DVD
Nicktoons
Title
Release date
The Rugrats Movie
March 30, 1999
Rugrats in Paris: The Movie
March 27, 2001
SpongeBob SquarePants: Nautical Nonsense and Sponge Buddies
March 12, 2002
SpongeBob SquarePants: Halloween
August 27, 2002
Rugrats: Decade in Diapers
September 24, 2002
SpongeBob SquarePants: Sea Stories
November 5, 2002
Hey Arnold!: The Movie
December 26, 2002
Rugrats Mysteries
January 28, 2003
SpongeBob SquarePants: Tales from the Deep
SpongeBob SquarePants: Lost at Sea
March 4, 2003
The Adventures of Jimmy Neutron: Confusion Fusion
May 27, 2003
The Fairly OddParents: Abra-Catastrophe!: The Movie
July 15, 2003
NickToons Halloween
August 26, 2003
NickToons Christmas
September 30, 2003
SpongeBob SquarePants: Christmas
The Adventures of Jimmy Neutron: Sea Of Trouble
October 7, 2003
SpongeBob SquarePants: The Complete 1st Season
October 28, 2003
Rugrats Go Wild
December 16, 2003
SpongeBob SquarePants: The Seascape Capers
January 6, 2004
The Fairly OddParents: Superhero Spectacle
February 3, 2004
SpongeBob SquarePants: SpongeBob Goes Prehistoric
March 9, 2004
Jimmy Timmy Power Hour
May 11, 2004
SpongeBob SquarePants: SpongeGuard on Duty
June 1, 2004
Rocket Power: Island of the Menehune
July 27, 2004
All Grown Up!: Lucky 13
August 31, 2004
The Fairly OddParents: Channel Chasers
October 5, 2004
The Ren & Stimpy Show: The First and Second Seasons
October 12, 2004
SpongeBob SquarePants: The Complete 2nd Season
October 19, 2004
SpongeBob SquarePants: Sponge for Hire
November 2, 2004
All Grown Up!: O'Brother!
November 16, 2004
As Told by Ginger: The Wedding Frame
November 23, 2004
SpongeBob SquarePants: Home Sweet Pineapple
January 4, 2005
The Fairly OddParents: Timmy's Top Wishes
January 18, 2005
The SpongeBob SquarePants Movie
March 1, 2005
As Told By Ginger: Far From Home
April 5, 2005
Nick Picks: Volume 1
May 24, 2005
SpongeBob SquarePants: Fear of a Krabby Patty
The Fairly OddParents: School's Out!: The Musical
June 14, 2005
The Ren & Stimpy Show: Season Three and a Half-ish
July 16, 2005
The Fairly OddParents: Scary Godparents
August 30, 2005
The Ren & Stimpy Show: Season Five and Some More of Four
September 20, 2005
SpongeBob SquarePants: Absorbing Favorites
SpongeBob SquarePants: The Complete 3rd Season
September 27, 2005
Nick Picks: Volume 2
October 18, 2005
SpongeBob SquarePants: Where's Gary?
November 15, 2005
Avatar: The Last Airbender - Book 1: Water - Volume 1
January 31, 2006
Nick Picks: Volume 3
February 7, 2006
Avatar: The Last Airbender - Book 1: Water - Volume 2
March 28, 2006
Avatar: The Last Airbender - Book 1: Water - Volume 3
May 20, 2006
Avatar: The Last Airbender - Book 1: Water - Volume 4
July 18, 2006
SpongeBob SquarePants: Karate Island
Jimmy Timmy Power Hour 3
July 25, 2006
SpongeBob SquarePants: Season 4, Volume 1
September 12, 2006
Avatar: The Last Airbender - Book 1: Water - Volume 5
September 19, 2006
Avatar: The Last Airbender - The Complete Book 1: Water Collection
Nick Picks: Holiday
September 26, 2006
SpongeBob SquarePants: Whale of a Birthday
October 31, 2006
Barnyard
December 12, 2006
SpongeBob SquarePants: Season 4, Volume 2
January 9, 2007
Avatar: The Last Airbender - Book 2: Earth - Volume 1
January 23, 2007
Avatar: The Last Airbender - Book 2: Earth - Volume 2
April 10, 2007
SpongeBob SquarePants: Friend or Foe?
April 17, 2007
Avatar: The Last Airbender - Book 2: Earth - Volume 3
May 22, 2007
SpongeBob SquarePants: Bikini Bottom Adventures
June 15, 2007
Avatar: The Last Airbender - Book 2: Earth - Volume 4
August 14, 2007
SpongeBob SquarePants: Season 5, Volume 1
September 4, 2007
Avatar: The Last Airbender - The Complete Book 2: Earth Collection
September 11, 2007
Avatar: The Last Airbender - Book 3: Fire - Volume 1
October 30, 2007
SpongeBob SquarePants: Atlatis SquarePantis
November 13, 2007
Avatar: The Last Airbender - Book 3: Fire - Volume 2
January 22, 2008
SpongeBob SquarePants: To Love a Patty
January 29, 2008
SpongeBob SquarePants: Pest of the West
April 15, 2008
Avatar: The Last Airbender - Book 3: Fire - Volume 3
May 6, 2008
Tak and the Power of Juju: The Trouble with Magic
June 24, 2008
Avatar: The Last Airbender - Book 3: Fire - Volume 4
July 29, 2008
Back at the Barnyard: When No One's Looking
August 5, 2008
Avatar: The Last Airbender - The Complete Book 3: Fire Collection
September 16, 2008
SpongeBob SquarePants: WhoBob WhatPants?
October 14, 2008
The Fairly OddParents: Season 6, Volume 1
November 18, 2008
SpongeBob SquarePants: Season 5, Volume 2
SpongeBob SquarePants: Spongicus
January 27, 2009
The Mighty B!: We Got the Bee
February 24, 2009
SpongeBob SquarePants: SpongeBob vs. The Big One
March 3, 2009
Back at the Barnyard: Cowman: The Uddered Avenger
March 16, 2009
SpongeBob SquarePants: 10 Happiest Moments
April 7, 2009
SpongeBob SquarePants: To SquarePants or Not To SquarePants
July 21, 2009
SpongeBob SquarePants: Truth or Square
November 10, 2009
SpongeBob SquarePants: Viking-Sized Adventures
January 26, 2010
SpongeBob SquarePants: SpongeBob's Last Stand
March 16, 2010
SpongeBob SquarePants: Triton's Revenge
July 13, 2010
SpongeBob SquarePants: Legends of Bikini Bottom
November 16, 2010
Invader Zim: Operation Doom
February 22, 2011
Rugrats: Halloween
September 20, 2011
SpongeBob SquarePants: SpongeBob's Frozen Face-Off
January 3, 2012
Winx Club: The Secret of the Lost Kingdom Movie
August 7, 2012
SpongeBob SquarePants: Ghoul Fools
August 28, 2012
Winx Club: Believe in Magic
October 24, 2012
SpongeBob SquarePants: It's a SpongeBob Christmas!
October 30, 2012
SpongeBob SquarePants: The Complete 4th Season
November 13, 2012
SpongeBob SquarePants: The Complete 5th Season
SpongeBob SquarePants: The Complete 6th Season
SpongeBob SquarePants: Extreme Kah-Rah-Tay
January 15, 2013
Teenage Mutant Ninja Turtles: Rise of the Turtles
February 26, 2013
Winx Club: The Power of Sirenix
March 6, 2013
SpongeBob SquarePants: The Complete 8th Season
March 12, 2013
The Legend of Korra - Book One: Air
May 21, 2013
Winx Club: Tales from the Sea
June 19, 2013
Teenage Mutant Ninja Turtles: Enter Shredder
July 9, 2013
Winx Club: Magical Adventure
August 13, 2013
Teenage Mutant Ninja Turtles: Ultimate Showdown
October 1, 2013
Winx Club: Peril in the Magic Dimension
November 5, 2013
SpongeBob and Friends: Patrick SquarePants
January 14, 2014
Winx Club: Peace in the Infinite Ocean
January 29, 2014
Teenage Mutant Ninja Turtles: Mutagen Mayhem
March 18, 2014
SpongeBob SquarePants: SpongeBob, You're Fired!
April 29, 2014
The Legend of Korra - Book Two: Spirit
July 1, 2014
Teenage Mutant Ninja Turtles: The Good, the Bad, and Casey Jones
Heroes in Action!
July 8, 2014
Robot Invasion!
Rugrats: Outdoor Shenanigans
Rugrats: Reptar's Return!
Teenage Mutant Ninja Turtles: Pulverizer Power
August 15, 2014
Winx Club: Bloomix Begins
September 9, 2014
The Legend of Korra - Book Three: Change
December 2, 2014
Teenage Mutant Ninja Turtles: Showdown in Dimension X
SpongeBob SquarePants: The Pilot, a Mini-Movie, and the SquareShorts
January 6, 2015
Winx Club: The Search for Eldora
January 7, 2015
The Legend of Korra - Book Four: Balance
March 10, 2015
Teenage Mutant Ninja Turtles: Retreat!
Winx Club: Mythix Fairies
March 25, 2015
The SpongeBob Movie: Sponge Out of Water
June 2, 2015
Teenage Mutant Ninja Turtles: Return to NYC!
July 14, 2015
Winx Club: Winx Forever
September 9, 2015
The Adventures of SpongeBob SquarePants
September 22, 2015
Winx Club: The Complete 6th Season
November 5, 2015
Teenage Mutant Ninja Turtles: Revenge!
December 1, 2015
Teenage Mutant Ninja Turtles: Half-Shell Heroes: Blast to the Past
March 15, 2016
Teenage Mutant Ninja Turtles: Beyond the Known Universe
May 24, 2016
Teenage Mutant Ninja Turtles: Earth's Last Stand
December 13, 2016
Tales of the Teenage Mutant Ninja Turtles: Super Shredder
March 21, 2017
Rugrats: Season 1
May 2, 2017
Rugrats: Season 2
The Loud House: Season 1, Volume 1: Welcome to the Loud House
May 23, 2017
Tales of the Teenage Mutant Ninja Turtles: Wanted: Bebop and Rocksteady
September 12, 2017
SpongeBob SquarePants: The Complete Ninth Season
October 10, 2017
Tales of the Teenage Mutant Ninja Turtles: The Final Chapters
December 12, 2017
Rugrats: Season 3
February 6, 2018
Rugrats: Season 4
Hey Arnold!: The Jungle Movie
February 13, 2018
The Loud House: Season 1, Volume 2: It Gets Louder
May 22, 2018
Hey Arnold!: The Ultimate Collection
November 20, 2018
Rocko's Modern Life: The Complete Series
Rise of the Teenage Mutant Ninja Turtles
March 12, 2019
The Loud House: Season 2, Volume 1: Relative Chaos
May 21, 2019
SpongeBob SquarePants: The Complete Tenth Season
October 15, 2019
Rise of the Teenage Mutant Ninja Turtles: Mutant Mania
February 4, 2020
Live-action shows and movies
Title
Release date
Good Burger
May 27, 2003
Harriet the Spy
The Amanda Show - Volume 1: Amanda, Please!
October 5, 2004
The Amanda Show - Volume 2: The Girls' Room
The Adventures of Pete and Pete: Season 1
May 17, 2005
Clarissa Explains It All: Season 1
The Adventures of Pete and Pete: Season 2
November 1, 2005
Drake & Josh: Suddenly Brothers
February 15, 2005
Drake & Josh Go Hollywood
January 31, 2006
The Naked Brothers Band: The Movie
April 3, 2007
Ned's Declassified School Survival Guide: Special Field Trip Edition
August 28, 2007
The Last Day of Summer
The Naked Brothers Band: Battle of the Bands
September 4, 2007
iCarly: Season 1, Volume 1
September 23, 2008
iCarly: Season 1, Volume 2
April 21, 2009
iCarly: Season 2, Volume 1
August 18, 2009
iCarly: iFight Shelby Marx
March 30, 2010
iCarly: iSaved Your Life
June 8, 2010
iCarly: iSpace Out
August 31, 2010
Big Time Rush: Season One, Volume One
March 29, 2011
Big Time Rush: Season One, Volume Two
June 21, 2011
Victorious: Season 1, Volume 1
July 5, 2011
Victorious: Season 1, Volume 2
November 1, 2011
Victorious: The Complete 2nd Season
May 15, 2012
Sam & Cat
March 23, 2014
Teenage Mutant Ninja Turtles
December 9, 2014
Teenage Mutant Ninja Turtles: Out of the Shadows
September 20, 2016
Nick Jr. shows
| Title | Release date |
| --- | --- |
| Dora the Explorer: It's a Party | May 3, 2005 |
| Dora the Explorer: Super Babies | July 19, 2005 |
| Nick Jr. Favorites: Volume 2 | October 18, 2006 |
Blu-ray
Title
Release date
The SpongeBob SquarePants Movie
March 29, 2011
SpongeBob SquarePants: It's a SpongeBob Christmas!
October 30, 2012 (Canada)
October 15, 2013 (US)
The Legend of Korra - Book One: Air
May 21, 2013
The Legend of Korra - Book Two: Spirit
July 1, 2014
The Legend of Korra - Book Three: Change
December 2, 2014
Teenage Mutant Ninja Turtles
December 9, 2014
The Legend of Korra - Book Four: Balance
March 10, 2015
The SpongeBob Movie: Sponge Out of Water
June 2, 2015
Teenage Mutant Ninja Turtles: Out of the Shadows
September 20, 2016
Avatar: The Last Airbender: The Complete Series
May 1, 2018 (Best Buy)
June 5, 2018 (general retail)
February 18, 2020 (Steelbook)
External links