"Patty Hype" is the second segment of the 25th episode of SpongeBob SquarePants.
Plot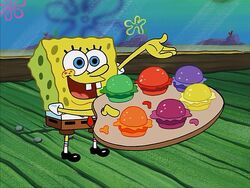 The Krusty Krab has had no customers in weeks. Mr. Krabs needs an idea, and SpongeBob gives him one. He thinks of 'Pretty Patties', which are basically Krabby Patties in a variety of colors. Squidward and Mr. Krabs laugh at him, and say that it's a terrible idea. They even create other ideas such as sequined milkshakes and bowtied french fries to mock SpongeBob, which angers him. He makes a stall by his home selling Pretty Patties and business skyrockets (albeit after quite a while).
Mr. Krabs sees this on the news and decides to take a look. SpongeBob is now serving the 46,853rd customer and had a large sum of money, in fact, that he was giving it away (which of course, allowed them to get back in line to buy more Pretty Patties). Mr. Krabs says that he's never had that many customers in such a small amount of time. He gives SpongeBob the Krusty Krab in exchange for the 'Pretty Patties' stall (as SpongeBob missed the Krusty Krab).
The next day, all the customers want a refund when the Pretty Patties turn them into their colors, and start chasing Mr. Krabs around. He calls to SpongeBob for help, but he can't hear him because he's concentrating on the squeaky pickles.
Trivia
When the man who hadn't eaten in three days leaves the Krusty Krab because it is too boring, he moans "Food...Water...Atmosphere..." However, the man is already underwater and therefore could not be dying of thirst. However, Bikini Bottomites drink a very light goo, so he could be dehydrating.
In Tom's first appearance in this episode, he is light green. But when Mr. Krabs is burying himself alive, Tom can be seen in the crowd and he is his normal color.
When Mr. Krabs is talking to SpongeBob at the Pretty Patties stand, there are two Old Man Jenkins in the background, perhaps they could be twins.
How can SpongeBob live from the way he is now and age, when he clearly didn't eat anything? He possibly could have eaten the patties, or was exaggerating in his dream.
The next day, when people were mad, the three people who complained to look at their tongues, they sounded like women, but when the single fish talked after his tongue appeared plain, he sounded like a man.
Home video releases
DVD
SpongeBob SquarePants: SpongeBob Goes Prehistoric
SpongeBob SquarePants: The Complete 2nd Season
SpongeBob SquarePants: The First 100 Episodes
External links
Community content is available under
CC-BY-SA
unless otherwise noted.