Wiki Targeted (Entertainment)
Play Sound

This article uses content from Noggin Wiki.
Please visit the Noggin Wiki's article on Play with Me Sesame for more information.
Play with Me Sesame is a television show produced by Sesame Workshop and Nickelodeon for their former joint venture Noggin. The series' animated elements were created by Nick Digital in New York City, and the show was developed by crew members from the Nickelodeon side of Noggin.
The show is an interactive spin-off of Sesame Street. It is unique in that it was the first time an external company (Nickelodeon) made its own series using the Sesame Street characters.[1] When the show started development, the the Jim Henson Company still held partial rights to the characters. According to the Kidscreen magazine, Nickelodeon had to be "given permission by Henson to use the Sesame Street Muppets" to create the show.[1]
The show was heavily linked with Noggin's website, Noggin.com, and every episode includes a segment where computer games from Noggin were played. The webpage is archived here.
Production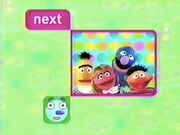 Production was divided between Nick Digital and Sesame Workshop. To create the show, Nickelodeon hired a crew of Nick employees to write, compose, and direct. The writer of Play with Me Sesame, Karen Kuflik, had previously written for Nick in the Afternoon and Nickellennium. The show was developed by Jocelyn Hassenfeld, who had joined Nickelodeon to work on Allegra's Window. The music was composed by Michael Ungar, who had done the same for Noggin's former flagship series Phred on Your Head Show. Many of the background designs in Play with Me Sesame were simultaneously used in Nickelodeon's Moose and Zee interstitials. They were drawn by Melinda Beck, the art director of Noggin.
Promotion
Nickelodeon extensively promoted the launch of Play with Me Sesame in 2002. Their marketing team created a musical infomercial, sung by Grover and called the "Grover Song," as a sample of the Play with Me Sesame format. In the infomercial, Play with Me Sesame is highlighted as the main attraction of Noggin's lineup, and Grover sings about the different Nickelodeon characters seen on Noggin. The infomercial was aired across all of Nickelodeon's networks throughout spring 2002. In July 2003, the "Grover Song" infomercial won a Mark Award for brand image and awareness.
Broadcast history
The show premiered on Noggin on April 1, 2002. This was the same day that Noggin's schedule was reworked to include a 12-hour daytime block for preschoolers. Play with Me was the "anchor series" of the block and the main attraction of the revamped Noggin. The show continued to air on Noggin until September 2, 2007 as Nickelodeon, despite the show being co-produced with Sesame Workshop lost the rights to air the series. Edited reruns (with all references to Noggin.com removed) started airing on the Sprout channel on September 26, 2007, and continued to air until 2016.
References
External links