This article is about the programming blocks aired on Nickelodeon.
Friday Night Nicktoons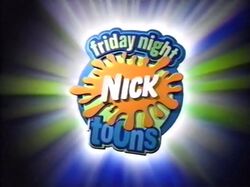 → Main article: Friday Night Nicktoons
Friday Night Nicktoons was a programming block aired from Summer 2002 to late 2004; its original time slot was 8-10 p.m. Eastern time, expanded to start at 7 p.m. toward the end of its run. It generally aired only from July through May, but became Prime Time Nicktoons for the summer of 2004. The block was possibly made to compete with Cartoon Network's Cartoon Cartoon Fridays block.
When Friday Night Nicktoons (FNN, for short) first aired, the bumpers took place in a CGI-animated building loosely based on Nicktoons Animation Studios in Hollywood. It was hosted by the show's logo, a shape-shifting Nick logo inside a blue ring. The logo was assisted by mechanical arms that ended in Nick Jr.-glove-shaped hands.
Characters from all the Nicktoons created up to the block's creation could be spotted in the intro sequence, but only the following shows were ever actually aired as part of the block:
Friday Night Slimetime Info
SNICK
→ Main article: SNICK
SNICK (short for Saturday Night Nickelodeon) was a two-hour programming block geared toward tween audiences that ran from 1992 until the mid-2000s, when it was replaced by TEENick.
It debuted August 15, 1992 with the shows Clarissa Explains It All, Roundhouse, The Ren & Stimpy Show and Are You Afraid of the Dark? Ads and bumpers for SNICK featured the programming block's mascot, a big orange couch, in the middle of an empty nighttime street.
TEENick
→ Main article: TEENick
TEENick was formerly on every night, but became the TEENick's Spin the Bottle programming block, in which each evening's celebrity was required to spin a bottle to choose a dare. The show eventually dropped "Spin the Bottle" from its name (but not the bottle itself). TEENick now airs both Sunday and Saturday nights, replacing SNICK.