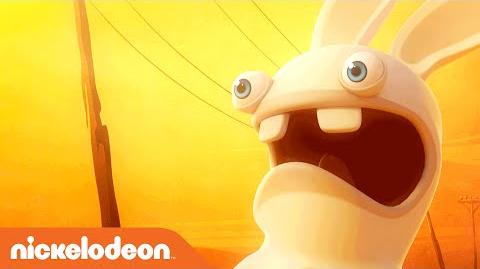 Rabbids Invasion (French: Les Lapins Crétins Invasion) is a French animated television series that premiered on August 3, 2013. The show is based on the Raving Rabbids game series produced by Ubisoft.[1]
As of 2017, Nickelodeon has ended their partnership with Ubisoft Motion Pictures, and Nickelodeon was not involved in the fourth season whatsoever, as their financial participation credit has been replaced by a new partner (the French CNC) and will premiere on Netflix internationally.[2][3]
Format
The show consists of 3 interstitials per episode, usually involving the Rabbids annoying people and/or animals.
Production
In October 2010, Ubisoft and Aardman announced a partnership to produce a TV series pilot and several shorts based on the franchise.[4] One year later, it was announced that 78 7-minute CG animated episodes would be made solely by Ubisoft Motion Pictures, and broadcast as 26 half-hour episodes on Nickelodeon on August 17, 2013.[5]
On E3 2013, it was announced that it would be an interactive Xbox One show entitled Rabbids Invasion.[6] On July 12, 2013, it was announced the show would premiere on Nickelodeon on August 3, 2013.
Episodes
→ Main article: Rabbids Invasion episode list
References
↑ Rabbids Invasion: Debut Date Announced and Trailer Revealed. IGN (July 12, 2013). Retrieved on July 17, 2013.
↑ Keslassy, Elsa (October 6, 2011). "Nick licenses 'Raving Rabbids' ". Variety. http://www.variety.com/article/VR1118044007

. Retrieved on October 6, 2011

.

 

↑ Lawler, Richard (June 10, 2013). Ubisoft announces Rabbids Invasion 'interactive TV show' coming to Xbox One. Engadget.com. Retrieved on July 17, 2013.
This page uses content from the English Wikipedia. The article or pieces of the original article was at Rabbids Invasion. The list of authors can be seen in the page history. As with Nickipedia, the text of Wikipedia is available under the GNU Free Documentation License.
Community content is available under
CC-BY-SA
unless otherwise noted.