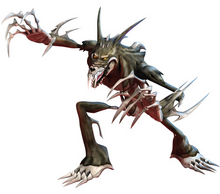 Rahzar a.k.a. Chris Bradford is the antagonist of Teenage Mutant Ninja Turtles, he was a world-famous martial artist who is secretly a prized member of the Foot Clan, armed with a 400-year-old katana and owning a chain of dojos across the country for the purpose of recruiting Foot Soldiers. He mutated into the mutantAkita called Dogpound as a result of being bitten by Shredder's pet Akita Hachinko, hampering most his fighting abilities as he attempted to find a means to restore his humanity. But being knocked into a mutagen vat caused Bradford to be mutated further into a near-skeletal werewolf-like form and is referred to as Rahzar since. After drowning in the season four finale, Rahzar was brought back to life by Kavaxas in the fifth season.
Community content is available under
CC-BY-SA
unless otherwise noted.