Wiki Targeted (Entertainment)
Play Sound
Random! Cartoons is an American animation showcase television series. Produced by Frederator Studios for Nickelodeon, it premiered on the Nicktoons Network on December 6, 2008 until December 20, 2009.
Production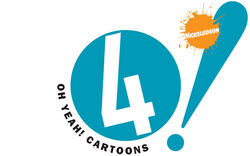 Creator Fred Seibert, ordered thirteen full-length episodes for the show, which is also known as the fourth season of Oh Yeah! Cartoons.[1] Unlike Oh Yeah!, there was no host. On January 10, 2007, ASIFA-Hollywood hosted an advance screening of six shorts as well as a question and answer session with the filmmakers at the Nicktoons Studios in Burbank, California.
The short "Fanboy" later spun off the Nicktoon Fanboy & Chum Chum. Another short, "Adventure Time", would also be picked up as a series on Cartoon Network. Also, yet another short "The Bravest Warriors" later spun off the Cartoon Hangover series Bravest Warriors.
Broadcast history
Nicktoons (original run, December 6, 2008-December 20, 2009; reruns, December 21, 2009-August 31, 2014)
List of shorts
Prod. No.
Segment
Creator
Original airdate
1
"Solomon Fix"
Doug TenNapel
December 6, 2008
"MooBeard the Cow Pirate"
Kyle Carrozza
December 6, 2008
"Two Witch Sisters"
Niki Yang
December 6, 2008
2
"The Finster Finster Show"
Jeff DeGrandis
December 7, 2008
"Adventure Time"
Pendleton Ward
December 7, 2008
"Mind the Kitty"
Anne Walker
December 7, 2008
3
"Ivan the Unbearable"
Andrew Dickman
December 13, 2008
"Boneheads"
Polygon Pictures
December 13, 2008
"Tiffany"
Adan Henry
December 13, 2008
4
"Call Me Bessie!"
Diane Kredensor, Dana Galin
December 20, 2008
"Teapot"
Greg Eagles
December 20, 2008
"Hornswiggle"
Jerry Beck
December 20, 2008
5
"Hero Heights"
Raul Aguirre Jr., Bill Ho
December 27, 2008
"Yaki and Yumi"
Aliki Theofilopoulos Grafft
December 27, 2008
"Gary Guitar"
Bill Plympton
December 27, 2008
6
"Krunch and the Kid"
Adam Henry
January 3, 2009
"Bradwurst"
Jason Plapp, Angelo di Nallo
January 3, 2009
"Dr. Froyd's Funny Farm"
Bill Burnett, Jaime Diaz
January 3, 2009
7
"The Bravest Warriors"
Pendleton Ward
January 10, 2009
"The Dangerous Duck Brothers"
Patrick Ventura
January 10, 2009
"Sparkles and Gloom"
Melissa Wolfe, Anne Walker
January 10, 2009
8
"The Infinite Goliath"
Mike Gray, Erik Knutson
January 17, 2009
"Kyle + Rosemary"
Jun Falkenstein
January 17, 2009
"Garlic Boy"
John Dilworth
January 17, 2009
9
"Flavio"
Mike Milo
January 24, 2009
"SamSquatch"
Adam Muto
January 24, 2009
"Girls on the Go"
Aliki Theofilopoulos Grafft
January 24, 2009
10
"Victor the Delivery Dog"
Niki Yang
January 31, 2009
"Bronk and Bongo"
Manny Galan, Alan Goodman
January 31, 2009
"Thom Cat"
Mike Gray
January 31, 2009
11
"Sugarfoot"
Erik Knutson
April 4, 2009
"Dugly Uckling's Treasure Quest"
Guy Vasilovich
April 4, 2009
"Dr. Dee and Bit Boy"
Seo Jun-Kyo, Kang Yo-Kong, Larry Huber
April 4, 2009
12
"Super John Doe Jr."
Lincoln Peirce
April 11, 2009
"6 Monsters"
Alan Goodman, Fred Seibert
April 11, 2009
"Ratz-A-Fratz"
Karl Toerge, Jim Wyatt
April 11, 2009
13
"Squirly Town"
Doug TenNapel
December 20, 2009
"Fanboy"
Eric Robles
December 20, 2009
"HandyCat"
G. Brian Reynolds, Russ Harris
December 20, 2009
See also
References
External links