Jurassic World: Dominion Dominates Fandom Wikis - The Loop
Play Sound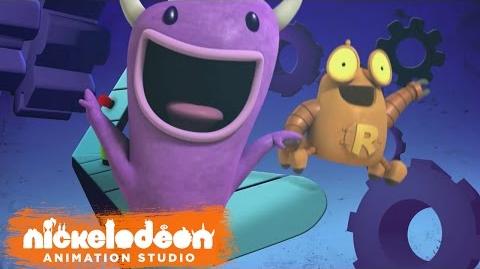 Robot and Monster (originally titled Robot and Monster: Best Friends Forever[1]) is an American CGI animated series created by Dave Pressler, Joshua Sternin and J.R. Ventimilia. Main characters Robot and Monster are voiced by Curtis Armstrong and comedian Harland Williams, respectively. It began production in 2008 and a full 26-episode season was ordered in 2010.
Plot
Working at the Blinking Light Factory is basic for Mechanicals and Organics, but Robot and Monster make an odd couple, since Robot is serious and Monster is always goofy, but that doesn't keep them from being best friends. They do everything together, such as testing gadgets out, dreaming of JD, taking care of their pet Marf, avoiding both the annoying Ogo and Robot's arrogant brother Gart, and eating tons of bacon.
History
The series' started its development back in 2008, when Dave Pressler started working on the show bible and the series was intended to be named Robot and Monster: Best Friends Forever. His drawings of the characters would be based on Dave's regular robot drawings, where he's specialized in. The series' pilot was called "The Dark Night", which was later turned into a full-length episode of the final series, with minor changes.
Nickelodeon ordered in 2010, 26 episodes for the first season and the series, now called Robot and Monster, officially premiered on August 4, 2012, with the episodes "Monster's Great Escape" and "Game Boys". However, it was still not fully confirmed that series would be renewed about a second season.
After "Baconmas" aired, the series got on a hiatus, which lasted about a year. After that, "Dirty Money" premiered as the first episode to be on Nicktoons and Nicktoons became the new home of the last episodes of the series. There were other 2 hiatus, the first lasted from December 2013 ("Dirty Money"/"What J.D. Wants") to July 2014 ("Monster Hit") and from July 2014 to February 2015. The last episodes to be aired were "J.D. Loves Gart" and "Misery Date". The episodes "A Better Marftrap" and "Monster Lie" are still unaired and it's possible that won't be aired at all, since the complete series was released in DVD on November 11, 2014.
Since the series was moved to Nicktoons, which is well-known the last few years as a burial network for low-rated and unsuccessful series, the second season got scrapped. Only two episodes, "Blimp Pirates" (intended to be the series' two-episode premiere, where Robot's father's absence would be revealed) and "Best in Marf", out of the possibly 14 episode for the scrapped season are confirmed as of 2016. As Dave said, My partners and I along with the entire R&M crew were stunned and crushed that Nickelodeon made this decision. We all felt like we were making something good that could have been the next big thing for Nick, unfortunately they did not feel that way[2].
On September 12, 2020, Dave Pressler hosted an hour-long Q&A session about the show called "Robot and Monster Talk" on his Instagram, giving more insight into the development of the series and how it came to be, as well as an explanation to why exactly the show was cancelled and what the second season would have been like.[3]
Characters
Episodes
→ Main article: Robot and Monster episode list
Broadcast history
Nickelodeon (original run, August 4, 2012-December 26, 2013; reruns, December 27, 2013-June 29, 2014)
NickToons (August 4, 2012-May 8, 2015)
Noggin (March 4, 2015-present)
Nick Jr. on Pluto TV (May 1, 2019-present; reruns)
Paramount+ (November 10, 2020-present)
DVD release
A Complete Series DVD set was released as a manufacture-on-demand title from Amazon.com on November 11, 2014 (oddly before the series had finished airing). Unfortunately, as with all of Amazon's manufacture-on-demand DVDs, it was discontinued on June 4, 2021.
References
External links