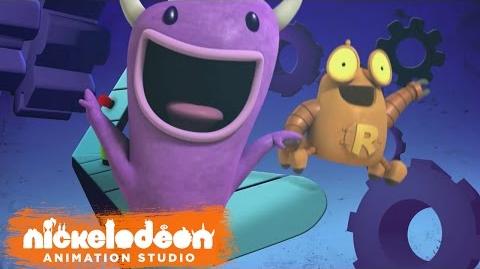 Robot and Monster (originally titled Robot and Monster: Best Friends Forever[1]) is an American CGI animated series created by Dave Pressler, Joshua Sternin and J.R. Ventimilia. Main characters Robot and Monster are voiced by Curtis Armstrong and comedian Harland Williams, respectively. It began production in 2008 and a full 26-episode season was ordered in 2010.
Plot
Working at the Blinking Light Factory is basic for Mechanicals and Organicles, but Robot and Monster make an odd couple, since Robot is serious and Monster is always goofy, but that doesn't keep them from being best friends. They do everything together, such as testing gadgets out, dreaming of JD, taking care of their pet Marf, avoiding both the annoying Ogo and Robot's arrogant brother Gart, and eating tons of bacon.
History
The series' started its development back in 2008, when Dave Pressler started working on the show bible and the series was intended to be named Robot and Monster: Best Friends Forever. His drawings of the characters would be based on Dave's regular robot drawings, where he's specialized in. The series' pilot was called "The Dark Night", which was later turned into a full-length episode of the final series, with minor changes.
Nickelodeon ordered in 2010, 26 episodes for the first season and the series, now called Robot and Monster, officially premiered on August 4, 2012, with the episodes "Monster's Great Escape" and "Game Boys". However, it was still not fully confirmed that series would be renewed about a second season.
After "Baconmas" aired, the series got on a hiatus, which lasted about a year. After that, "Dirty Money" premiered as the first episode to be on Nicktoons and Nicktoons became the new home of the last episodes of the series. There were other 2 hiatus, the first lasted from December 2013 ("Dirty Money"/"What J.D. Wants") to July 2014 ("Monster Hit") and from July 2014 to February 2015. The last episodes to be aired were "J.D. Loves Gart" and "Misery Date". The episodes "A Better Marftrap" and "Monster Lie" are still unaired and it's possible that won't be aired at all, since the complete series was released in DVD on November 11, 2014.
Since the series was moved to Nicktoons, which is well-known the last few years as a burial network for low-rated and unsuccessful series, the second season got scrapped. Only two episodes, "Blimp Pirates" (intended to be the series' two-episode premiere, where Robot's father's absence would be revealed) and "Best in Marf", out of the possibly 14 episode for the scrapped season are confirmed as of 2016. As Dave said, My partners and I along with the entire R&M crew were stunned and crushed that Nickelodeon made this decision. We all felt like we were making something good that could have been the next big thing for Nick, unfortunately they did not feel that way[2].
Cast and characters
Robot is an orange robot that is the main protagonist of the show that is the Quality Control Inspector at the Blinking Light Factory. Robot always feels like the world is trying to keep him down, even his know-it-all brother Gart doesn't help at all. Luckily, after meeting Monster, who believes in him all the way, Robot is now best friends with Monster.
Monster is a purple minotaur-like monster with a floating bowler hat on his head and the show's deauteragonist. Monster is the eternal optimist living by the motto that "Good things happen to good people," and that all people are good. Monster is an extremely outgoing Organic that is endlessly fascinated by the little things in life. Monster is driven to make everyone happy, and the need to explore the "shiny thing." But because of Monster's fascination with the world, he is very easy to fool. Unlike Robot, Monster feels like everything goes his way, although it doesn't, making him a very good friend to have around.
Marf is a pet of Monster. He is a block of metal that acts like a dog, and only says "marf".
Ogo is the third wheel of Robot and Monster's friendship. He constantly tries to involve himself in the duo's doings, and just can't seem to grasp that he isn't part of the team.
Perry is a robot co-worker of Robot and Monster's. He always has a smile on his face, but it's due to a function problem, as revealed in "Come On, Get Happy". He seems to get hurt a lot, and when something is thrown, it almost always hits him. He always feels miserable and the only thing that makes him genuinely happy is Robot's misfortunes. He is shaped like a sewage pipe, colored in orange with a yellow "2".
J.D. is a cool, rebellious biker chick whose best friend is her equally hip robotic bike, Spitfire. They are inseparable best friends and regulars at the local bacon joint, Makin' Bacon. JD can be hot-headed at times, while Spitfire is more rational and willing to avoid fights. Both Monster and Robot have crushes on JD.
Gart is Robot's arrogant, overbearing older brother and his supervisor. He runs their father's Blinking Light factory.
Episodes
→ Main article: List of Robot and Monster episodes
Broadcast history
Nickelodeon (original run, August 4, 2012-December 26, 2013; reruns, December 27, 2013-June 29, 2014)
NickToons (August 4, 2012-May 8, 2015)
References
Community content is available under
CC-BY-SA
unless otherwise noted.