"And now, a look into your future."
This article is about a

Nickelodeon

show, movie, episode, or product that has not yet premiered or been released. Information may change as the release date nears.
"The 21st century is a very dangerous century."

―Rocko amending his old catchphrase
Rocko's Modern Life: Static Cling is an upcoming television special starring characters from Rocko's Modern Life. It will be the third film reviving a past Nickelodeon show, after the Legends of the Hidden Temple movie and Hey Arnold!: The Jungle Movie. In this special, Rocko must face the challenges of the 21st century when he sees his friends addicted to hip-hop, technology and more. The original main cast returned for the special. The special was originally expected to be released sometime in 2018.
When 2018 passed, Nickelodeon still didn't confirm the official date for the speicial itself, making fans assume that it was officially delayed. On May 10, 2019, Viacom president Robert Bakish revealed in a conference call that Netflix has acquired the rights to both Rocko's Modern Life: Static Cling and Invader Zim: Enter the Florpus!. The next day, Netflix confirmed both specials are to be released on their streaming service in the summer of 2019.
Plot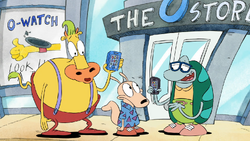 From the press release:
Rocko's Modern Life: Static Cling brings the characters back to Earth after being lost in space since 1996. Rocko has trouble accepting this 21st century modern life while Heffer and Filburt embrace every aspect of new technology, social media and the endless diversity of food trucks. Rocko wholeheartedly believes that his nostalgia for the past can save him from the tortures of the modern world.
Voice cast
Videos
First looks/Trailers
Community content is available under
CC-BY-SA
unless otherwise noted.