The associated page is protected from editing.

To prevent disruptive editing on this high-quality article, only administrators can edit it. If you see an error or would like to request a change, add a new section containing details explaining why it should be (don't forget to keep it appropriate). Alternatively, you can contact an administrator if you need assistance.
Rocko's Modern Life: Static Cling
Airdate:
2018
Written by:
Joe Murray (screenplay)
Dan Becker (screenplay)
Tom Smith (screenplay)
Cosmo Segurson (screenplay)
Doug Lawrence (story)
Joe Murray (story)
Martin Olson (story)
Directed by:
Joe Murray
Cosmo Segurson
Producer(s):
Ilene Gannaway
"And now, a look into your future."
This article is about a

Nickelodeon

show, movie, episode, or product that has not yet premiered or been released. Information may change as the release date nears.
"The 21st century is a very dangerous century."

―Rocko amending his old catchphrase
Rocko's Modern Life: Static Cling is an upcoming television special starring characters from Rocko's Modern Life. It will be the third film reviving a past Nickelodeon show, after the Legends of the Hidden Temple movie and Hey Arnold!: The Jungle Movie. In this special, Rocko must face the challenges of the 21st century when he sees his friends addicted to hip-hop, technology and more. The original main cast returned for the special. The special will be released in 2018 and is expected to fit into a 1-hour long timeslot. As of June 4th, 2018, Nickelodeon still hasn't confirmed the official air date for the speicial itself, this made fans assume that it was officially delayed.
Plot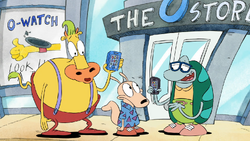 From the press release:
Rocko's Modern Life: Static Cling brings the characters back to Earth after being lost in space since 1996. Rocko has trouble accepting this 21st century modern life while Heffer and Filburt embrace every aspect of new technology, social media and the endless diversity of food trucks. Rocko wholeheartedly believes that his nostalgia for the past can save him from the tortures of the modern world.
Voice cast
Videos
First looks/Trailers