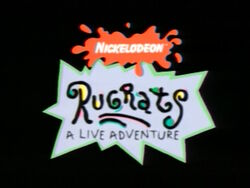 Rugrats: A Live Adventure is the first live show based on Rugrats. It toured in the United States, Mexico, Britain, Ireland and Australia from February 6, 1998, to May 14, 2000.
Songs
Princess Of The World (Part 1)
Shine Your Light (Gospel version)
Princess of the World (part 2)
If I Could Count To 2 (Encore)
"I've Been A Bad Little Girl" and "Princess Angelica Says" are not included on the soundtrack album.
Cast
The following is the list of people who played the characters in the show.
Note: The voices of the Rugrats, Stu, and Didi are the same as the ones in the TV series; these voices were pre-recorded in advance.
Astoria - Cari Daly
Larry - Angel Feliciano
Steve - John Paolillo
Mr. Flashlight & Space Alien Puppeteer - Layton Campbell
Hammer & Baby Mobile Dancer - R. Nation Boothe
40's singer & Baby Mobile Dancer - Samantha DeCerce
Opera Diva & Tin Snips - Jason Michael Swauger
Didi - Maggie Da Silva
Stu - Michael A. O' Guin
Grandpa Lou & Baby Mobile Dancer - Todd Bowers
Lil* - Nanette Michelle
Lil* & Baby Mobile Dancer - Jaimie Hollmer
Phil* - Di Ana Pisarri
Phil* & Queen Bee & Baby Mobile Dancer - Tamara Paulino
Tommy* & Baby Mobile Dancer - Thea Rachel Schoenberg (credited as "Thea Rachel" in the program & soundtrack credits)
Tommy* - Jenine Galante
Angelica* - Melissa Muniz
Angelica*, Bee, Nuts & Bolts -Kara McKee
Chuckie* & Baby Mobile Dancer - Staci LaRue
Chuckie* - Diannè Aldrich
Susie & Walking Kitty Toy - Tammy Samuels
Space Alien Puppeteer & Baby Mobile Dancer - Jennifer Rapp
Female lead understudies - Alayna Deckelbaum, Jennifer Rapp, Katie Carpenter
Male lead understudies - Michael Dykes, R. Nation Boothe
* : The roles of Tommy, Chuckie, Phil, Lil & Angelica are "double-casted"; 2 people play the same part -- one in one scene, the other in another scene. These actors wore costumes of the characters. Also, the actors would see out of the mouths of the head, so the peripheral vision is non-existent.
Video
See also
External links
Community content is available under
CC-BY-SA
unless otherwise noted.