House of the Dragon Trailer - The Loop
Play Sound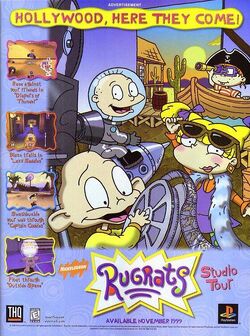 Rugrats: Studio Tour is a video game based on Rugrats developed by n-Space, published by THQ, and released for the Sony PlayStation in 1999.
Plot
While on a Hollywood movie studio trip, Angelica, Susie, and the Rugrats venture away from the adults. But Dil gets locked behind a door in the process and the security guard loses the keys thanks to him, forcing the others to venture throughout the studio and explore various film sets in search of the keys to free Dil from an adventure film set before the props harm him.
Gameplay
The player chooses from five available attractions in the key search including:
Once the player completes in all the attractions, a key awards them. and also if the player collects enough Reptar bars. Once the player collects enough keys, they'll open the door.
This page uses content from the English Wikipedia. The article or pieces of the original article was at Rugrats Studio Tour. The list of authors can be seen in the page history. As with Nickipedia, the text of Wikipedia is available under the GNU Free Documentation License.