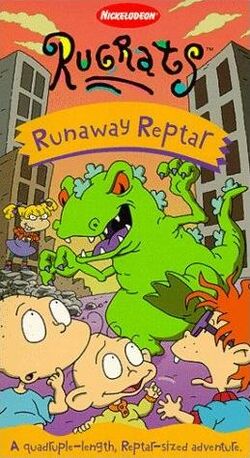 "Runaway Reptar" is a special hour-length episode of Rugrats. Notably the first hour-length episode of any Nicktoon, it was originally released as a direct-to-video special on August 3, 1999, before airing on Nickelodeon on November 27th of the same year.
Synopsis
Grandpa takes the Rugrats to a dual-screen drive-in so Grandpa can watch one film (Deep Sea Divers of the Rugged North), while the Rugrats enjoy the title picture, Runaway Reptar, where Reptar is supposed to be saving the city from another large monster, a pterodactyl named Dactar. However, the Rugrats became disappointed when they find out that Reptar is actually helping Dactar in the destruction. Through imagination, the Rugrats got into the film to help Reptar save the rest of the city from his "evil twin" and defeat another enemy -- Angelica, who invented Reptar's doppleganger, just so her parents can get her all the toys she want.
Trivia
The Runaway Reptar movie's director, Jon Ho, is named after Hawaiian singer Don Ho.
Home video releases
VHS
DVD
Rugrats: Season 6
Rugrats: Reptar Returns!
External links
"Gee, this is harder than I thought."
This article about an episode is a stub. You can help Nickipedia by expanding it.