Wiki Targeted (Entertainment)
Play Sound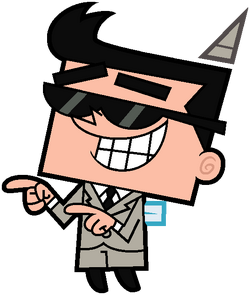 Mr. Sanderson is Head Pixie's assistant and co-manager of the Pixies in The Fairly OddParents. He is a parody of Agent Smith from The Matrix.
Biography
It's not clear if Mr. Sanderson can be considered a character or more. There seem to always be more than one of them. He (or they) serve as the Head Pixie's goons. There is usually a "main" Sanderson that stands alongside Head Pixie most of the time and they, along with H.P., deliver most of the dialogue from the Pixies. Unlike the fairies, they are square shaped, including their wings. Their pointy hat and business suit are all gray, except for certain situations in where they change their clothes. They look and speak exactly like all the other Pixies with the exception of their skin tone (which is much tanner than the other Pixies) and their cowlick which occasionally is slicked back time to time.
Gallery
"Gee, this is harder than I thought."
This article about a character is a stub. You can help Nickipedia by expanding it.