Jurassic World: Dominion Dominates Fandom Wikis - The Loop
Play Sound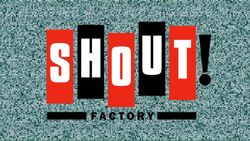 Shout! Factory is an entertainment company founded in 2003 that was started by Richard Foos (co-founder of Rhino Records), Bob Emmer (former Warner Music Group and Rhino executive) and Garson Foos (former Rhino executive) initially as a specialty music label. It focuses on enriched music catalog reissues, home video/DVD projects, and television properties.
In May 2011, Shout! Factory signed a deal with Nickelodeon and Paramount Home Entertainment to release several shows from Nickelodeon's catalog (Hey Dude, Rocko's Modern Life, Aaahh!!! Real Monsters, Hey Arnold!, The Angry Beavers, CatDog, The Wild Thornberrys, and Danny Phantom) on DVD under license from the latter two companies. A decade later, in 2021, they picked up the license for The Adventures of Jimmy Neutron, Boy Genius.
Video releases
Prior to 2011, most of the Nickelodeon shows released by Shout! Factory (with the exception of Hey Dude) had previously been made available through manufacture-on-demand DVD sets, which were sold exclusively on Amazon.com (and were promptly discontinued when Shout! Factory got the license). Shout! Factory's DVD sets of Hey Arnold!, CatDog, The Wild Thornberrys, and Danny Phantom are noticeably identical to the Amazon.com DVDs, even using the same cover artwork. However, in the case of the Rocko's Modern Life and Angry Beavers DVDs, each set contains all the episodes from each season, as opposed to the "Best of" DVDs that were sold on Amazon.com. Rocko creator Joe Murray also drew new cover art for the show's later season sets. Likewise, The Adventures of Jimmy Neutron, Boy Genius had only received three "Best of" sets through Amazon in 2008; after Amazon discontinued its remaining manufacture-on-demand DVDs in June 2021, the show's home video rights went to Shout! Factory.
After 2012, several of Shout! Factory's subsequent Nickelodeon DVD sets were released as Shout! Select titles, which can only be purchased on Shout! Factory's website (though these releases could also be bought as part of their respective show's "Complete Series" set).
In 2015, Shout! Factory also started releasing Nickelodeon: Out of the Vault, a series of compilation DVDs featuring two episodes each of Hey Arnold!, Rocko's Modern Life, Aaahh! Real Monsters, The Angry Beavers, and CatDog. Four installments featuring those five shows were released individually between 2015 and 2017, and were later bundled together in a Fantastic 4-Pack collection. Halloween and Christmas-themed installments were also released for the 2015 holiday season.
As of 2018, Shout! no longer has the video rights for Rocko's Modern Life and Hey Arnold!, which have reverted to Paramount Home Media Distribution (who released new "Complete Series" sets for both shows on November 20, 2018). As a result of this, later installments of the Out of the Vault compilations have those two shows replaced with The Wild Thornberrys and Danny Phantom.
The following is a list of Nickelodeon DVD sets released by Shout! Factory, organized by date.
General retail releases
Shout! Select releases
External links