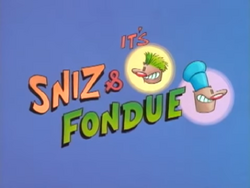 Sniz and Fondue is an animation short created by Michael Pearlstein of Funbag Animation Studios that ran during the first three seasons of KaBlam! The short originally began with a pilot that aired in 1992 titled "Psyched for Snuppa", about two ferrets who often get on each other's nerves.
Twelve-year-old Sniz (voiced by Rick Gomez) is the younger kid ferret that is very hyperactive, and quite a troublemaker of the two, while thirteen-year-old Fondue (voiced by Oscar Riba) is the older teenage ferret, who is the nervous, yet intelligent one. The show occasionally features Snuppa and Bianca, who are Sniz and Fondue's housemates and who were the original stars on the short's pilot.
Due to Funbag Animation Studios planning a TV adaptation of Watership Down, as well as Michael Pearlstein leaving the show out of frustration, the short was dropped during Season 3, with its last episode appearing in "Year Round Fun".
Community content is available under
CC-BY-SA
unless otherwise noted.