House of the Dragon Trailer - The Loop
Play Sound
This article is about the film. For the Rocket Power episode, see

Snow Day (Rocket Power episode)

.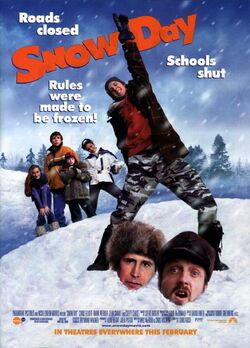 Snow Day is a 2000 American comedy film by Paramount Pictures and Nickelodeon Movies. It was originally planned to be a movie based on The Adventures of Pete & Pete, but this idea was aborted and the film was rewritten as a stand-alone story.
As of 2021, Snow Day has yet to be broadcast on any of the Nickelodeon TV networks.
Plot
The film opens with a narration by Hal Brandston, (Mark Webber) explaining how a snowflake is formed. The film changes to his father, a news reporter, Tom Brandston, (Chevy Chase) giving the weather report before walking away backstage, annoyed with his job, before seeing another reporter, Chad Symmonz, (John Schneider) who tries to be better than Tom, giving a false report on a forecast. This makes Tom resent him even further. The film then changes to Hal, trying to get noticed by Claire Bonner (Emmanuelle Chriqui), a girl that he really likes. After he slips and falls in the water, Hal notices Claire's anklet, with a whale insignia, at the bottom. He swims over and grabs it, wanting to return it to her, but he expresses that he is too shy to talk to her. The film then changes focus to a group of elementary school students, led by Hal's sister, Natalie (Zena Grey), who wants to have a snow day. She hits her school's principal, Principal Weaver, with a snowball, and wanting to know who hit him, he holds up a radio, while cheering that there is no snow coming. (This becomes a running gag, literally, where he gets hit with numerous snowballs by unseen kids and gets no help from the onlookers). When she wishes for it to snow that night, Tom notices a huge snow storm that will happen overnight, proving Chad's forecast wrong.
Waking up the next morning, Natalie notices snow all over town, and all the kids cheer, after their school is announced to be closed for a snow day. Right before she goes outside, Natalie notices a mean snowplow driver, who the kids call "Snowplow Man" (Chris Elliott) from plowing the streets. Meanwhile, Hal tries to win the heart of Claire, while still trying to return her anklet, with the help of his best friend, Lane Leonard (Schuyler Fisk), who secretly harbors feelings for him. Also, Hal and Natalie's workaholic mother, Laura Brandston (Jean Smart), is stuck at home with their mischievous brother, Randy, who is bored to death, and wants to go play in the snow. Eventually, Natalie and her friends, Wayne (Josh Peck) and Chet (Jade Yorker), build an igloo, but it is quickly destroyed by Snowplow Man, who gets revenge on them for hitting him with a snowball. They eventually come up with a plan to take over the plow and move all the snow back in the streets, by having ketchup poured all over Wayne, who pretends to be dead. As Snowplow Man checks out the scene, Natalie and Chet steal his bird, Trudy, so Snowplow Man kidnaps Wayne, wanting an exchange for his bird. After he refuses to give them an extra snow day, but still returning Wayne and the bird, Natalie decides that extreme measures need to be taken. After trying to talk to Claire many times, even going to her house, only to see that everyone found out about her break-up with her mean and ill-tempered boyfriend, Chuck Wheeler, (David Paetkau), Hal decides to see how things end up between them. He and Claire share a look after she and Chuck ride away on Chuck's snowmobile. Hal decides to try another way of getting her attention, by going to the skating rink, and Lane lures the radio announcer (Iggy Pop), into the bathroom.
Hal takes advantage of the radio and talks to Claire, in front of everyone, and Chuck, who views Hal as a target for his "House Of Pain". (Which is just having his friends beat Hal up, and it is revealed that Chuck knows nothing about Claire). Later, Hal tries again to get Claire's attention by making a whale-shaped figure in the snow with a shovel. Chuck finds him though, while following Claire, and tries to attack Hal, but he reveals he is not afraid of him. Hal runs and jumps on Chuck's snowmobile, riding away into the woods, with Chuck and his followers gaining on him. But Chuck is quickly outsmarted and lands in a kid's snowman. Later, Tom is reporting at an ice-sculpting contest, and notices a statue of Chad, which infuriates him so much, he tries to take a kids' ice pick, intending on destroying the statue. But, when it falls, Chad begins humiliating Tom, so Tom tries asking Chad where snow comes from. Chad, trying to save himself, slowly ends up revealing that he is a fraud. The crowd calls him a loser, and he leaves for good, after the crowd cheers Tom's name, bringing his career back up. That night, Natalie and Chet reveal that they gathered all the kids in town to confront Snowplow Man, as he makes his way to the last snow covered street. They all tie him up, and he insults them after they laugh at him. Chet starts singing the Snowplow Man's theme song about his plow, (Which he calls "Clementine"). They leave him tied up, as everyone goes to cover the roads. Knowing he is defeated, Snowplow Man accepts his fate, and calls to his bird. Later, Hal soon realizes out he loves Lane instead of Claire. He is even encouraged by Claire to go after her. After one last stand to Chuck, and almost being beaten senseless, Natalie plows right into Chuck, who gets covered in snow, unable to get up, and rescuing Hal in the process. Also, Hal finally admits to Lane that he loves her, and they share a kiss. Natalie is happy that her and her friends finally got a second snow day, and they drive the plow away. Laura takes the day off from work to look after Randy, even playing in the snow with him. Hal, Natalie, Lane, Randy, Laura, Tom, and Claire are finally happy with having found new paths in their lives. When Principal Weaver gets home, thinking he is safe, the kids (who somehow got into his house), hit him with a lot of snowballs as he cries in defeat and the film ends.
Cast
Production
It was filmed in Cedarburg, Wisconsin, as well as Edmonton and Calgary, Alberta.
Box office
The film opened at #3 at the North American box office making $14.3 million USD in its opening weekend behind The Beach and Scream 3, which was on its second week at the top spot. It was a modest box office success, earning $60,020,107 in its domestic run and has grossed $62,464,731 worldwide.[1]
Reception
It received mostly negative reviews from critics. Review aggregation website Rotten Tomatoes gave the film a "Rotten" rating of 28% based on 65 reviews, with and average score of 4.2/10. The site's critical consensus reads, "Weak assembly of characters and story lines made this movie forgettable and silly."[2] Metacritic gave the film a score of 34% based on 22 reviews, indicating "generally unfavorable reviews".[3]
Home video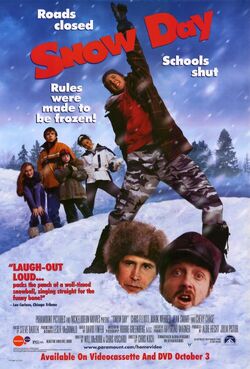 Cover
Format
Released
VHS
October 3, 2000
DVD
October 3, 2000
The movie is presented in widescreen.
References
External links