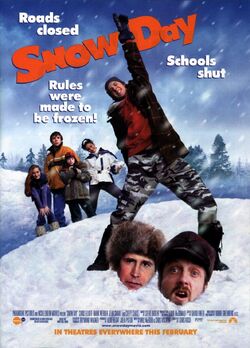 Snow Day is a 2000 American comedy film by Paramount Pictures and Nickelodeon Movies. It was originally planned to be a movie based on The Adventures of Pete & Pete, but this idea was aborted and the film was rewritten as a stand-alone story.
As of 2017, Snow Day has yet to be broadcast on any of the Nickelodeon TV networks.
Plot
The film focuses on a group of elementary students in Syracuse, New York, led by Natalie Brandston (Zena Grey), who get a snow day, and try to keep their school snowed-in and closed by stopping a snow plow driver known as "Snowplow man" (Chris Elliott) from plowing the streets. Meanwhile, her older brother Hal (Mark Webber) tries to win the heart of high school sweetheart Claire Bonner (Emmanuelle Chriqui), with the help of his best friend, Lane Leonard (Schuyler Fisk). Also, their dad Tom Brandston (Chevy Chase) is a TV meteorologist who must face off against a rival meteorologist, Chad Symmonz (John Schneider), in order to have the right of continuing his weather career. Laura (Jean Smart), the workaholic mother, is stuck at home with Randy, her mischievous son.
Eventually, Natalie and her friends (Josh Peck and Jade Yorker) take over the plow and "unplow" the streets by moving all the snow back in the way). After endless love demonstrations, Hal finds out he, in fact, loves Lane. Tom unmasks Chad on live TV, showing the viewers he is fake, winning his status back. And Laura takes the day off from work to look after Randy.
Cast
Chris Elliott as Roger the Snowplowman
Mark Webber as Hal Brandston
Jean Smart as Laura Brandston
Schuyler Fisk as Lane Leonard
Iggy Pop as Mr. Zellweger
Pam Grier as Tina
John Schneider as Chad Symmonz
Chevy Chase as Tom Brandston
Zena Grey as Natalie Brandston
Josh Peck as Wayne Alworth
Jade Yorker as Chet Felker
Damian Young as Principal Ken Weaver
Connor Matheus as Randy Brandston
J. Adam Brown as Bill Korn
Emmanuelle Chriqui as Claire Bonner
Production
It was filmed in Cedarburg, Wisconsin, as well as Edmonton and Calgary, Alberta.
Box office
The film opened at #3 at the North American box office making $14.3 million USD in its opening weekend behind The Beach and Scream 3, which was on its second week at the top spot. It was a modest box office success, earning $60,020,107 in its domestic run and has grossed $62,464,731 worldwide.[1]
Reception
It received mostly negative reviews from critics. Review aggregation website Rotten Tomatoes gave the film a "Rotten" rating of 28% based on 65 reviews, with and average score of 4.2/10. The site's critical consensus reads, "Weak assembly of characters and story lines made this movie forgettable and silly."[2] Metacritic gave the film a score of 34% based on 22 reviews, indicating "generally unfavorable reviews".[3]
Home video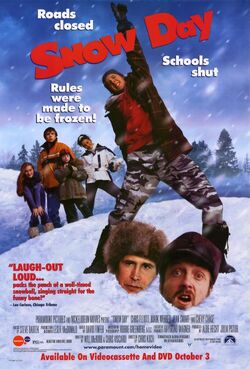 Cover
Format
Released
VHS
October 3, 2000
DVD
October 3, 2000
The movie is presented in widescreen.
References
↑ Snow Day (2000). Rotten Tomatoes. Retrieved on 11 December 2012.
↑ Snow Day Reviews, Ratings, Credits, and More - Metacritic. Retrieved on 11 December 2012.
Community content is available under
CC-BY-SA
unless otherwise noted.