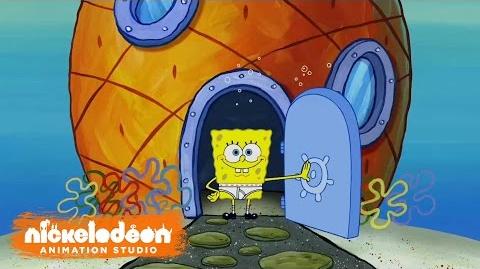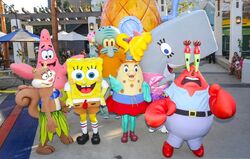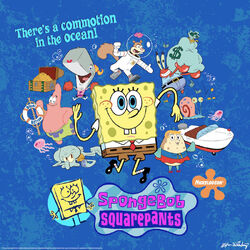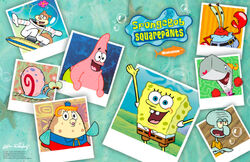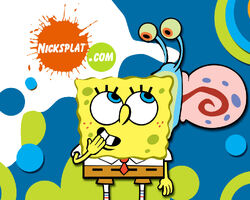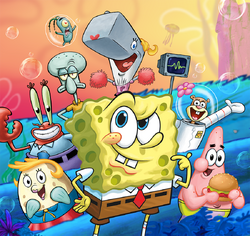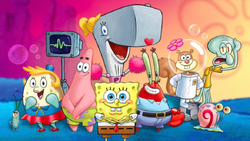 SpongeBob SquarePants is an animated television series created by marine biologist and animator Stephen Hillenburg. The series premiered after the Kids' Choice Awards on May 1, 1999. It officially began airing on July 17th of the same year with the second episode "Bubblestand/Ripped Pants".
The main character is an accident-prone sea sponge, SpongeBob SquarePants, who lives in an underwater pineapple with his pet snail Gary. His neighbors are his best friend, Patrick Star, and a sour octopus named Squidward. SpongeBob works for a cheapskate crab named Mr. Krabs, who lives in an anchor with his whale daughter Pearl. SpongeBob is enrolled in a boat-driving school run by Mrs. Puff, a pufferfish, and often spends time with a thrill-seeking squirrel from Texas named Sandy. The villains of the show are Plankton and Karen, the owners of a failing restaurant called the Chum Bucket. Most episodes take place in the town of Bikini Bottom or on the surrounding seafloor.
The cartoon is designed to appeal to older viewers as much as to children. Underwater life and situations are represented, absurdly, as though they are almost equivalent to normal terrestrial lifestyles. Instead of cars, the residents of Bikini Bottom drive boats with wheels. A flurry of bubbles accompany many actions, to remind the viewer everything is underwater. Squidward lives in an Easter Island head and Patrick lives under a rock. The suggestion is that the characters' dwellings have fallen from a tropical island to become underwater habitats. Snails behave like cats, while jellyfish act like bees, worms are the undersea equivalent of dogs, and scallops are often likened to birds.
The SpongeBob SquarePants Movie, the first theatrical film based on the series, was released on November 19, 2004. According to Square Roots, the movie was also the reason for the long production hiatus between the third and fourth season. A second movie, titled The SpongeBob Movie: Sponge Out of Water, was released on February 6, 2015. A third movie, titled The SpongeBob Movie: Sponge on the Run, was released on August 14, 2020 in Canada and August 13, 2020 in the Czech Republic. It was released on Paramount+ on March 4, 2021 in the United States.
History/Production
Theme song
The theme song, a sea shanty-style tune is sung by Pat Pinney and can also be found on the soundtrack, SpongeBob SquarePants: Original Theme Highlights. A cover of the song by superstar Avril Lavigne can be found on the soundtrack for The SpongeBob SquarePants Movie. There was also a choral version done for the early episodes.
For several special episodes, the theme song was altered to fit the plot of the episode, such as in "Christmas Who?" and "What Ever Happened to SpongeBob?"
Characters
Episodes
Season
Episodes
First episode
Last episode
Pilot
0
1997
Season 1
20
May 1, 1999
March 3, 2001
Season 2
20
October 20, 2000
July 26, 2003
Season 3
20
October 5, 2001
October 11, 2004
Season 4
20
May 6, 2005
July 24, 2007
Season 5
20
February 19, 2007
July 19, 2009
Season 6
26
March 3, 2008
July 5, 2010
Season 7
26
July 19, 2009
June 11, 2011
Season 8
26
March 26, 2011
December 6, 2012
Season 9
26
July 21, 2012
February 20, 2017
Season 10
11
October 15, 2016
December 2, 2017
Season 11
26
June 24, 2017
November 25, 2018
Season 12
26
November 11, 2018
TBA
Season 13
13
October 22, 2020
TBA
Movies
Home video releases
Cast
Movie cast
Crew
Broadcast history
Country
Channel
United States
Nickelodeon (1999-present)
MTV (reruns, 2000-2016)
NickToons (reruns, 2002-present)
CBS (It's a SpongeBob Christmas! special, 2012)

AFN/AFN Family (reruns, AFN: 1999/early 2000 - 2004; AFN Family: 2004 - present)

Canada
YTV (2000-present)
Nickelodeon Canada (2009–present)
Albania
Çufo Comedy Central (subtiles)
Arabic Speaking Countries
MBC 3 (rarely)
Nickelodeon Arabia
Nicktoons Arabia
Bulgaria
Diema Kids
Super 7
Nickelodeon
China
ATV World (Hong Kong)
CCTV-14 (Mainland China)
Croatia
RTL
Nova TV
Nickelodeon
Hayat TV (Bosnia and Herzegovina)
Hayatovci (Bosnia and Herzegovina)
Australia
Network Ten (2002-2012)
Eleven (2012-2013)
9Go! (2015-2017)
10 Peach (2020)
10 Shake (2020-present)
References
External links
Television Shows

Original Shows
1970's premieres

Pinwheel

•

Video Comics

•

Nickel Flicks

•

By the Way

1980's premieres
1990's premieres
2000's premieres
2010's premieres
2020's premieres
Nicktoons appear in red. Live Action shows appear in magenta.

Game shows appear in green. Nick Jr. shows appear in sky blue.
Community content is available under
CC-BY-SA
unless otherwise noted.