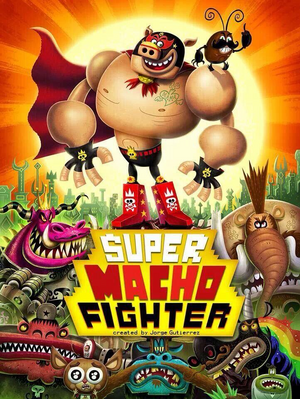 Super Macho Fighter was a proposed TV series by Jorge R. Gutiérrez, creator of El Tigre: The Adventures of Manny Rivera. It would have been broadcast by Nickelodeon.
At the time it announced on September 28, 2013, only the poster shown to the right had been released.[1] In 2016, a proof of concept test using stop motion animation was made available on Gutierrez's Vimeo account.[2] Since then, no further news about the proposed series has been released.
However, on April 25, 2017, Guiterrez announced on Twitter that he would be doing a presentation at the Annecy International Animation Film Festival, held in Annecy, France during June 2017. The presentation was a work in progress discussion of his new movie, Kung Fu Space Punch![3] Described as a "funny mash-up of '90s Kung Fu films, Spaghetti Westerns of the '60s, and the epic space adventures of the '70s, '80s and today",[4] it is possible that Nickelodeon did not proceed any further with developing Super Macho Fighter into a TV series, allowing Guiterrez to adapt some or all of the idea into the new movie.
References
Community content is available under
CC-BY-SA
unless otherwise noted.