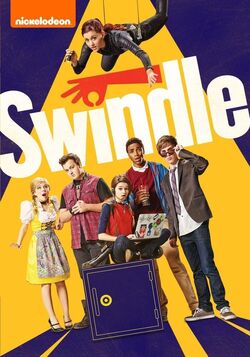 Swindle
is a 2013 American television movie that is based off the book, Swindle by Gordon Korman. The film stars Noah Crawford, Chris O'Neal, Jennette McCurdy, Ciara Bravo, Ariana Grande, and Noah Munck. The movie premiered on August 24, 2013.
Plot
Griffin is conned out of a million dollar baseball card by an evil collector named Swindle which could have saved his best friend, Ben from moving to Montana so Griffin unites a ragtag of his classmates to help him take down the swindler. It turns into a valiant adventure that will take them through some daring heists, crazy disguises, and a birthday cake wedding fight, but even through it all, the kids have to bring all their skills together as a team to get justice.
Availability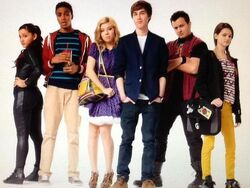 The movie was released as a manufacture-on-demand DVD, sold exclusively on Amazon.com, on March 19, 2014. A Blu-ray release followed on December 4, 2015.
Cast
Trivia
When Amanda Benson is going to give a spa treatment to Anton Leferve, the hotel room that Anton is residing is the "Le International Suite." In French grammar, it should be "L'International Suite."
External links
Community content is available under
CC-BY-SA
unless otherwise noted.