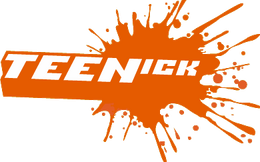 TEENick was a teen-oriented television programming block that aired on Nickelodeon. The block launched on March 4, 2001,[1] and lasted until February 8, 2009. TEENick aired on Sunday nights from 6-9 p.m. ET/PT and, beginning in 2004, began to also air on Saturday nights from 8-10 p.m. ET/PT (replacing the popular SNICK block that started in 1992). It was originally hosted by Nick Cannon, and then by Jason Everhart (aka "J. Boogie").
"TEENick" and "The N" had a programming block "TEENick" on The N. It aired on January 16, 2007 and then lasted until May 12, 2007, but then returned on March 1, 2008. The block included shows such as Romeo!, Just Jordan, iCarly, Are You Afraid of the Dark?, Drake & Josh, All That, The Amanda Show, Zoey 101, Mr. Meaty and All Grown Up!. On August 3, 2009, TEENick was dropped from The N again.
The TEENick name was discontinued in February 8, 2009 to give a separation of time between the block's end and the September 28, 2009 launch of TeenNick, the replacement name for "The N", a 24-hour network which had progressed from taking half of the broadcasting day on Noggin from 2002-2009 to eventually becoming its own network at the end of 2007 under the former 1999-2007 (2009 on Dish Network) channel space of Nickelodeon Games and Sports for Kids. Nickelodeon continued to air new episodes of live-action series on Saturday nights like iCarly, Victorious, Big Time Rush, How to Rock, You Gotta See This, Supah Ninjas and Bucket and Skinner's Epic Adventures without any theme branding. In Fall 2012, the final episodes of iCarly and Victorious, new episodes of Big Time Rush, How to Rock and You Gotta See This was branded as part of Nick's newest Saturday block Gotta See Saturdays, which airs Saturday mornings and nights.[2]
Programming
Shows are listed by the time they were on TEENick during its run as a programming block on Nickelodeon.
Final programming
Former programming
References
This page uses content from the English Wikipedia. The article or pieces of the original article was at TEENick. The list of authors can be seen in the page history. As with Nickipedia, the text of Wikipedia is available under the GNU Free Documentation License.
Community content is available under
CC-BY-SA
unless otherwise noted.