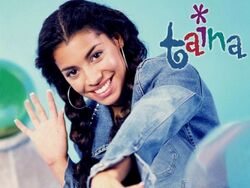 Taina is an American sitcom that aired on Nickelodeon and was one of the last live-action comedy shows taped at Nickelodeon Studios but later moved to the Nickelodeon On Sunset in Hollywood, for its second season.
The show aired from January 14, 2001 to May 11, 2002.
Plot
Taina Morales (Christina Vidal) is a Latina teenage girl who aspires to be a singer and actress.
She attends the Manhattan High School of the Performing Arts with her friend Renee Jones (Khaliah Adams). At school, they reunite with their elementary school classmate Lamar (Chris Knowings) and meet a student named Daniel McDaniel (David Oliver Cohen).
Taina's nemesis Martiza Hogg (LaTangela) also attends the school and is an aspiring singer\actress.
Every episode features Taina daydreaming about her super stardom with occasional performances of a new song.
Characters
Cast
Main Cast
Recurring Cast
Lisa Velez (Lisa Lisa) as Gloria Morales (Taina's mother)
Josh Cruze as Eduardo Morales (Taina's father)
Manolo Villaverde as Gregorio "Abuelo" Sanchez (Taina's grandfather)
Brandon Iglesias (Season 1)\Jacob Urrutia (Season 2) as Santito Morales (Taina's younger brother)
Selenis Leyva as Titi Rosa (Taina's aunt)
Joseph Bertot as Hector Colon
Ruben Rabasa as Papito
Cristina Saralegui as the Principal
Production
The production on the show began sometime around the summer of 2000. The pilot was shot half at the LaGuardia Performers' School and half at the Nickelodeon on Sunset set.
The second season of the show was shot from December 2001 to January 6, 2002.
When "Taina" first premiered on Nickelodeon's TEENick on January 14, 2001, the ratings grew.
On Saturdays, it was put on Nickelodeon's SNICK lineup from January to May 2002 where the ratings doubled in the final season.
Cancellation
Despite the show's popularity, "Taina" was canceled in June 2002. According to Josh Cruze, the show was getting more expensive to produce.
According to Christina Vidal in a later interview, there was scripts written for a third season before the show was cancelled.
Soundtrack
On February 19, 2002 (during the second season of "Taina"), the television soundtrack to the show was released on Jive Records and Nick Records.
The soundtrack featured songs mostly from the show's second season. Christina Vidal and LaTangela provided songs to the soundtrack.
Tracklisting
Gonna Be a Star (Christina Vidal)
Carnival (Christina Vidal)
I Represent (LaTangela)
Feel Good (Christina Vidal)
Not While I'm Around (LaTangela)
Not This Time (3LW)
I'm In Love With Me (LaTangela)
Thought That We Were Friends (Christina Vidal)
In My Dreams (Dream)
Voy a Ser Una Estrella (Spanish version of "Gonna Be a Star") (Christina Vidal)
Community content is available under
CC-BY-SA
unless otherwise noted.