Wiki Targeted (Entertainment)
Play Sound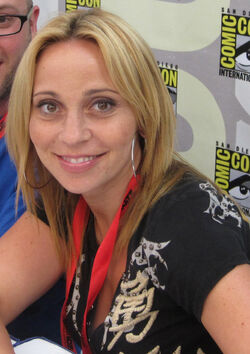 Tara Lyn Charendoff-Strong (born February 12, 1973) is a Canadian-American actress, voice-over artist, comedian, musician, singer, and businesswoman, who is best known for her roles as Bubbles in The Powerpuff Girls, Omi in Xiaolin Showdown, Princess Clara and Toot Braunstein in Drawn Together, Roger Radcliffe and Lila in The Life and Times of Juniper Lee, Ben Tennyson in Ben 10 and Ben 10: Ultimate Alien, Rikku in Final Fantasy X and Final Fantasy X-2, Iggy and Lemmy Koopa in the Super Mario Bros. cartoons, and Twilight Sparkle in My Little Pony: Friendship is Magic.
She is also best known for her numerous Nickelodeon roles, most notably Timmy Turner and Poof Cosma on The Fairly OddParents (in which she also voiced Britney Britney), Dil Pickles on Rugrats (in which she also voiced Timmy McNulty) and All Grown Up, and her recurring role as Ms. Collins in Big Time Rush. She also voiced Dil, Timmy, and Poof in the movies spun off from the shows, such as The Rugrats Movie, Rugrats in Paris: The Movie, Rugrats Go Wild, A Fairly Odd Movie: Grow Up, Timmy Turner!, A Fairly Odd Christmas, and A Fairly Odd Summer.
Outside of Rugrats and Fairly OddParents, Strong's other Nicktoon voice roles included Ember McLain, Star, and Penelope Spectra on Danny Phantom; Mai's mother on Avatar: The Last Airbender; Zoona on Breadwinners; Maddie on The Loud House; and Beth and New Alien in segments of Random! Cartoons. She voiced a boarding school classmate in The Wild Thornberrys Movie and Daizy on Wow! Wow! Wubbzy!. On The Penguins of Madagascar, Strong voiced Eggy, Mother Duck and other characters. She also voiced both Harley Quinn and Poison Ivy in Batman vs. Teenage Mutant Ninja Turtles.
She appeared as herself at three Kids' Choice Awards from 1997 to 1999, accepting three Favorite Cartoon awards and one for Favorite Movie with her Rugrats castmates.
External links
The Fairly OddParents

Characters

Major characters
Timmy • Cosmo • Wanda • Poof • Sparky • Chloe • Mr. and Mrs. Turner • Vicky • Mr. Crocker • Jorgen • Tootie • Chester • A.J.
Humans
Elmer • Sanjay • Trixie • Veronica • Tad and Chad • Francis • Chip • Remy • Doug Dimmadome • Catman • The Mayor • Chet Ubetcha • Principal Waxelplax • Mr. Bickles • Dinkleberg • Kevin Crocker
Fairies
Mama Cosma • Big Daddy • Blonda • Juandissimo • Binky • Cupid • The Tooth Fairy • The April Fool • Rip Studwell
Villains
Anti-Cosmo • Anti-Wanda • Foop • The Pixies • Dark Laser • Norm the Genie • Shallowgrave • Mandie • Magnate • Anti-Sparky • Head Pixie • Sanderson
Others
Crimson Chin • Crash Nebula • Mark Chang • Chompy the Goat • Doidle
Cast and crew
Butch Hartman • Mary Kay Bergman • Tara Strong • Daran Norris • Susanne Blakeslee • Grey DeLisle • Carlos Alazraqui • Frankie Muniz • Jason Marsden • Ibrahim Haneef Muhammad • Gary Leroi Gray • Dionne Quan • Dee Bradley Baker • Jim Ward • Jay Leno
Productions
Oh Yeah! shorts • Episodes • Seasons: 1, 2, 3, 4, 5, 6, 7, 8, 9, 10 • 77 Secrets Revealed! • A Fairly Odd Movie: Grow Up, Timmy Turner! • A Fairly Odd Christmas • A Fairly Odd Summer • The Fairly Odd Phantom • Video releases
Video games
Enter the Cleft! • Breakin' Da Rules • Shadow Showdown • Clash with the Anti-World
See also
Danny Phantom • T.U.F.F. Puppy • Bunsen is a Beast
Community content is available under
CC-BY-SA
unless otherwise noted.