Doctor Strange in The Multiverse o Madness - The Loop
Play Sound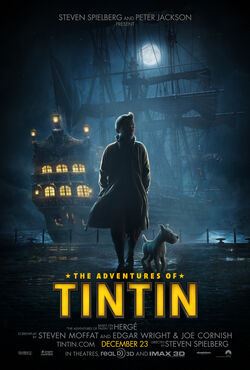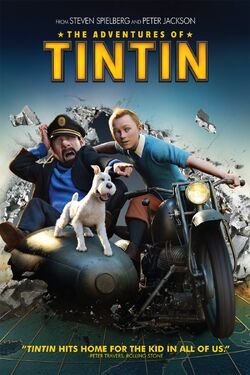 The Adventures of Tintin is a 3D motion-captured animated film adaptation of the comic book of the same name.
Plot
Warning: This section of the article may contain spoilers.
If you feel like the contents are inappropriate, please contact an administrator and share your concerns. Otherwise, read at your own risk!
Tintin, a young journalist, and his dog Snowy are browsing in an outdoor market in a European town (scene starts off with a cameo of Hergé doing Tintin's portrait). Tintin buys a model of a three-masted sailing ship, the Unicorn, on the cheap, but is then immediately accosted by the sinister Ivan Ivanovitch Sakharine, and the mysterious figure of Barnaby, who both try to buy the model from Tintin, without success. Tintin takes the ship home, but it is broken during a fight between Snowy and a neighbor's cat. As it breaks, a parchment scroll slips out of the ship's mast. Snowy spots it but is unable to alert Tintin. Meanwhile, incompetent detectives Thomson and Thompson are on the trail of a pickpocket, Aristides Silk. Tintin visits Sakharine in Marlinspike Hall, where he learns that there are two model ships. Tintin puts the scroll in his wallet, only to have his wallet stolen by Silk.
Later, Tintin is shot at, then abducted by accomplices of Sakharine, and imprisoned on the SS Karaboudjan. On board, Tintin escapes and meets the ship's nominal captain, Haddock. Haddock has been supplied with whiskey by first mate Allan, who is working for Sakharine, and the captain is permanently drunk, and doesn't know what's happening on board his ship. Tintin and Haddock (and Snowy) eventually escape from the Karaboudjan in a lifeboat. Sakharine sends a seaplane to find them, but Tintin is able to capture the plane, and fly towards the (fictitious) Moroccan port of Bagghar, but they crash in the desert.
Dehydrated in the heat, and suffering from a sudden lack of alcohol, Haddock hallucinates, and starts to remember stories about his ancestor, Sir Francis Haddock (Andy Serkis), who was captain of the Unicorn during the 17th century. Sir Francis' treasure-laden ship was attacked by a pirate ship, led by the masked Red Rackham, and, after a fierce battle and eventual surrender, Sir Francis chose to sink the Unicorn, and most of the treasure, rather than allow it to fall into Rackham's hands. It transpires that there were three models of the Unicorn, each containing a scroll. Together, the scrolls will reveal the location of the sunken Unicorn, and its treasure.
The third model ship is in Bagghar in the possession of the wealthy Omar Ben Salaad, but it is encased in a bullet-proof glass display case. Sakharine's plan is to stage a concert involving famous diva Bianca Castafiore, the "Milanese nightingale", whose penetrating singing voice will be able to shatter the glass case, allowing Sakharine's trained hawk to fly down and steal the third scroll. After a chase down to the harbor, pursued by Tintin and Haddock, Sakharine finally escapes with all three scrolls. Tintin chases him back to Europe and arranges a police reception for him on the dockside. Haddock and Sakharine, who is revealed to be the descendant of Red Rackham, replay their ancestors' swashbuckling sword fight, using dockside cranes, swords, and even bottles of whiskey. Haddock is eventually victorious and Sakharine is promptly arrested by Thomson and Thompson.
With the three scrolls in their possession, Tintin and Haddock find that the indicated location is Marlinspike Hall, and that the hall had been built originally by Sir Francis Haddock. There, in the cellar, they find some of the treasure, and a clue to the location of the sunken Unicorn. Both men agree to continue the adventure.
Cast
Jamie Bell as Tintin
Andy Serkis as Captain Haddock and Sir Francis Haddock
Daniel Craig as

Ivan Ivanovitch Sakharine

and Red Rackham
Nick Frost and Simon Pegg as Thomson and Thompson
Enn Reitel as Nestor
Tony Curran as Lieutenant Delacourt

Toby Jones

as Aristides Silk

Gad Elmaleh

as Omar Ben Salaad

Kim Stengel

as Bianca Castafiore

Joe Starr

as Barnaby

Sonje Fortag

as Mrs Finch.

Cary Elwes

as Phillip Rhys

Ron Bottitta

as a Unicorn Lookout

Mark Ivanir

as Afgar Outpost Soldier/Secretary

Sebastian Roché

as Pedro/1st Mate

Sana Etoile

as Press Reporter
Production
Development
Spielberg has been an avid fan of The Adventures of Tintin comic book series since 1981, when a review compared Raiders of the Lost Ark to Tintin.[1] Meanwhile, the comics' creator, Hergé—who disliked the previous live-action film versions and the animated series—became a fan of Spielberg. Michael Farr, author of Tintin: The Complete Companion, recalled Hergé "thought Spielberg was the only person who could ever do Tintin justice".[2] Spielberg and his production partner Kathleen Kennedy of Amblin Entertainment were scheduled to meet with Hergé in 1983 while filming Indiana Jones and the Temple of Doom in London. Hergé died that week, but his widow decided to give them the rights.[3] A three-year-long option to film the comics was finalized in 1984,[4] with Universal as distributor.[5]
Spielberg commissioned E.T. the Extra-Terrestrial writer Melissa Mathison to script a film about Tintin battling ivory hunters in Africa.[6] Spielberg saw Tintin as an "Indiana Jones for kids" and wanted Jack Nicholson to play Haddock.[7] Unsatisfied with the script, Spielberg continued production on Indiana Jones and the Last Crusade; the rights returned to the Hergé Foundation. Claude Berri and Roman Polanski became interested in filming the property, while Warner Bros. negotiated for the rights, but they could not guarantee the "creative integrity" that the Foundation found in Spielberg.[8] In 2001, Spielberg revealed his interest in depicting Tintin with computer animation.[9] In November 2002, his studio DreamWorks reestablished the option to film the series.[10] Spielberg originally said he would only produce the film.[11] In 2004, French magazine Capital reported Spielberg was intending a trilogy based on The Secret of the Unicorn / Red Rackham's Treasure, The Seven Crystal Balls / Prisoners of the Sun and The Blue Lotus / Tintin in Tibet (which are separate stories, but both feature Chang Chong-Chen).[12] By then, Spielberg had reverted to his idea of a live-action adaptation and called Peter Jackson to ask if Weta Digitalwould create a computer-generated Snowy.[13]
Jackson, a longtime fan of the comics,[14] had used motion capture in The Lord of the Rings and King Kong; he suggested that a live-action adaptation would not do justice to the comic books and that motion capture was instead the best way of representing Hergé's world of Tintin.[15] A week of filming took place in November 2006 in Playa Vista, Los Angeles, California, on the stage where James Cameron shot Avatar.[16] Andy Serkis had been cast, while Jackson stood in for Tintin.[17] During the shoot, Cameron and Robert Zemeckis (director of The Polar Express, another motion-captured animated film) were present.[18] The footage was transmitted to Weta Digital,[19] who produced a twenty-minute test reel that demonstrated a photorealistic depiction of the characters.[20] Spielberg said he would not mind filming it digitally because he saw it as an animated film, and reiterated his live-action work would always be filmed traditionally.[21] Lead designer Chris Guise visited Brussels to see the inspiration for Hergé's sceneries.[22]
An official announcement about the collaboration was made in May 2007, although both filmmakers had to wait to film it: Spielberg was preparing Indiana Jones and the Kingdom of the Crystal Skull while Jackson was planning The Lovely Bones.[23] Spielberg had considered two books to become the main story, The Crab with the Golden Claws and The Secret of the Unicorn, with the main plot eventually following the latter and its immediate sequel, Red Rackham's Treasure. Jackson felt the former's story "wasn't really robust enough to sustain a feature film", but the filmmakers still included elements from the comic, such as the Karaboujan and the first meeting of Tintin and Haddock. Spielberg invited Edgar Wrightto write the script for the film, but Wright was busy and instead recommended other names, including Steven Moffat.[24] In October 2007, Moffat was announced as the screenwriter for two of the Tintin films.[25] Moffat said he was "love bombed" by Spielberg into accepting the offer to write the films, with the director promising to shield him from studio interference with his writing.[26] Moffat finished a draft, but was unable to finish another due to the 2007–2008 Writers Guild of America strike. He then became executive producer of Doctor Who, leading Spielberg and Jackson (both of whom are fans of the show) to allow him to leave and fulfill his duty to the series.[27] Wright then returned and agreed to take over the script while Joe Cornish, a fan of Tintin with whom Wright was working at the time, also worked with him. After two drafts of the script, Wright left in order to begin filming Scott Pilgrim vs the World., with Cornish staying on to finish the script under the guidance of Spielberg and Jackson.[28]
More filming took place in March 2008.[29] However, in August 2008 (a month before principal photography would have begun), Universal turned down their option to co-produce the film due to the poor box office performances of other recent performance-captured animated films, such as Monster House (2006) and Beowulf (2007), as well as Spielberg and Jackson's request for a combined 30% of the gross.[30] Paramount Pictures (DreamWorks' distributor) had hoped to partner with Universal on the project, having spent $30 million on pre-production. Spielberg gave a ten-minute presentation of footage, hoping they would approve filming to begin in October. Paramount, along with their subsidiary Nickelodeon Movies, offered to produce as long as the directors found a studio that was willing to co-produce the film: Spielberg and Jackson agreed[31][32] and negotiated with Sony's Columbia Pictures to co-finance and distribute the first film internationally by the end of October.[33][34][35] Sony only agreed to finance two films, though Jackson said a third film may still happen.[36]
Filming and visual effects
Principal photography began on 26 January 2009; the release date was pushed from 2010 to 2011.[37] Spielberg finished his film—after 32 days of shooting—in March 2009. Jackson was present for the first week of filming and supervised the rest of the shoot via a bespoke videoconferencing program.[38] Simon Pegg said Jackson's voice would "be coming over the Tannoy like God".[39] During filming, various directors, including Guillermo del Toro, Stephen Daldry and David Fincher visited. Spielberg wanted to treat the film like live-action, moving his camera around.[40] He revealed, "Every movie I made, up until Tintin, I always kept one eye closed when I've been framing a shot," because he wanted to see the movie in 2-D, the way viewers would. "On Tintin, I have both of my eyes open".[41] Jackson took the hands-on approach to directing Weta Digital during post-production, which Spielberg supervised through video conferencing. Jackson will also begin development for the second film, for which he will be officially credited as director.[42] Spielberg says "there will be no cell phones, no TV sets, no modern cars. Just timeless Europe".[43] His frequent collaborator and cinematographer Janusz Kamiński served as lighting consultant for Weta, and Jackson said the film will look "film noirish, very atmospheric". Spielberg finished six weeks of additional motion-capture filming in mid-July 2009.[44][45] Post production was finished on September 2011.[46] From the very beginning to the very end, the film took a total of seven years in production.
To improve the quality of the indoor lighting nuances, Weta Digital and NVIDIA developed a piece of ray tracing software called PantaRay, which requires 100 to 1,000 times more computation than traditional shadow-map based solutions.[47] For the performance of "Snowy", various models served as a reference for actors on-set, manipulated by property master Brad Elliott. According to animators, Snowy was the hardest character to animate and develop, due to the type of coat he has as well as being white. Later, a dog's motion was captured digitally so the animators had inspiration for realistic movements. His vocal effects were taken from various breeds of dogs.[48]
Music
John Williams composed the musical score for The Adventures of Tintin. It was the first time Williams had composed the score of a film since 2008's Indiana Jones and the Kingdom of the Crystal Skull[49] as well as his first score for an animated film. Most of the score was written while the animation was still in the early stages, with Williams seeking to employ "the old Disney technique of doing music first and have the animators trying to follow what the music is doing". Eventually, several cues had to be revised during the editing of the film. The composer decided to employ various musical styles, with "1920s, 1930s European jazz" for the opening credits and "pirate music" for the battle at sea.[50] The score was released on 21 October 2011 by Sony Classical Records.[51]
Reception
Critical response
The Adventures of Tintin received generally positive reviews from critics. Based on 195 reviews collected by review aggregate site Rotten Tomatoes, the film scored a 75% "Certified Fresh" approval rating, with an average rating of 7/10. The site's critical consensus is, "Drawing deep from the classic Raiders of the Lost Ark playbook, Steven Spielberg has crafted another spirited, thrilling adventure in the form of Tintin."[52] Metacritic, another review aggregator which assigns a weighted mean rating out of 100 to reviews from mainstream critics, calculated an average score of 68, based on 40 reviews, which indicates "generally favorable reviews".[53]
Box office
The Adventures of Tintin grossed $77,591,831 in North America and $296,402,120 in other territories for a worldwide total of $373,993,951.[54]
In the United States, it is one of only 12 feature films to be released in over 3,000 theaters and still improve on its box office performance in its second weekend, increasing 17.6% from $9,720,993 to $11,436,160.[55] On its first day, the film opened in the UK, France and Belgium, earning $8.6 million. In Belgium, Tintin's country of origin, the film made $520,000, while France provided $4.6 million, a number higher than other similar Wednesday debuts.[56] In France, it was the second-best debut of the year for its first day after Harry Potter and the Deathly Hallows – Part 2.[57] On its first weekend it topped the overseas box office with $56.2 million from 21 countries.[58] In Belgium, it earned $1.99 million. It also earned the top spot in many major markets like France and the Maghreb region ($21 million), where it set a record opening weekend for an animated title; the UK, Ireland and Malta ($10.9 million), Germany ($4.71 million) and Spain ($3.75 million).[59][60][61] It retained first place for a second consecutive and final weekend, earning $39.0 million from 45 territories.[62] In its native Belgium it was up 20% to $2.39 million, while in France it plummeted 61% to $8.42 million. Its biggest debut was in Russia and the CIS ($4.81 million).[63][64]
The film grossed ₹7.5 crore (US$1.1 million) on its opening weekend (11–13 November 2011) in India, an all-time record for a Spielberg film and for an animated feature in India. The film was released with 351 prints, the largest-ever release for an animated film.[65][66][67] In four weeks, it became the highest-grossing animated film of all time in the country with ₹25.4 crore (US$3.6 million).[68]
Home video
Cover
Format
Released
DVD
March 13, 2012
Blu-ray
March 13, 2012
Blu-ray 3D
March 13, 2012
Television broadcasts
Trivia
This is the second Nickelodeon film to be released in IMAX and the first to be released in IMAX 3D.
This is the fourth Nickelodeon film to be nominated for an Academy Award, after Rango, Lemony Snicket's A Series of Unfortunate Events, The Wild Thornberrys Movie, and Jimmy Neutron, Boy Genius. It was nominated for Best Original Score.
This was Steven Spielberg and Peter Jackson's first Nickelodeon film.
This was Nickelodeon's first animated film released in stereoscopic 3D.
The first Nickelodeon film to ever win a Golden Globe Award for Best Animated Feature, and the first animated film to do so.
This is the fifth Nickelodeon film that doesn't take place in the United States; this film is set in Europe.
This film combines the Tintin tales 'The Crab with the Golden Claws' (Tintin befriends Captain Haddock whose ship has been hijacked by smugglers) and the two-parter 'The Secret of the Unicorn' and 'Red Rackham's Treasure' (Tintin and Haddock search for pirate treasure).
The Nickelodeon network aired The Adventures of Tintin animated series in 1993, almost two decades before producing this movie.
Columbia Pictures' second involvement with Nickelodeon Movies, following Yours, Mine & Ours.
This was Nickelodeon Movies' fourth computer-animated film, after Jimmy Neutron, Boy Genius, Barnyard and Rango.
This was Nickelodeon Movies' third computer-animated film to be rated PG by the MPAA, after Barnyard and Rango.
Gallery
References
This page uses content from the English Wikipedia. The article or pieces of the original article was at The Adventures of Tintin. The list of authors can be seen in the page history. As with Nickipedia, the text of Wikipedia is available under the GNU Free Documentation License.
The topic of this page has a wiki of its own: Tintin Wiki.