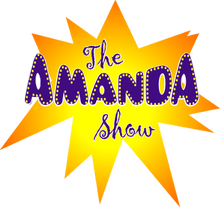 This is an episode list for The Amanda Show, listed by date of premiere.
Episodes
Season 1: 1999-2000
Episode #
Title
1st airdate
Production code
1
"Pilot"
October 16, 1999
101
Welcome to The Amanda Show! Today we meet up with Penelope, who is a 12-year-old Amanda fanatic who puts the word "please" at the end of every sentence, and will stop at nothing to meet Amanda. Meanwhile, Amanda makes her entrance by helicopter. But when the pilot falls asleep, it is up to Amanda to jump out of the plane and make it to the set in time. Kenan Thompson and Josh Server (From All That), deliver Amanda a pizza and good wishes for her new show."
2
"Amanda Show Two"
October 23, 1999
102
Amanda's number one fan, Penelope, opens the show today, as Amanda is not on the guest list for some reason. Jack and Jake, the two least successful bullies in school, are trying to cause up trouble, but it just doesn't seem to work!!! Also, Amanda has a date with a boy with a pimple. At first she thinks it's ugly and sick.... but in the end she runs away with it and leaves the boy sitting by himself with a confused face. Plus, Amanda has some fun with a prank call to Mr. Oldman.
3
"Amanda Show Three"
October 30, 1999
103
Amanda and her co-stars are eating when Drake brings out a lobster to eat and the dancing lobsters are in the room while he is eating it. When they see the cooked lobster, they get upset and leave the room worried and scared. Meanwhile, Amanda's attempts to open the show are interrupted once more by Penelope, this time arriving by special delivery. There's a family obsessed with wrestling, they start off waiting for their daughter before they eat dinner.... but the burgers are too hard to eat. So they order a pizza and demand it to be there in 10 seconds. When the pizza guy asks for the money, they start beating him up. There's also the Girls Room with Amber, the most popular girl in school, there's also one thats a hard nut, one that is an exchange student from Tennessee, and one that's slow. Also there is the smelling bee, where they sniff a hobo with a sandwich, an old lady with bad arm pit smell, a rotten egg in a shoe, and a rotten glass of milk in the other shoe.
4
"Amanda Show Four"
November 6, 1999
104
It starts of with Amanda teaching the lobsters to dance and when they do it in front of the audience, Amanda pops off and Penelope tries and disguises herself as one of the lobsters and tries to keep up with their dance. Also, a lot of people get ripped off in Blockblister. One of them being a person who asked for Austin Powers and got a different version done by the Blockblister family.
5
"Amanda Show Five"
November 13, 1999
105
Amanda nearly doesn't make the show opening thanks to an unusual elevator, in which she meets clowns, lobster and even an Eskimo. After that, we see some remote control underpants. Mr. Gullible, (a substitute teacher thats very gullible), is taken for granted and does things like giving the students $100 each and drinking fish water. There's also the star-studded audience awards including best laughter and least intelligent audience member.
6
"Amanda Show Six"
November 20, 1999
106
Amanda takes extreme measures to break through The Amanda Show's tight security. She gives them some of her muscle. When she gets to the stage, the audience does not understand a word she says. There is also a tense game of So You Wanna Win Five Dollars? and Amanda finds a good way to deal with broccoli.
7
"Amanda Show Seven"
January 8, 2000
107
Penelope has over 50 phones with her to try and win a dinner with Amanda in a radio contest. She wins...but then when the radio tries to phone her back, she doesn't know which phone to pick up. Judge Trudy has a date with a guy in a restaurant, but the guys parents come and Judge Trudy sentences them. Doreen and her dad sell weird soups... like toe nail soups and grandpa's foot hairs soup... Join Debbie as she likes eggs in the Girls' Room.
8
"Amanda Show Eight"
January 15, 2000
108
Today, Penelope is awakened from her bad dream by a surprise visitor from The Amanda Show. It is not Amanda though, it's one of The Amanda Show's camera men. Amanda's opening is disrupted by an audience member who cannot listen to LFO on their CD player. Amanda solves the problem by bringing on the band themselves! They sing a song about Amanda. Drake, Raquel, and the dancing lobsters dance with them. They ask Amanda out onto stage with them as they end the song.
9
"Amanda Show Nine"
January 22, 2000
109
Raquel gets two pieces of fan mail and Drake gets one... but it actually turns out to be for the dancing lobsters which adds to the dancing lobsters huge fan mail stack. Amanda fumbles a magic trick, some more fake commercials bring more inventive ways to get out of school, and there's just time for a serious documentary in the form of When Cheerleaders Attack where we see innocent people attacked by raving cheerleaders dancing and hurting people with pompom's. They also get into the studio and pompom out Amanda.
10
"Amanda Show Ten"
January 29, 2000
110
Penelope has stolen the A of the AMANDA letters in the Amanda show studio, what makes it MANDA. Dareen and her dad now have a sushi shop and it still carries on to be disgusting stuff like toe nail sushi and samari sushi. Amanda's dad buys a new TV set which gets stolen by a burglar. Then Penelope decides to return the "A", but has trouble getting it in the back of a taxi.
11
"Amanda Show Eleven"
February 5, 2000
111
Penelope uses a homemade robot to finally infiltrate The Amanda Show. And what better day than Amanda's birthday? Inside the robot is also her brother who won't stop asking for a sandwich. Also The Klutz Family get there hands on some priceless, irreplaceable, art in a museum. Amanda also shares about the dangers of When Old Ladies Attack!
12
"Amanda Show Twelve"
February 12, 2000
112
Amanda discovers that there is no audience to hear her opening monologue because she has arrived too early. Raquel and Amanda get a prank call from two boys. So, they use Call ZAP! Judge Trudy gives an unfair punishment to a man whose zoo animals had been released all over the city and a woman whose daughter had painted her face, hair and other parts all orange. Amanda also cannot sleep at night, so her parents give her a doll that will not shut up. One of the lobsters has a cold. So, Amanda says "You need your daily dose of Vitamin C!".. which links to the next part of the show. Guest singer Vitamin C sings for Amanda and the audience. Kyle talks about his cordless phone and how he never found it in Totally Kyle. Mr. Oldman gets another prank call from Amanda.
13
"Amanda Show Thirteen"
February 19, 2000
113
Penelope and Preston try cloning Amanda, using a toenail they found in the trash can, but the result isn't what they hoped. Amanda and Drake have fun eating Meatloaf Crunch, a new cereal. Drake has a problem at school with a new student, who acts and looks suspiciously like a witch. Then we have time for yet another Hillbilly Moment, where Lula-Mae is annoying Eenis, much to Eenis' dismay. Thad and Melody go to a restaurant to sing, but their songs seem to offend and annoy the people eating.
Season 2: 2000-2001
Episode #
Title
1st airdate
Production code
14
"Amanda Show Fourteen"
July 15'2000
201
In the 2nd. season opener: of The Amanda Show, Penelope bribes a security guard to get her in the audience. Meanwhile, Amanda is trying to do her introduction, but is distracted by square dancers on the roof. An advert for Popper Pants, popcorn that you can make in your pants, is shown. A new lot of contestants are locked in a car in yet another episode of Stranded. And more unsatisfied customers complain to the owners of Blockblister Video, but the owners don't see anything wrong with the video.
15
"Amanda Show Fifteen"
July 29'2000
202
Amanda plays in a pool of mud, but before the show starts, she has to get cleaned up. Thank God for the hose! A commercial advertising LunchBay.com, a website where you can buy others lunch and sell your own, is shown. There's more courtroom action with Judge Trudy, more heartbreaking drama on Moody's Point, and finally, more "interesting" discussions with Kyle on Totally Kyle.
16
"Amanda Show Sixteen"
August 12'2000
203
Enter the competition in The Girls Room...join the search for a lost paper clip... dive into Amanda's Jacuzzi with Babe Ruth...Tony Pajamas babysits...take time out for a Hilbilly Moment... and Kyle talks about his encounter with a spider in Totally Kyle.
17
"Amanda Show Seventen"
August 26'2000
204
The Klutzes attempt to run a restaurant without hurting anyone too much...The Boost gives kids a real lift..take a dip in Amanda's Jacuzzi with Frankenstein...experience another Hillbilly Moment...and see what happens when Mr. Gullible substitute teaches during a fire drill!
18
"Amanda Show Eighteen"
September 9'2000
205
Penelope's quest to find Amanda finds her turning up in somebody's toilet, which is almost as smelly as our first commercial for a game that everyone will enjoy - Pass The Skunk! Then it's back to the show, Tony Pajamas and Judge Trudy are contestants on another edition of So You Wanna Win Five Dollars? There's just time for a visit to Moody's Point before we have to close the show once more, and Amanda discovers why the lights keep going out.
19
"Amanda Show Nineteen"
September 23'2000
206
Amanda wants to make the world a better place, so she sets out to get kids to do what parents want and vice-versa. The Super Spitballer 3000 is todays commercial. Today's Crime Fighting Cheerleaders is more action-packed and thrilling, it has more turns then Law & Order. It's time for a new Hillbilly Moment, meanwhile Melody and Thad sing some rather offensive wedding songs at a reception. Amanda wraps up the show with a girl from the audience giving her advice on how to cure her cold.
20
"Amanda Show Twenty"
October 7'2000
207
Drake tries to get the turkey balancing record, only to be distracted by an annoying Penelope. The girls from The Girls Room hold a talent contest. Crazy Courtney gets a new piano, only to drive the teacher mad. And Santa is the latest guest to soak up the bubbles on Amanda's Jacuzzi.
21
"Amanda Show Twenty-One"
October 21'2000
208
Today there's a surprise - and a free sandwich - in store for one lucky audience member, while Amanda's show opening is interrupted by a pizza delivery guy. Better go to a commercial - and My Beautiful Big Toe. But don't stay away too long, because Judge Trudy has two itchy cases to pass judgement on. There's another visit to Moody's Point, and Mr Oldman gets some more unwelcome phone calls. All this, and a bald guy who wants Amanda's autograph as well!
22
"Amanda Show Twenty-Two"
October 28'2000
209
Today, Amanda is searching for someone to open Josh's bag of crisps, but there's a painful moment when she feels a little unwell and needs some medical advice. There's a commercial message for the Little Crazy Hatman, and we go shopping at Cookie Dooper. Then, some serious factual documentary programming, Penelope swaps clothes with Barney, and Kyle talks about his cousin in Jersey - until he realises that he has no cousin in Jersey, in Totally Kyle. And finally, Penelope gets to meet Amanda at long last - but is it really Amanda, or just an incredible simulation?
23
"Amanda Show Twenty-Three"
November 18'2000
210
Penelope tries to get into Amanda's dressing room with a cunning bear disguise today, but Amanda is already on stage, helping a fan whose parents will not let him watch The Amanda Show. There's important commercial news for vegetarians, and more money matters as the glittering prize is still up for grabs in So You Wanna Win Five Dollars. After the entertainment, time for a serious documentary with the Crime Fighting Cheerleaders, more knock knock jokes in another Hillbilly Moment, and an excellent sketch that gets totally interrupted by Penelope. Plus, Amanda interviews Elvis in Amanda's Jacuzzi, and Amanda hands out fifty thousand dollars to a lucky audience member with a birthday.
24
"Amanda Show Twenty-Four"
December 9'2000
211
The Amanda Show gets off to a bad start today when it's opened by the wrong Amanda. After the mistake is sorted out, it's time for a quick word from Mammal-Os, the healthy cereal with a live mammal in every box. Then back to the action with Crazy Courtney as she sabotages a class debate, a quick visit to Moody's Point, and Kyle totally tells us about the radio in Totally Kyle. Plus, Amanda's meat song is interrupted by the sound of a lawnmower - someone's mowing the stage.
25
"Amanda Show Twenty-Five"
December 23'2000
212
Penelope finds an easy entrance to the studios today when she falls in love with Trevor, the security guard's son, but Amanda is already on stage pulling the audience's teeth out. There's more totally genuine video as Blockblister rents the authentic 'Face Venutra' to an unsuspecting customer, and today's guest in Amanda's Jacuzzi is Sitting Bull. Penelope gets closer to Amanda than ever before, but misses her chance because she is too busy kissing Trevor.
26
"Amanda Show Twenty-Six"
January 27'2001
213
Penelope meets a famous Nick star today - not Amanda, but Noah from Noah Knows Best. Meanwhile, Amanda finds that she has somebody else's pager. There's a visit to the Cookie shop with Doreen and her dad, except now it's selling something else and that something else is jerky, and there's more prime-time entertainment with Amanda's Jacuzzi and another million dollar episode of Stranded. Meanwhile, backstage, Penelope has to tie Noah to a chair to make him look at her website, while Kyle tells us what's on his mind with more Totally Kyle. Then Noah escapes, but gets on stage just as the show is closing. They think it's all over.
27
"Amanda Show Twenty-Seven"
February 17'2001
214
Amanda starts the show by giving a big hand to just about everybody but there's no time for that, because today The Girls Room is coming from The Boys Room by mistake! Meanwhile, Amanda is interviewing a Swiss Guy, while Tony Pajamas and Candy Tulips have another problem. There's another Hillbilly Moment where Eenis gets hit over the head with something soft this time, and Penelope is on the set of the show hanging up pictures of Amanda. There's more phone trouble for Mr. Oldman, and then the show has a surprise ending when robbers steal the camera!
28
"Amanda Show Twenty-Eight"
March 3'2001
215
Penelope thinks she's finally going to speak to Amanda when she's a guest on a phone in show, but the emergency broadcast system interrupts proceedings. Amanda tries to open the show, but is interrupted by dodgeballs, and Judge Trudy enrols on the first day of school, but is interrupted by a problem with oatmeal. There's just time for a quick visit to Moody's Point. Before it's time to close the show, why is it snowing in the studio?
29
"Amanda Show Twenty-Nine"
March 17'2001
216
The world's greatest ventriloquist is coming on the show today, and Penelope senses a chance to get closer to Amanda. Meanwhile, Amanda's show open is interrupted by a man speaking Italian. But what in the world is he saying? There is a special report on the danger of When School Mascots Attack, and today Amanda's special guest in Amanda's Jacuzzi is Moses. We pay a visit to The Lucklesses, a family who always seem to have the worst luck, plus there's time for a Hillbilly Moment, and Kyle talks about a string breaking on his guitar in Totally Kyle.
30
"Amanda Show Thirty"
April 7'2001
217
Amanda is taking a nap today, so Josh and Drake do the audience greeting instead but the audience only want Amanda! There is time for a commercial message from Ham, the great new toy for boys and girls! Plus, Blockblister rents another high quality movie to an unsuspecting customer. Today, it's the F Men! We cross to the basement of Roberta and Toby for an edition of The Dare Show and there is another Hillbilly Moment featuring a pink toilet and Kyle describes a dream he had about breakfast in Totally Kyle.
Season 3: 2002
Episode #
Title
1st airdate
Production code
31
"Amanda Show Thirty-One"
January 19'2002
301
Amanda smashes a piñata, only to find dental floss, not candy, inside it. Amanda and company have an explosive time eating Snap, Krackle & Kaboom Cereal. We visit the gossiping antics of The Girls Room, once again. There's time for yet another Hillbilly Moment. And Amanda causes more trouble for Mr. Oldman with some more prank phone calls. To close the show, Amanda uses her best opera voice to break glasses. Will it work?
32
"Amanda Show Thirty-Two"
February 2'2002
302
It's a typical whodunit, when Amanda comes on stage only to find out someone has stolen her audience. Who did it? A commercial for the very popular Super Spitballer 3000 is shown. More hard, heartbreaking decisions are made on Judge Trudy. A dramatic new Moody's Point is shown. And, Josh wants to end the show, but what lengths will he go to, to keep Amanda from ending it?
33
"Amanda Show Thirty-Three"
February 9'2002
303
When Amanda receives hate-mail about the show, she goes to confront the person who wrote it. LunchBay.com, a site where stupid people can buy your disgusting lunch is advertised. More fun with Candy Tulips and Kelly: Bath Lifeguard. Yet another Hillbilly Moment, and more "significant" talks with Kyle on Totally Kyle.
34
"Amanda Show Thirty-Four"
March 23'2002
304
Amanda is having trouble getting on stage when she's caught in the middle of a fight between a boyfriend and his jealous girlfriend, who thinks her boyfriend was staring at Amanda. Now it's time for the newest game taking the world by storm, Pass The Skunk! Doreen and her dad try selling weenies in their new shop Weenie Dooper. It's time to talk to the new guest (Ben Franklin), and of course turn on the bubbles in Amanda's Jacuzzi. More knock-knock jokes in another Hillbilly Moment, Penelope raids a cooking sketch while Amanda's cooking herself in the pot and more prank phone calls to Mr. Oldman. Then Amanda challenges Drake to an arm wrestling contest. Drake beats her and Amanda lets Drake play the guitar & sing a song with his band, Drake 24/7.
35
"Amanda Show Thirty-Five"
April 20'2002
305
Amanda is having a hard time hosting again when she encounters two people who believe they are on a game show. There is an advertisement for Super Red Drops. Callers keep calling in to humiliate Sharon, Toby and their mom. A very "gifted class" takes on a substitute teacher. Penelope missed to meet Amanda once again. Eenis has more knock-knock fun in another Hillbilly Moment, while Amanda interviews another guest in Amanda's Jacuzzi. And finally, Kyle gives us another of his interesting talks.
36
"Amanda Show Thirty-Six"
May 25'2002
306
A French painter takes over the show, as he needs Amanda to stay still as he is painting her portrait. My Beautiful Big Toe is advertised. Catch up with Amber, Debbie, Sheila and the rest of The Girls Room. And, yet another drama occurs to the kids in Moody's Point. But the biggest question is, will it be resolved?
37
"Amanda Show Thirty-Seven"
July 13'2002
307
Amanda tries to disarm a robot, but instead she accidentally presses the "Kill Drake" button. Judge Trudy returns, with a different bailiff. Eenis and his family share more "knock-knock" jokes in a Hillbilly Moment. And, Kyle explains yet another day in the life of him in Totally Kyle. Penelope ends up challenging Amanda's new Karate instructor. But will she win?
38
"Amanda Show Thirty-Eight"
August 17'2002
308
Penelope hypnotizes Drake & Josh so they can tell her where Amanda is, but it backfires. We meet the Lucklesses, an unfortunate, and unlucky family. King Henry VIII splashes into Amanda's Jacuzzi to talk and also, to get some spaghetti. Time for a prank call to Mr. Oldman, whilst Eenis and Lula-Mae have fun in yet another Hillbilly Moment.
39
"Amanda Show Thirty-Nine"
September 14'2002
309
Amanda loses the lower half of her body, so Kathy decides to go find it, because Amanda doesn't have legs. A Grown Up Remote is advertised. We get a glimpse of Hawaii gone bad in When Hula-Girls Attack. Who will be the next special guest to soak up the bubbles in Amanda's Jacuzzi? We also meet The Impostors, a family who have trouble telling the truth of their identity. Time for another Hillbilly Moment with Eenis and Lula-Mae. Then, another encounter with Penelope Taint and the security guard, fighting over a piece of shrimp. The shrimp slips away, where Drake and Josh battle over one piece of shrimp. And now, we have time for just one last prank call to Mr. Oldman.
40
"Amanda Show Forty"
September 21'2002
310
Nancy introduces Amanda and Drake to the "Costumatic 5000", a machine that gets you dressed quickly, but she has some trouble operating the machine. Amanda's show opening is interrupted by a fly swarming around the stage. There's an advertisement for "Why Not Sumo?", followed by more respect for kids on Judge Trudy. We also visit the Extremes, a family who takes everything to the extreme. There's time for a Hillbilly Moment and we also see Penelope visiting a psychologist. More prank calls to Mr. Oldman, another Hillbilly Moment and more "interesting" topics with Totally Kyle. To end the show, Drake gets chased by 3 huge football players searching for their football.

Absent: Josh Peck
"Special" (aka Season 4)
#
Title
1st Airdate
Production code
41
"Amanda Show Special: "The Best of Freaky Families""
January 2003
Special 1
The Extremes, The Klutzes, The Literals, and The Lucklesses
42
"Amanda Show Special: "The Best of Penelope Taynt""
March 2003
Special 2
The best sketches featuring Penelope Taynt.
45
"Amanda Show Special: "The Best of Drake and Josh""
December 2003
Special 5
The Dare Show, Melody & Thad, When... Attack, Totally Kyle, Tony Pajamas
46
"Amanda Show Special: "The Best of Commercials""
January 2004
Special 6
Meatloaf Crunch, Popper Pants, Super Spitballer 5000, Remote Control Underpants.
43
"Amanda Show Special: "Amanda's Favorites""
June 2003
Special 3
The Girls' Room, Courtney, Mr. Oldman, Blockblister, and Cynthia Worthington
44
"Amanda Show Special: "The Best of Judge Trudy""
September 2003
Special 4
The best sketches featuring Judge Trudy.
Community content is available under
CC-BY-SA
unless otherwise noted.