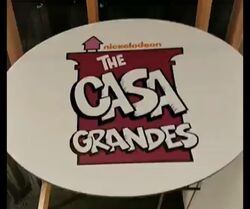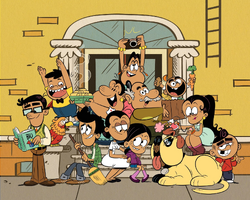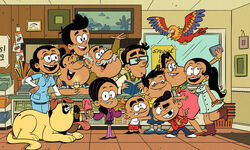 The Casagrandes (originally titled Los Casagrandes) is a spin-off series of The Loud House, which was confirmed by Nickelodeon on March 6, 2018.[1] The spinoff was greenlit to series on July 2, 2018. The series premiered on October 14, 2019.[2][3]
​Synopsis
The Casagrandes deals with Ronnie Anne and Bobby Santiago adjust to their new life in the city, where they now live with their big, loving and chaotic multi-generational family, the Casagrandes. In the series, Ronnie Anne will make new friends, build stronger bonds with her relatives and explore the endless possibilities city life has to offer. Bobby will help Grandpa Hector run the family's corner store, and becomes familiar with the neighborhood's quirky characters.[4]
The series' full cast was announced on May 7, 2019.[5]
Production
On March 6, 2018, it was announced that Nickelodeon was developing a spinoff of The Loud House under the working title of Los Casagrandes.
On July 2, 2018, it was announced that Nickelodeon officially green-lit the comedy series with a 20-episode order.
On February 14, 2019, it was announced that The Casagrandes, formerly Los Casagrandes, would premiere in October 2019.
On May 7, 2019, it was announced that Eugenio Derbez, Ken Jeong, Melissa Joan Hart, Leah Mei Gold, and Lexi Sexton joined the voice cast. Mike Rubiner serves as executive producer, while Karen Malach serves as producer.
On September 4, 2019, it was announced that the series would premiere on October 14, 2019. The series is produced by Nickelodeon.
Characters
→ Main article: List of The Loud House characters
Episodes
→ Main article: The Casagrandes episode list
#
First segment
Second segment
Original air date
(1st segment)
Original air date
(2nd segment)
1
"Going Overboard"
"Walk Don't Run"
October 14, 2019
2
"Vacation Daze"
"The Two of Clubs"
November 2, 2019
3
"New Haunts"
"Croaked"
October 19, 2019
October 26, 2019
4
"Snack Pact"
"The Horror-Scope"
November 9, 2019
5
"Arrr in the Family"
"Finders Weepers"
November 16, 2019
6
"Stress Test"
"How to Train Your Carl"
January 11, 2020
January 27, 2020
7
"Operation Dad"
January 20, 2020
8
"Flee Market"
"Copy Can't"
January 28, 2020
January 29, 2020
9
"Away Game"
"Monster Cash"
February 22, 2020
10
"Trend Game"
"This Bird Has Flown"
February 29, 2020
11
"V.I.P.eeved"
"Señor Class"
March 14, 2020
Trivia
The first five episodes premiered as the first five episodes in the fourth season of The Loud House.
The English translation of the show's title ("The Big House"), the logo and the promo image above are pretty much variants of the sister show's.
There is no sure proof that rather this show was created by Chris Savino (who created The Loud House) since he was fired from Nickelodeon in October 2017 for sexual abuse against at least 12 female voice actors.
Gallery
References
External links
Community content is available under
CC-BY-SA
unless otherwise noted.