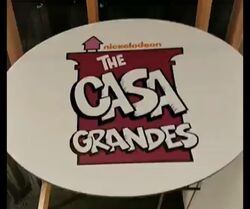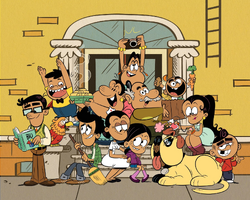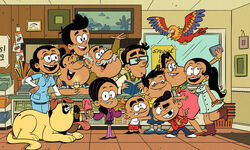 The Casagrandes (working title, Los Casagrandes) is a spin-off series of The Loud House, which was confirmed by Nickelodeon on March 6, 2018.[1] The spinoff was greenlit to series on July 2, 2018. The series premiered on October 14, 2019.[2][3]
​Synopsis
The Casagrandes is being developed to have Ronnie Anne and Bobby Santiago adjust to their new life in the city, where they now live with their big, loving and chaotic multi-generational family, the Casagrandes. In the series, Ronnie Anne will make new friends, build stronger bonds with her relatives and explore the endless possibilities city life has to offer. Bobby will help Grandpa Hector run the family's corner store, and becomes familiar with the neighborhood's quirky characters.[4]
The series' full cast was announced on May 7, 2019.[5]
Trivia
The first five episodes premiered as the first five episodes in the fourth season of The Loud House.
The English translation of the show's title ("The Big House"), the logo and the promo image above are pretty much variants of the sister show's.
Gallery
References
External links