Jurassic World: Dominion Dominates Fandom Wikis - The Loop
Play Sound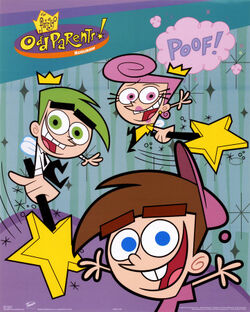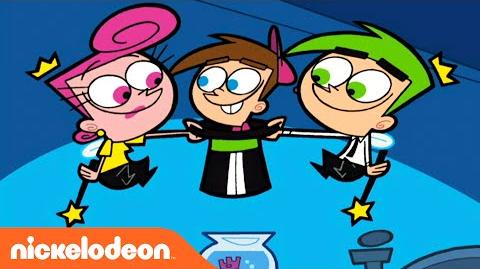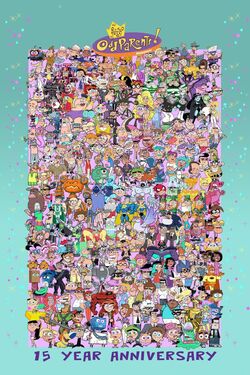 The Fairly OddParents is a Nicktoon created by Butch Hartman that first aired in the United States of America on March 30, 2001, and ended on July 26, 2017. It was produced by Frederator Studios, whose show Oh Yeah! Cartoons, showed the pilot episodes alongside many other first-run and one-time cartoons. The series was distributed outside the United States by the Canadian animation company, Nelvana Enterprises, Inc. and airs on the Disney Channel in certain countries for this reason.
Although its creator Butch Hartman cites his other work Danny Phantom to be his most iconic, The Fairly OddParents had a far larger running time and a greater influence, as well temporarily being Nickelodeon's top-rated program. To date, it is Nickelodeon's second-longest-running scripted series (behind SpongeBob SquarePants), at 172 episodes spread across ten seasons.
Premise
The Fairly OddParents is set in the fictional town of Dimmsdale, California. The show follows the day-to-day life of a 10-year-old boy named Timmy Turner. An only child in fourth grade, Timmy was often preyed upon by such adversaries as his mean 16-year-old babysitter, Vicky, or his maniacal teacher, Mr. Crocker. Just as his situation was particularly grim, he was granted a pair of two (2) fairy godparents, named Cosmo and Wanda, who had the power to grant wishes using their magic wands and were charged with making Timmy happy. Unfortunately, Cosmo is a particularly dumb fairy, and Wanda must devote her time to ensuring both Timmy's and Cosmo's safety; as such, although well meaning, their wishes sometimes go wrong. These fairy godparents, mindful of their secretive existence, disguise themselves as various animals and objects in public, always with the same peculiar colors to identify the two: Cosmo is always in the light green tint of his hair, and Wanda always remains in the light pink tint of her hair.
Later seasons introduced more additions to the show's main cast: Poof, Cosmo and Wanda's son who was born as a result of one of Timmy's wishes in the sixth season; Sparky, a talking fairy dog whom Timmy adopted in the ninth season; and Chloe Carmichael, a girl whom Timmy would have to share his fairy family with in the show's tenth and final season.
Most episodes of the show consists of two segments that are each approximately 11 minutes long.
History
Oh Yeah! Cartoons (1998-2001)
The Fairly OddParents first aired as a short film on Oh Yeah! Cartoons in 1998, which aired some 10 episodes of the original show. Oh Yeah! Cartoons was canceled in 2001, but Nickelodeon offered to make its own show. This offer was accepted by creator Butch Hartman. The show began airing its own full-length episodes as its own series in the same year. Although the Fairly OddParents was not very popular in its first year, its popularity began to catch on later, attracting both a kid and adult fan base. SpongeBob SquarePants was the only show higher-rated than The Fairly OddParents. Another notable thing about the show was that attracted many adolescent and adult followers because of its more complicated, witty sense of humor.
Peak Years (2002-06)
In 2002, the show's ratings were extremely high, and it very briefly passed SpongeBob SquarePants. The show saw its very quick rise to the top and fall in the summer of 2003 when the show's first TV movie, Abra-Catastrophe!, aired. It was an economic hit with record-breaking ratings and merchandise being made.
Hiatus (2007-08)
The Fairly OddParents was sent on hiatus for 15 months during Jimmy Neutron's cancellation, which its last episode aired on November 25, 2006. A primetime special aired on July 7, 2007 called "Lucky 7" includes Back-to-Back episodes of The Fairly OddParents and a never before seen episode which aired at 7:00pm. A theatrical movie was planned by Paramount Pictures and Nickelodeon Movies, but was canned due to management changes at Paramount.
Revival (2008-17)
After a one-year hiatus, Nickelodeon said on TV that they would begin the broadcast of an hour-length episode titled "Fairly OddBaby" on February 18, 2008 as the beginning of 20 episodes of Season 6, and to carry the show to at least 2009.[1] Also, four new episodes aired each day at 5:00pm EST beginning on Monday, March 10 after a rerun of the "Fairly OddBaby" special, and ending on Thursday (3–13) of that week. It was reported that 8.81 million people watched this movie when it originally aired. Another new episode week aired from May 12–16, 2006. "The Fairly Oddlympics" aired on August 1, 2008 to coincide with the 2008 Beijing Summer Olympics. Another premiere week aired through August 11–15, 2008. The three-part saga "Wishology!" aired on May 1–3, 2009. The seventh season's premiere, "Anti-Poof", aired on July 10, 2009.
The 10th anniversary special, a live-action/CGI film called A Fairly Odd Movie: Grow Up, Timmy Turner! starring Drake Bell and Daniella Monet, aired July 9, 2011. This was followed up with A Fairly Odd Christmas, premiered on November 29, 2012, and A Fairly Odd Summer, premiered on August 2, 2014.
The series was burnt off from Nickelodeon on September 16, 2016 due to falling ratings, thus leading to the removal of the entire series from the network's schedule. On January 18, 2017, the remaining episodes began airing on the NickToons channel, with the last episode airing on July 26, 2017. On February 8, 2018, Butch announced his departure at Nickelodeon, making it official that the show, along with Bunsen is a Beast!, had ended.[2]
A live-action sitcom spin-off, The Fairly OddParents: Fairly Odder, is set to premiere on Paramount+ on March 31, 2022.
Characters
→ Main article: List of The Fairly OddParents characters
Episodes
→ Main article: The Fairly OddParents episode list
Season
Episodes
Originally aired
Season premiere
Season finale
0
10 shorts
September 4, 1998
March 23, 2001
1
7
March 30, 2001
December 12, 2001
2
13
March 1, 2002
January 20, 2003
3
19
November 8, 2002
November 21, 2003
4
20
November 7, 2003
June 10, 2005
5
21
July 2, 2004
July 7, 2007
6
20
February 18, 2008
August 12, 2009
7
20
July 6, 2009
August 5, 2012
8
6
February 12, 2011
December 29, 2011
9
26
March 23, 2013
March 28, 2015
10
20
January 15, 2016
July 26, 2017
Home video releases
→ Main article: The Fairly OddParents videography
Paramount Home Video released seven individual VHS tapes and DVDs of The Fairly OddParents from July 2003 to May 2006, each of which featured either an hour-length special or five regular-length episodes. The DVDs also included at least two extra episodes each. Episodes of The Fairly OddParents (usually ones already available on the show's own DVDs) also appeared on various compilation DVDs released in those years.
On November 18, 2008, Paramount released a DVD of the first half of the show's sixth season, collecting all the episodes of the season that had aired up to that point. A separate DVD of the second half of the season, however, did not follow. Subsequent physical video releases of The Fairly OddParents were instead manufacture-on-demand releases, sold exclusively on Amazon.com, including full releases for the first eight seasons (the last two seasons have never been released on DVD) and the three live-action movies, which also received Blu-ray releases in December 2015. Unfortunately, all of these manufacture-on-demand discs were discontinued on June 4, 2021.
Broadcast history
Nickelodeon (March 30, 2001-September 16, 2016, April 2-6, 2018)
NickToons (May 1, 2002-present)
Gallery
References
External links