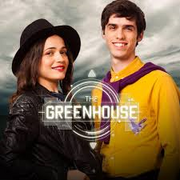 The Greenhouse is an Israeli live action drama show created by Giora Chamizer for Nickelodeon. It premiered in Israel on December 17, 2012 and has so far aired 3 seasons. It also premiered in the Uk in 2014 with a dubbed version of the first season. there's going to be an American adaptation of the show, produced by Nickelodeon and Nutz Productions, with help from show creator Giora Chamizer premiering on Netflix in 2017.
Premise
The Greenhouse is a show about two siblings known as Alfie and Ellalie Reshef who's mother; Naomi Reshef is a famous astronaut. One year their mother went up to space, but thanks to a mysterious explosion supposedly died. After this Ellali and Alfie are sent to an elite boarding school known as the Greenhouse; a school for future leaders.
While there the two siblings are split into two different teams; The Ravens and Eagles. Alfie with the Eagles and Ellali with the Ravens. The two teams compete over the course of the school year to win prizes. However over the course of the year most of the Ravens and key members of the eagles begin to notice strange goings on around the school and uncover a plot to take over the world. Together they tasked with saving the world.
Characters
Episodes
the show began on December 17, 2012 in Israel and has so far aired 3 seasons with 2 seasons comprising of 50 episodes each and the third season having 75 episodes for a grand total of 175 episodes. main article: The Greenhouse: Episodes.
Gallery
Community content is available under
CC-BY-SA
unless otherwise noted.