Jurassic World: Dominion Dominates Fandom Wikis - The Loop
Play Sound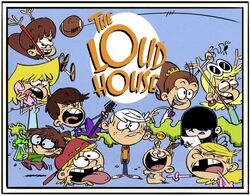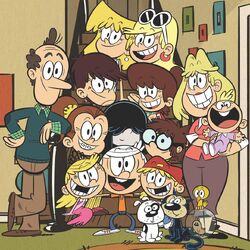 The Loud House is a Nicktoon created by Chris Savino that premiered on May 2, 2016.
Plot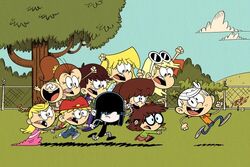 Set in the city of Royal Woods, Michigan, The Loud House centers on 12-year-old Lincoln Loud, an accident-prone boy who lives in a house with his ten sisters - bossy eldest sister Lori, unintelligent Leni, aspiring rock star Luna, jokester and comedian Luan, energetic athlete Lynn Jr., gloomy emo Lucy, care-free mud-loving tomboy twin Lana as opposed to her picture-perfect beauty pageant twin Lola, intellectual genius Lisa, and baby Lily. While being true that his room is a closet, there's only one bathroom, and his sisters drive him crazy, Lincoln always finds the solution with the help of his best friend Clyde McBride—one problem at a time. Each episode has Lincoln speaking to the viewer about life lessons within your family—especially when it's big.
Production
The series was created by veteran animator Chris Savino and was inspired by his childhood. During early development, Savino originally wrote the characters as rabbits, with the number of siblings being 26. Someone at Nickelodeon suggested that the characters instead be humans, an idea that Savino initially declined on. He eventually relented after thinking about it some more and also reduced the number of kids to 11. As a nod to the original idea, Lincoln's stuffed bunny, Bun-Bun, is modeled after Lincoln's original rabbit design. In addition, the episode "White Hare" featured Lincoln dreaming about himself as a rabbit named Warren—a reference to the show's original concept; Warren having 25 sisters are retained. Not featured in the concept was Clyde's beaver counterpart, Danny.
The pilot episode was originally produced as part of Nickelodeon's 2013 Animated Shorts Program, and was later re-released with a new title, "Bathroom Break!!", on Nick.com in 2016.
The first season originally consisted of 13 episodes (26 segments in total), but Nickelodeon changed it to 26 (52 segments in total).
Two episodes ("A Tale of Two Tables"/"The Sweet Spot" and "Hand-Me-Downer"/"Sleuth or Consequences") were released digitally on Nick.com, the Nick app, Nick's video-on-demand service and digital platforms in April 2016, a month before the series' official debut on May 2.
Brand-new episodes would air every week at 5:00 pm EST, before a brand-new episode of another show such as SpongeBob SquarePants, The Fairly OddParents, or Harvey Beaks.
The second season was greenlit on May 25, 2016 and consists of 26 episodes, beginning on November 9, 2016 with "Intern for the Worse"/"The Old and the Restless" and ended on December 1, 2017 with "Snow Way Out"/"Snow Way Down".
On October 19, 2016, The Loud House was renewed for a third season, which would also consist of 26 episodes, and premiered on January 19, 2018 with "Roadie to Nowhere"/"A Fridge Too Far".
Jam Filled Entertainment, a Canadian animation studio based in Ottawa that was owned by Boat Rocker Media, provides the animation for the series. The animation is done by using Toon Boom Harmony.
Every episode in the first season was directed by Chris Savino; "The Price of Admission" and "One Flu Over the Loud House", as well as the second season's "The Old and the Restless", "Vantastic Voyage", and "Patching Things Up" were co-directed by Kyle Marshall. However, not all episodes were directed by Savino; both digital shorts, "Slice of Life" and "Deuces Wild!" (Savino only wrote the shorts), and a few Season 2 episodes were directed solely by Marshall.
On March 6, 2022, Nika Futterman (the voice of Luna) stated on her Instagram account that production had begun on the seventh season.
Changing Actors
Lincoln Loud was originally voiced by Sean Ryan Fox in the show's pilot "Bathroom Break!". He was replaced by Grant Palmer for the series' proper (as his voice had hit puberty by that time). Palmer voiced the character until "A Fair To Remember" (when he was replaced by Collin Dean for the rest of the season due to hitting puberty). Dean voiced Lincoln for the entirety of season two (becoming the first voice of Lincoln to participate in an actual full season of the series at that time), but was was replaced by Tex Hammond (the son of fellow voice actor Grey Griffin) during season three due to hitting puberty. Hammond was then replaced by Asher Bishop due to hitting puberty during the fourth season (starting with the episode "Wheel and Deal"). Bishop continued to voice Lincoln entirely for season five and even voiced Lincoln for its first theatrical film. However, Bishop will be replaced by Bentley Griffin, starting in season six due to him hitting puberty.
Savino's Firing
On October 19, 2017, Nickelodeon fired Savino due to allegations of sexual harassment, and continued to work on the show without him.[1] Michael Rubiner will become the main showrunner and Kyle Marshall will be the main director, with Amanda Rynda, a replacement for Savino, directing "Selfie Improvement". A few Season 3 episodes directed by Savino were released after his termination, as they were produced prior; Savino's last episode to direct for the series was "What Wood Lincoln Do?", which ran midway through the season.
Characters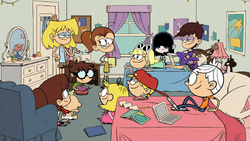 Episodes
The Loud House is currently the fourth-longest running Nicktoon in terms of episode count, behind The Fairly OddParents, Rugrats, and SpongeBob SquarePants.
| Season | Episodes | Season premiere | Season finale |
| --- | --- | --- | --- |
| Shorts | N/A | June 5, 2014 | N/A |
| 1 | 26 | May 2, 2016 | November 8, 2016 |
| 2 | 26 | November 9, 2016 | December 1, 2017 |
| 3 | 26 | January 19, 2018 | March 7, 2019 |
| 4 | 26 | May 27, 2019 | July 23, 2020 |
| 5 | 26 | September 11, 2020 | March 4, 2022 |
| 6 | 26 | March 11, 2022 | TBA |
| 7 | 26 | TBA | TBA |
DVD releases
Six Loud House DVDs has been released thus far. The first two DVDs, titled Welcome to the Loud House and It Gets Louder, each contained 13 episodes of the first season. The third and fourth DVDs, called Relative Chaos and Absolute Madness, each collected 13 episodes of the second season. The fifth and sixth DVDs, Road Tripped and Cooked!, were both released in 2021 and collected all the episodes of the third season.
Print media
A free comic book titled Lincoln Loud's ABCs of Getting the Last Slice was released exclusively at the San Diego Comic-Con in 2015. It featured Lincoln and his sisters fighting to see who gets the last slice of pizza. It was adapted as a webisode on Nick.com and Nickelodeon's YouTube channel, titled "Slice of Life". A second comic, titled Deuces Wild, was created for the 2016 Comic-Con, and was also adapted as an animated short. Comics based on the show were planned to appear in issues of Nickelodeon Magazine; however, when Papercutz stopped publishing the magazine, the comics instead appeared in the Nickelodeon Pandemonium graphic novels as well as their own books. To date, fourteen Loud House graphic novels (plus winter, summer, and Valentine's Day-themed one-off specials) have been published, with at least three more (plus a back-to-school-themed special) to be published in the future.
Two chapter books - Who Ghost There? and Arcade or Bust! - were published by Random House on July 3, 2018, with a third book, Campaign Chaos!, following on January 8, 2019. These three books were reprinted by Scholastic in June 2020, who published a fourth chapter book, The Ultimate Party, on October 6, 2020.
Spin-offs
A spin-off of The Loud House, titled The Casagrandes, focuses on Bobby and Ronnie Anne Santiago's extended family, following the events of the second-season episode "The Loudest Mission: Relative Chaos". It premiered on October 14, 2019.
A live-action version of The Loud House was greenlit for Paramount+ on March 24, 2022. The cast from A Loud House Christmas is set to reprise their roles.
Films
A feature film was originally set for a theatrical release in 2020. However, Kevin Sullivan confirmed that the film was on hold as of April 2018. Production eventually resumed by February 2019, and the film was released on Netflix on August 20, 2021.[2][3]
In addition to The Loud House Movie, a separate live-action made-for-TV movie, titled A Loud House Christmas, was announced in February 2020. It premiered on November 26, 2021.
Reception
The Loud House has received favorable reviews from viewers and critics, with the praise focused on its casting, animation, character portrayals, and writing. Since then, it has been considered to be one of the best modern Nicktoons to date, alongside Harvey Beaks.
In 2019, the show won the Daytime Emmy Awards for Outstanding Children's Animated Series and Outstanding Writing in an Animated Program.
References
External links