Wiki Targeted (Entertainment)
Play Sound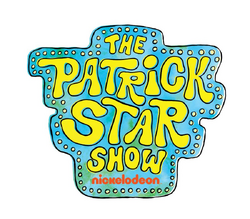 The following is a list of episodes from The Patrick Star Show, listed in production order.
Episodes
#
Title Card
Title
Airdate
1

"Late for Breakfast"
July 9, 2021
Patrick presents a show about food
"Bummer Jobs"
July 9, 2021
Patrick and SpongeBob experience the wonders of the workforce.
2

"Stair Wars"
July 23, 2021
Patrick and GrandPat get into a stairs conflict.
"Enemies à la Mode"
July 23, 2021
The family confront their absurd rivalries.
3

"Lost in Couch"
July 16, 2021
Patrick journeys into the couch in search of the remote.
"Pat-a-thon"
July 16, 2021
Patrick hosts a telethon for snails.
4

"The Yard Sale"
TBA
GrandPat prevents his precious memories from being sold at a family yard sale.
5

"Squidina's Little Helper"
August 6, 2021
Squidina hires an assistant who's a little too good at his job.
"I Smell a Pat"
August 13, 2021
The Patrick Star Show is interrupted by a most peculiar stench.
6

"Gas Station Vacation"
October 29, 2021
The Star Family heads to their favorite resort.
"Bunny The Barbarian"
TBA
Bunny goes on a mid-day adventure to a forgotten age.
7

"The Haunting of Star House"
July 30, 2021
Patrick hires cheap ghosts to haunt his house, but he ends up getting just what he paid for.
"Who's a Big Boy?"
TBA
Patrick hits an unnatural growth spurt in his late adolescence.
8

"Terror at 20,000 Leagues"
October 22, 2021
The Patrick Show presents a Halloween TV special.
References