Jurassic World: Dominion Dominates Fandom Wikis - The Loop
Play Sound
The Ren & Stimpy Show, often simply called Ren & Stimpy, is animated television series created by Canadian animator John Kricfalusi for Nickelodeon. The series focuses on the titular characters - Ren Höek, a psychotic chihuahua, and Stimpy J. Cat, a good-natured, yet dimwitted cat. The show officially premiered on August 11, 1991, alongside Doug and Rugrats, the three of which comprised the first Nicktoons. The show ran for five seasons on the network, ending its original run with the Christmas episode "A Scooter for Yaksmas".
The show was rated TV-Y7 on Nickelodeon and NickToons, TV-PG on MTV, MTV2, and Spike TV, and TV-G on NickRewind.
Throughout its run, The Ren & Stimpy Show was controversial for its off-color humor, black comedy, toilet humor, sexual innuendo, and violence, all of which contributed to the production staff's altercations with Nickelodeon's Standards and Practices department. The show has received high critical acclaim and became a large cult classic during and after its run, while some critics credit it for leading the way for satirical animated shows like Beavis and Butt-Head and South Park, and playing a significant role in television animation. A spin-off for adult audiences, Ren & Stimpy "Adult Party Cartoon", aired in 2003 on Spike TV, but was poorly received and cancelled soon after its debut.
On August 5, 2020, fellow ViacomCBS-owned network Comedy Central announced that they had green lit a revival / reboot of The Ren & Stimpy Show, which will reimagine the original Nickelodeon series. The project will be produced by Nickelodeon Animation Studio and air on Comedy Central. Original series creator John Kricfalusi will not be involved in the new series. Since details are scarce and considering into account that the new series will apparently not be running under Nickelodeon's brand, it will not be included on this wiki.
Characters
→ Main article: List of The Ren & Stimpy Show characters
Development and reception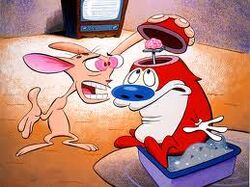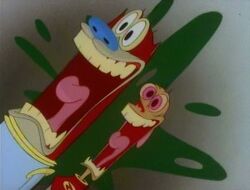 Conception
According to cartoonist Bill Wray, John Kricfalusi created the characters Ren and Stimpy around 1978 for "personal amusement" during his time in Sheridan College. He was inspired to create Ren by an Elliott Erwitt photograph, printed on a postcard, called "New York City, 1946", showing a sweatered chihuahua at a woman's feet. Stimpy's design was inspired by a Tweety Bird cartoon called A Gruesome Twosome where the cats in the animation had big noses. When Nickelodeon approached Kricfalusi, he presented three shows, among them a variety show titled Our Gang or Your Gang, with a live-action host presenting different cartoons, each cartoon parodying a different genre. Ren and Stimpy were pets of one of the children in Your Gang, serving as a parody of the "cat and dog genre". Vanessa Coffey, Nickelodeon's Vice President of Animation Production, was dissatisfied by the other projects but liked Ren and Stimpy, singling them out for their own show.
Spümcø (1991–93)
The show's pilot began production in 1989, after Kricfalusi pitched and sold The Ren & Stimpy Show to Nickelodeon. The pilot was done by Kricfalusi's own animation company, Spümcø, and screened at film festivals for several months before the show was announced in Nickelodeon's 1991 line-up. The first episode of the show premiered on August 11, 1991, alongside Doug and Rugrats. Spümcø continued to produce the show for the next two years while encountering issues with Nickelodeon's Standards and Practices. The show was noted for its lack of early merchandising; Wray cites the initial lack of merchandise as "the unique and radical thing" about The Ren & Stimpy Show, as no toy company planned ahead for any merchandise for the show, and Nickelodeon did not want to use "over-exploitive" merchandising.
Kricfalusi described his early period with Nickelodeon as being "simple", as he got along with Coffey, the sole executive of the program. When another executive was added, he wanted to alter or discard some of the Ren & Stimpy episodes, but Kricfalusi says the episodes stayed intact since he did a "trade" with Coffey: he would have some "really crazy" episodes in exchange for some "heart-warming" episodes. According to Kricfalusi, The Ren & Stimpy Show was the "safest project [he] ever worked on" while explaining the meaning of "safe" as "spend a third of what they spend now per picture, hire proven creative talent, and let them entertain". He estimated Spümcø's run of The Ren & Stimpy Show cost around $6,000,000 to produce.
The show received mixed reviews. Terry Thoren, former CEO and president of Klasky Csupo, said that Kricfalusi "tapped into an audience that was a lot hipper than anybody thought. He went where no man wanted to go before – the caca, booger humor". The Morning Call called it "high voltage yuks and industrial-strength weirdness". But as the show came to garner high ratings for Nickelodeon, the relationship between Kricfalusi and Nickelodeon became strained, eventually leading to Kricfalusi communicating with Nickelodeon solely through his lawyer. Several of the show's staff and voice cast attribute the tension to episodes that were not produced up to Kricfalusi's standards and how badly he treated them. However, some of the delays were attributed to Nickelodeon's prolonged approval process and withdrawal of approval from scenes and episodes that had been previously approved. Another issue of contention was the direction of the show. Nickelodeon later asked the new studio to make it more lighthearted and less frightening. Kricfalusi cites his dismissal primarily to the episode "Man's Best Friend", which features a violent climax where Ren brutally assaults George Liquor with an oar.
Games Animation (1993–95)
Nickelodeon terminated Kricfalusi's contract in late September 1992 and offered him the position of consultant for Ren & Stimpy, but he refused to "sell out". Nickelodeon moved production from Spümcø to its newly founded animation department, Games Animation, which later became Nickelodeon Animation Studios. Bob Camp replaced Kricfalusi as director, while West, having refused Kricfalusi's request to leave along with him, voiced Ren in addition to Stimpy. Fans and critics felt this was a turning point in the show, with the new episodes being a considerable step down from the standard of those that preceded them. Ted Drozdowski, resident critic of The Boston Phoenix, stated that "the bloom faded on Ren & Stimpy." Animation historian Michael Barrier writes that while the creators of the Games episodes used bathroom humor jokes that were similar to those used by Kricfalusi, they did not "find the material particularly funny; they were merely doing what was expected." The show ended its original run on December 16, 1995 with "A Scooter for Yaksmas", although one episode from the final season, "Sammy and Me/The Last Temptation", was not aired; it instead premiered on Nickelodeon's sister network, MTV, on October 20, 1996.
Attempted revival
In 2003, Kricfalusi relaunched the series as Ren & Stimpy "Adult Party Cartoon", aired along with reruns of the original series (labeled as Ren & Stimpy Classics) during a late night programming block on Spike TV and rated TV-MA. As the title implies, the new series featured more adult themes, including an openly homosexual relationship between the main characters. Billy West declined on reprising his role as the voice of Stimpy, saying that the show was "not funny" and that joining it would have damaged his career. (West would eventually return to the role, however, for Nicktoons: Attack of the Toybots in 2007.) Eric Bauza instead voiced Stimpy, while Kricfalusi reprised the role of Ren. Fans and critics alike were unsettled by the show from the first episode, and only three of the six produced episodes were actually aired before the show was cancelled.
Since Ren & Stimpy "Adult Party Cartoon" was never aired on Nickelodeon nor intended to be broadcast on any network under the Nickelodeon brand, it is not covered on this wiki.
Episodes
→ Main article: The Ren & Stimpy Show episode list
Season
Episodes
Originally aired
Season premiere
Season finale
1
6
August 11, 1991
February 23, 1992
2
12 + 1 unaired
August 15, 1992
May 23, 1993
3
10
November 20, 1993
July 30, 1994
4
13
October 1, 1994
April 1, 1995
5
11
June 3, 1995
October 20, 1996
Home video releases
→ Main article: The Ren & Stimpy Show videography
VHS and Laserdisc
The Ren & Stimpy Show was first released on VHS in the United States and Canada by Sony Wonder. The tapes contained the same edits as Nickelodeon's first screenings. However, Ren & Stimpy: More Stinky Stories contains a censored version of the short "The Big Baby Scam". The entire sequence where the family take a bath and Mr. Pipe gets out to answer the door is very crudely deleted. Also, Ren & Stimpy: Have Yourself a Stinky Little Christmas contained an edit to "Son of Stimpy", removing the scene where Stimpy gets thrown out of the police station.
Sony Wonder also released a Laserdisc released titled "Ren & Stimpy: The Essential Collection", which included the same content as the Ren & Stimpy Classics and Classics II VHS tapes. It was notably one of the very few Laserdisc releases of any Nickelodeon production (the others being the Laserdisc releases of Harriet the Spy, Good Burger, and The Rugrats Movie, and a few Rugrats Laserdiscs released by Paramount).
In 1996, Nickelodeon's home video rights were transferred to Paramount Home Video. However, only one Ren & Stimpy video was re-released under the Paramount label in the United States - Have Yourself a Stinky Little Christmas (which this time also included the episode "Big Flakes"). In the United Kingdom, a few more tapes, mainly containing episodes produced by Games Animation, were released by Paramount in the PAL format (as a result, they are not playable on conventional US VCRs).
DVD
Time–Life released several episodes of The Ren & Stimpy Show in a "Best of" set in September 2003. This set is now out of print.
On October 12, 2004, Paramount Home Entertainment released the first two seasons in a three-disc box set. Although the cover art and press materials claimed the episodes were "uncut", a handful of episodes were, in fact, edited, due to the use of Spike TV masters. One of the episodes from the second season, "Svën Höek", did have footage reinserted from a work-in-progress VHS tape, but with an editing machine time code visible onscreen, as well as grainy footage. A second set, titled Seasons Three and a Half-ish, containing all of season three and the first half of season four up to "It's A Dog's Life"/"Egg Yolkeo", followed on June 28, 2005. Season Five and Some More of Four completed the DVD release of the original series on September 20 of the same year.
John Kricfalusi mentioned in a 2005 interview that an Ultimate Ren & Stimpy Collection DVD set, which would've contained the entirety of the series (this time with the episodes fully uncut) plus the "Adult Party Cartoon" episodes (which had received its own single-disc release in 2006), was being planned, but such a set never materialized. The existing DVD sets (minus the DVD release of Adult Party Cartoon) were instead repackaged together as The Ren & Stimpy Show: The Mostly Complete Collection on February 6, 2018.
The original series was released entirely as a 9-disc set in Germany on October 4, 2013 by Turbine Media. After people claimed that two episodes on the second disc were not completely uncensored, Turbine Classics offered to send everybody with proof of purchase an uncensored disc. Since the set is the first to include all scenes ever broadcast worldwide, it is considered the first truly uncensored DVD release of the series.
Broadcast history
Country
Channel
United States

Nickelodeon

Original run: August 11, 1991-December 16, 1995
Reruns: December 17, 1995-November 22, 2007

Nicktoons TV/Nicktoons Network/NickToons (May 1, 2002-September 5, 2011)
TeenNick (June 7, 2013-August 3, 2020)
Paramount+ (July 30, 2020-present)
Music
Many episodes contained production music, notable tracks from Associated Production Music. Many of these music tracks would also be used on Rocko's Modern Life and SpongeBob SquarePants.
The show spun off three soundtrack albums during its run - You Eediot!, Crock o' Christmas, and Radio Daze. A few musical highlights from the show and the first album were also included on The Best of Nicktoons.
Ren & Stimpy was also referenced in the Primus song "Nature Boy".
Video games
The characters have also appeared in various crossover video games:
Stimpy was a playable racer in Nicktoons Racing for PlayStation, PC, GBC, GBA, and Arcade, he was also playable and in the BlueTongue version (PS2 and Wii versions) of Nicktoons: Attack of the Toybots.
Ren, Stimpy, Powdered Toast Man, and the Shaven Yak were also playable characters in Nicktoons MLB for Wii, Nintendo DS, and Xbox 360.
Ren and Stimpy later appeared as playable characters in Nickelodeon Kart Racers 2: Grand Prix.
Ren, Stimpy and Powdered Toast Man are playable characters in Nickelodeon All-Star Brawl. Ren and Stimpy act as a 2-in-1 fighter in this game.
Appearances in other Nickelodeon projects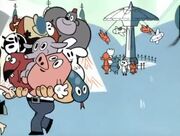 Stimpy appeared as a plush in the My Life as a Teenage Robot episode, "Raggedy Android".
Ren and Stimpy also appeared in the 2015 music video, "Our House".
External links