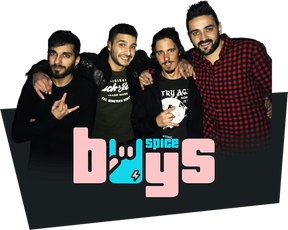 The Spice Boys are a parody of the Spice Girls on All That, consisteing of five different kinds of boys with an unnamed female manager (played by Christy Knowings). They attempt to sing at end of a Spice Boy segment. There have been segments of the Spice Boys signing autographs, a QA, recording a song, and signing autographs in their hotel room. The Boys are:
Hairy Spice (played by Danny Tamberelli) is the hairiest.
Sweaty Spice (played by Nick Cannon) sweats all the time and is also very effeminate.
Mumbly Spice (played by Josh Server) mumbles a lot.
Dead Spice is dead. He isn't played by a cast member, but instead a plastic skeleton prop (Prop Characters).
Spice Cube (played by Kenan Thompson) was formerly Burt Spice who was kicked out for being too nerdy. He reinvented himself as a rapper (parodying Ice Cube) to get back in, but he sometimes regresses into his more nerdier outlooks.
Appearances